Sports
Men's Soccer Ends Regular Season Seeded Third in NESCAC
The No. 10 men's soccer team put together an impressive run of form this week, tying Connecticut College before blowing out Hamilton and Trinity to finish their regular season slate.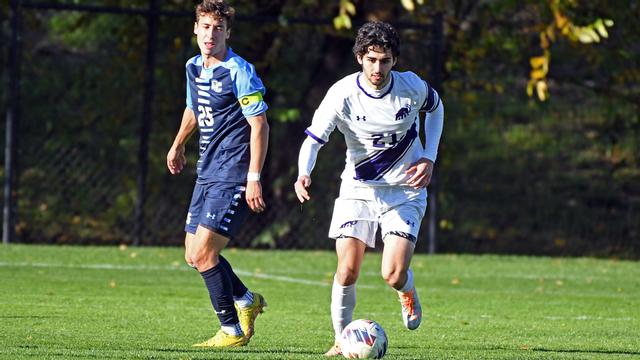 The No. 10 men's soccer team played their final regular-season NESCAC matchups this week, taking on Connecticut College at home on Wednesday, Oct. 19, and then Hamilton and Trinity away on Saturday, Oct. 22, and Wednesday, Oct. 26, respectively.
First up, a clash with the defending National Champion Camels. Both teams opened with aggressive offensive pressure, but neither team would find the goal until the 30th minute. Amherst was awarded a penalty kick after Ada Okorogheye '24E dribbled the ball into the box and was tripped up. Ben Clark-Eden '25 converted, giving the Mammoths a 1-0 advantage. Conn, however, was able to equalize in the 81st minute, and while the Mammoths kept up the pressure in the final minutes, the match concluded in a 1-1 draw.
Next up was NESCAC foe No. 25 Hamilton. Amherst drew first blood in the 39th minute, as Wyatt McCarthy '24 blasted a rebound past the Continentals' keeper to give the Mammoths a 1-0 lead. Then, in the 58th minute, a give-and-go between Okorogheye and Niall Murphy '25 gave Murphy a wide open lane that he capitalized on to give the Mammoths a 2-0 lead. But the Mammoths weren't done yet: they kept up the intensity and were rewarded 10 minutes from full-time when Fynn Hayton-Ruffner '25 sent in a cross that Shawn Rapal '24E  deftly headed past the Continentals' keeper for a 3-0 lead. Just two minutes later, the Mammoths iced the game via Ioannis Hadjiyiannis '26 who received the ball from Simon Kalinauskas '25 and was able to head it home. In a complete team effort, the Mammoths walked away with a dominant 4-0 victory.
For their final NESCAC regular-season game, the Mammoths headed to Trinity, where they dispatched the Bantams 5-1. Three first-half goals, courtesy of Aidan Curtis '25, Ryan Gomez '25, and Declan Sung '24E, set the tone early and brought the Mammoths into the halftime break up 3-0. Though Trinity tried to respond with a goal of their own in the 58th minute, Amherst finished them off via Gomez' second goal of the game just three minutes later, and a goal from Joseph Raymond '24 with only a few minutes to go put a bow on their victory.
With the regular season now over, the Mammoths head into the playoffs with the three seed in the NESCAC tournament. They will play Wesleyan at home on Saturday, Oct. 29, to open the quarterfinal round.