Sports
Men's Soccer Falls to Tufts in DIII Tournament's Sweet Sixteen 3-0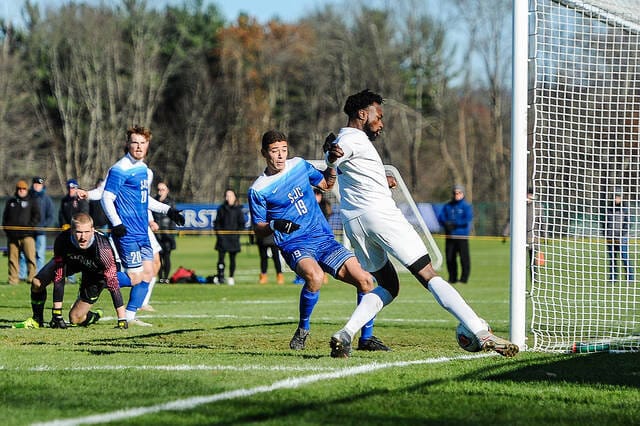 On November 17, on a cold and windy Saturday, the men's soccer team fell to NESCAC rival Tufts in the Sweet Sixteen of the NCAA Division III National Tournament to end the Mammoths' season.
The first half was a deadlocked affair, as each team lived up to its defensive and physical reputation. Tufts only took four shots in the first half, while Amherst managed just three, one of which forced a desperate save by the Tufts netminder.
The second half, however, proved to be far more action-packed. Amherst managed the first chance of the period, as midfielder Luke Nguyen '19 had a chance at the top of the box to drive a shot after combining nicely with Fikayo Ajayi '19, who had transitioned excellently from playing as a defensive midfielder to a striker over the course of the season.
Ajayi teed Nguyen up perfectly, but his shot was saved again by the Jumbos' keeper.
Tufts responded by pushing harder to generate more chances. Just a few minutes later, the hosts broke the deadlock as Brett Rojas scored a screamer from the right corner of the box, which took a deflection off the near post and past the outstretched fingers of keeper Bernie White '22.
Amherst, now in desperate need of a goal, redoubled its efforts, but it was the Jumbos who struck next to put the game out of reach.
White made a beautiful save on a Tufts shot, but the ball deflected right to the feet of Zachary Seigelstein who volleyed the ball home.
Down two goals now, the visitors sent more and more men forward in the hopes of finding some offensive spark, but this strategy ultimately brought about the third Jumbos' goal, as Tufts capitalized on a break away to score the game's final tally and bring the score to 3-0.
With the loss, Amherst ended the season with 14-5-1 overall record, which they will hope to build upon next season.