Sports
Men's Squash Lose Three Matches at the NESCAC Championships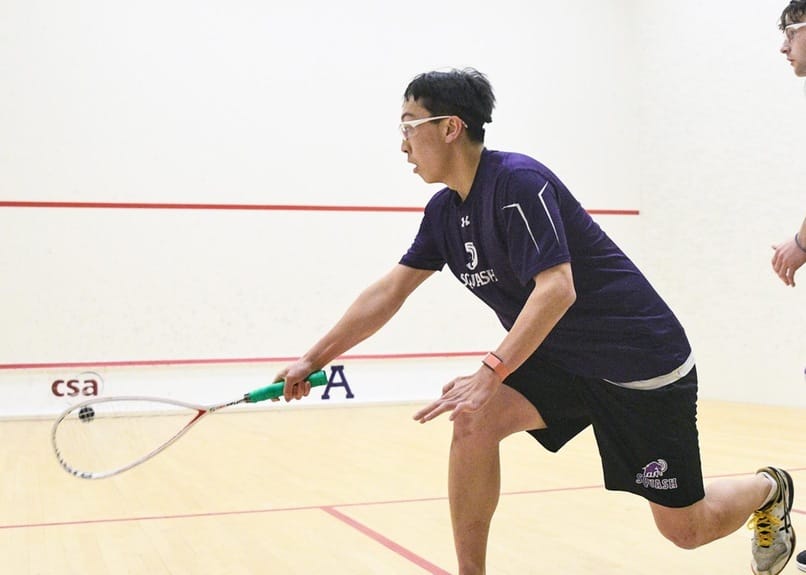 The men's squash team traveled to Bowdoin to participate in the NESCAC Championships this past weekend. The fourth-seeded Mammoths took on the number five seed Middlebury Panthers on Saturday morning. The winner of this matchup would get the opportunity to take on the number one seed Trinity Bantams Saturday afternoon.
It was a hard-fought match between two evenly paired teams, but Middlebury was able to defeat Amherst by a score of 6-3. Amherst captured victories at the #6, #8 and #9 positions in the lineup. Nathaniel Mosse '23, Pavan Nagaraj '21 and Reginald Brewster '21 were the three winners for the Mammoths. While this loss eliminated Amherst from championship contention, the team was still able to compete in consolation matches.
Amherst was back in action Saturday afternoon when the team faced Tufts. It was another close match, and Amherst was not able to pick up enough wins to get the victory. Tufts squeaked away with a 5-4 victory over Amherst. In this match, Amherst won at the #1, #2, #5 and #7 positions. This time it was four different Mammoths winning their matches: with Robinson Armour '22, Charlie Sutherby '22, Terrence Wang '21 and Andrew Leung '22.
Amherst got a second chance to pick up a win in another consolation match on Sunday morning when the Mammoths competed in the seventh-place match. However, this time it was Colby that defeated Amherst. It was another tight match with Amherst falling by a score of 5-4. Amherst showed a lot of fight in these three matches but was unable to come away with any wins. Sutherby, Wang and Brewster all picked up their second wins of the weekend against Colby. These individual performances were the lone highlights of a tough trip for the Mammoths.
The rest of the tournament went predictably for the remaining ten teams in the conference, as Trinity captured its 14th straight conference championship. The Bantams defeated runners-up Williams to seize the crown. The NESCAC has sponsored a men's squash championship since 2007, and each and every time, Trinity has won the title. The Bantams are the unanimous number two team in the nation, having won 16 matches this season, with their lone loss coming against Harvard University.
The Mammoths will have to bounce back quickly from their disappointing NESAC performance and recent run of poor form.
After losing four straight matches, the Mammoths will return to action in two weekends when they compete at the national championships, held at Harvard. The Mammoths' opponents remain to be seen, but the team will look to improve on last year's 22nd overall finish, nationally and will likely face a number of NESCAC opponents when they receive their final draw.