Sports
Men's Squash Responds To Opening Match Loss With Total Sweep, 9-0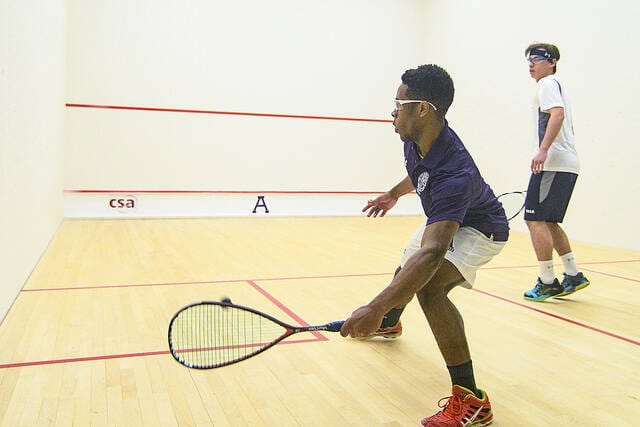 The Amherst men's squash team opened its 2018-19 winter campaign with a double-header on Saturday, Dec 2. Entering the season ranked No. 25 in the nation, the Mammoths hoped to improve upon last year's 8-12.
Ultimately, the Mammoths split the pair of home matches against the University of Western Ontario and Northeastern University and now sit at 1-1 heading into a long break from match play.
"It's a pretty deep team," Reginald Brewster '21 said. "A lot of good new freshmen add to the competitiveness in practice. It keeps us all accountable and on our toes. We are all excited for this season."
To begin the weekend on Friday, in an unusual turn of events, the bottom four players on the Amherst men's ladder had the opportunity to play the top four of the Princeton women's team.
Each of the four men's team players took losses to four of the top women's squash players in the country.
Amherst's first official opponent of the season was No. 11 University of Western Ontario. Against the Mustangs, the Mammoths trotted out a top nine of Terrence Wang '21, Robinson Armour '22, Robert Parker '21, Harith Khawaja '19, David Merkel '19, Charles Sutherby '22, Pavan Nagaraj '21, Brewster and Chris Zimmerman '20, with Mateen Mills '20 playing on the exhibition court.
Western Ontario proved a tough matchup for the Mammoths, sweeping the contest 9-0, with all but one match being decided in three games.
The only Amherst competitor to steal a game was Parker on the third court, who battled hard in the first game and lost by a slim margin of 14 – 12.
In the next game, Parker turned the tables, winning 14 – 12 to even the match at one game apiece. However, he was unable to keep up the momentum and saw his Mustang opponent take the next two games to claim the overall match 3-1.
Amherst's best chance to steal a second game came on court four, where Merkel put up a good effort in each game but ultimately lost 3-0 (12-10, 11-9, 11-8).
In the second match of the day, the Mammoths beat a weak Northeastern team by a score of 9-0.
Amherst rested a few of its normal starters and gave a few of the young players on the roster a shot at real game experience, with a ladder of Wang, Armour, Khawaja, Merkel, Sutherby, Nagaraj, Arnav Parikh '21, Andrew Leung '22 and John Grissom '22, with Shayan Hussain '22 on the exhibition court.
None of the nine matches made it further than three sets, a fact that will likely provide the Mammoths with a confidence boost after Friday's rout by Western Ontario.
Amherst won't return to action until the new year, when the Mammoths will take on Yale on Jan. 7 in a match at Amherst.