Sports
Men's Swim & Dive Places Ninth at NCAAs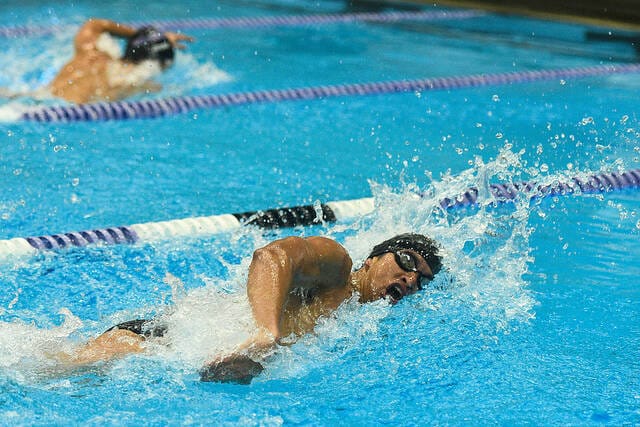 This past weekend, Amherst crowned seven All Americans at the DIII National Championships.
On day one at the bustling Greensboro Aquatic Center in Greensboro North Carolina, Scott Romeyn '22 competed in the 50-yard freestyle race. In his preliminary swim, Romeyn finished eighth with a time of 20.26 seconds, a finish just fast enough to book him a spot in the finals later in the day.
In that race, Romeyn bettered his time by about a tenth of a second, which catapulted him to touch the wall two places higher than his seeding. With the sixth place finish, Romeyn earned All-American accolades.
The quartet of Ang Li '21, Sean Mebust '20, Jack Koravos '20 and Romeyn also competed on the first day in the 200-yard med- ley relay. In the qualification heat, the squad finished the four-discipline race with a time of 1:30.53, but shaved a full half second off of their time in the finals, securing a ninth place finish and All-American honors.
The team of Craig Smith '20, Mebust, Koravos and Romeyn finished in eighth place in the 400-yard medley relay on day two, while Bennett Fagan '20 finished eighth as well on the one-meter board event.
Day three and four saw more success. On Saturday, Amherst's Eric Wong '20, Li, Tristan So '21 and Charles Seltzer '19 finished eighth in the 800-yard freestyle relay to receive All-American selection.
In addition, Mebust took 15th in the 100-meter breastroke race. On Sunday, the Mammoths competed in five events, placing All Americans in three of those events.
Craig Smith '20 captured seventh in the 200-yard breaststroke with a time of just under two minutes. Then, Mebust captured the highest place of any Mammoth over the weekend. After an impressive preliminary swim in the 50-yard breastroke, Mebust shaved moments off his time to place fifth and receive the second All-American nod of the day, and his third of the meet. Finally, Fagan placed fifth in the three-meter diving competition.
The Mammoths' stellar performance across events and team events demonstrates their strength this season.
Their efforts were rewarded with a stellar ninth place finish, a mark they certainly will look to improve and build upon next season.