Sports
Men's Tennis Dominates Pair of Opponents in Fall Opener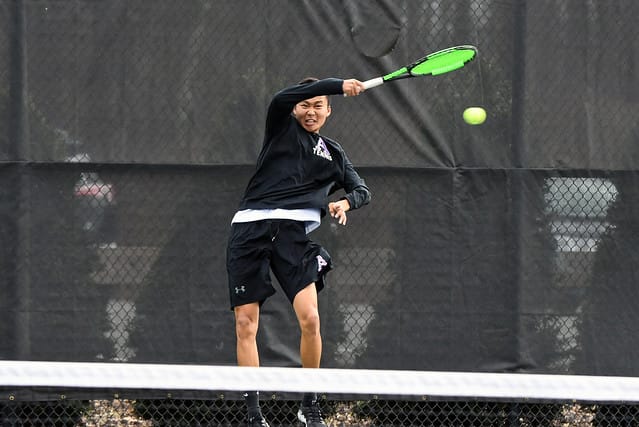 In what is the team's only dual matches of the 2019 fall season, the Amherst men's tennis team scored two dominant victories against Hobart College and Colby-Sawyer College last Saturday.
With only one senior and two juniors on the team this season, the Mammoths will lean on their four first years extensively throughout the fall and spring seasons.
In the first match of the day against the Hobart Statesmen, Amherst jumped out to an early and convincing lead on the doubles courts, with all three Mammoth pairs winning comfortably over their opponents.
The top pair of Sean Wei '21 and Harris Foulkes '23 won their match 8-5. On the second court, Damien Ruparel '22 and Marek Michulka '23 scored an 8-6 victory, while the third court saw Kevin Ma '21 and William Turchetta '22 cruise to an easy 8-2 victory.
The singles courts were similarly drama-free for the Mammoths, as the Mammoths came within a single set of sweeping the Statesmen, with the only loss coming on the second singles court where Ma fell in three sets. In fact, the Mammoths only dropped three sets against Hobart.
After all the matches were complete, Amherst walked away with an 8-1 victory. The Mammoths then competed against Colby-Sawyer in their second match of the day.
On the doubles courts, the Mammoths were again unbeaten. Between the three doubles pairs, the Mammoths only dropped two games out of 26 played.
This domination continued to the singles courts, where each competing team member for Amherst won their match handily.
Ma avenged his first match loss. Wei did not play against Colby-Sawyer, so Ma moved up into the first singles slot and performed admirably, defeating his opponent in straight sets 6-1, 6-2.
On the second through sixth courts, the Mammoths only lost one game, with four Mammoths sweeping their opponents 6-0, 6-0.
The Mammoths will play two more individual tournaments this fall, beginning next Friday when they head to Colby for the ITA Regional Tournament.