Arts & Living
Monique Truong Explores Immigration and Hunger in New Novel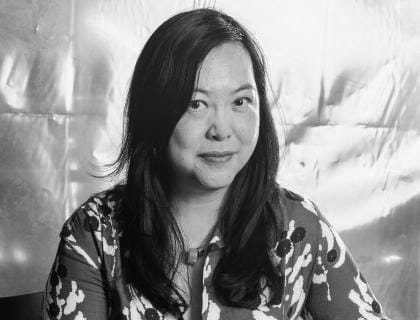 On Sept. 26, faculty, students and book-lovers alike gathered at Amherst Books to see Monique Truong, author of the award-winning "The Book of Salt," read an excerpt from her forthcoming novel "The Sweetest Fruits." Part of the Amherst College Visiting Writers Series, a series of book events sponsored by the college's Creative Writing Center, Truong's reading kicked off the Fall 2018 lineup. The event was open to the public and refreshments followed the conclusion of Truong's reading.
Truong began the event speaking about the underlying theme of hunger within her novels. She spoke about the inspiration for her novels through the language of food, explaining that her goal is for her novels to be rich in food but also rich in hunger. Truong started reading cookbooks as a child after her family immigrated from Vietnam to the United States.
Living in a town in North Carolina with no other Asian families, she began to cook using American cookbooks in order to fit in with her community. Eventually, reading cookbooks soon became a lifelong passion, with Truoung confessing that she now reads cookbooks as if they are novels.
Truong's interest in food translates to her fiction novels beyond simply their titles. In her talk, she especially emphasized that one cannot value food without also experiencing the lack of it. She points out that food is especially valuable to the immigrant.
"Food is really a metaphor for so many of the things that interest me as a person and as a writer: a sense of home, a sense of belonging, the idea of nurture, the idea of labor," Truong explained. "The immigrant food writer is particularly hungry. That food for an immigrant is often the strongest transportive drug, in the sense that if you taste something that reminds you of home it brings you back to that place. For an immigrant, there is that longing."
Truong's previous two novels, "The Book of Salt" and "Bitter in the Mouth," tie the story of immigrants finding their place in a world unfamiliar to them to the motif of food.
Sticking with the trend, Truong's forthcoming novel, "The Sweetest Fruits," is centered around famous writer Lafcadio Hearn and was actually inspired by a cookbook that Hearn created. Hearn sparked Truong's interest thanks to his story of migrating from the West to the East (country to country) and ultimately choosing the East, a relatively uncommon narrative in literature. Hearn's position as an immigrant food writer captivated Truong and allowed her to craft a compelling story of his life.
However, Truong cautioned that Hearn's voice is never the narrator at an any point in "The Sweetest Fruits." Instead, the novel focuses on the points of view of three women in his life: his mother, his first wife, who was African American, and his second wife, who was Japanese — calling attention to the women in his life that did not get the recognition they deserved.
"I'm not a historian, so my project was not to find facts or documents that would support a different story for them, but I am a fiction writer so I can imagine in between the facts," Truong said. "I don't change the facts, but if there's a fact A and a fact B, then I work within the area between. That's where the fiction happens. It's about a famous man, but from the point of view of women."
Truong's advice for aspiring writers in college is simple. "Read," she said. "Read and when I say that, read widely. Be experimental in your reading. I know it's really hard when you have your assigned readings and you can hardly keep up with that. But use your summers to explore, because I know this is how I learned how to write."
Her second piece of wisdom for writers is to travel as much as possible. "Really I think the importance of traveling is learning about yourself. Your limits, your capacity for empathy or your lack thereof, all of that. And it's because when you take yourself out of a place and a setting that is comfortable then that's when this self knowledge begins," Truong added.
The next event in the Fall 2018 visiting writers series will take place on Tuesday, Oct. 16 at 8 p.m. Jordy Rosenburg, writer and UMass professor, will read an excerpt from his first novel, "Confessions of the Fox."