commencement
Natalie De Rosa: Stewarding Stories & Schools, From Newark to Amherst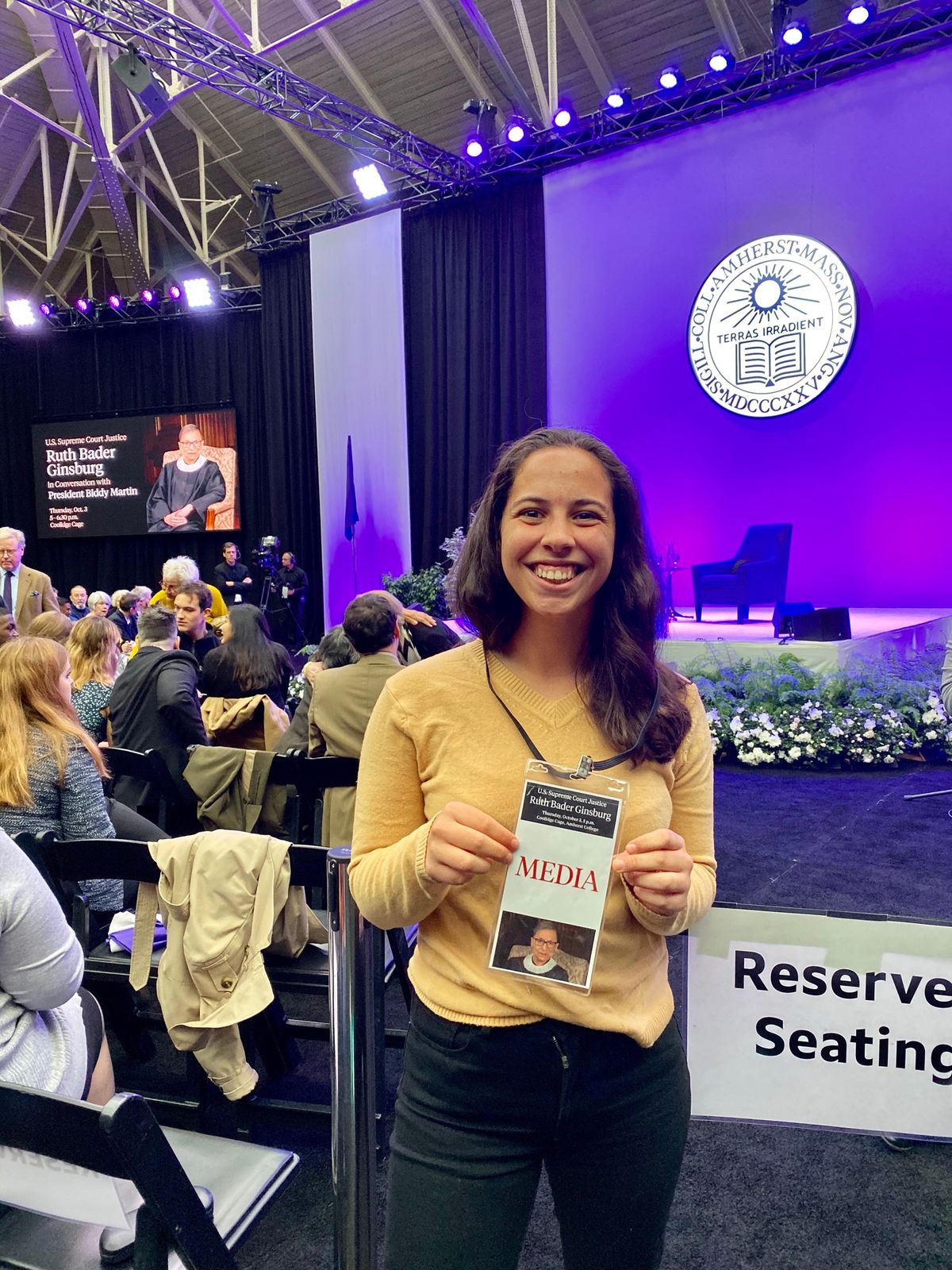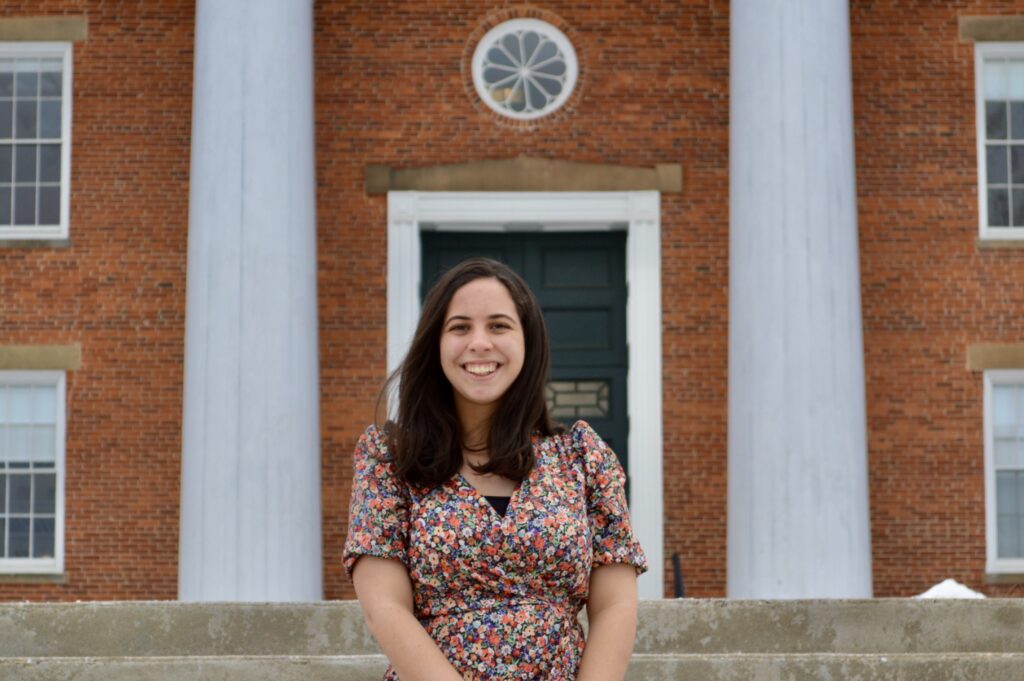 By her own admission, Natalie De Rosa '21 is a shy person. She isn't usually the first person to speak up in a class discussion, or the type of person who spends her nights out at raging parties. But beneath her reserved demeanor, Natalie shines like no other. To her friends, she is tenacious, inspiring and kind. To her professors, she is thoughtful, curious and deeply generous. And to me, she is a mentor and friend who has formed the heart and soul of The Student for as long as I've been around.
I've had the privilege of knowing Natalie since my first semester at Amherst, when I stumbled into The Student's basement Morrow office for the first time and took a seat next to her as she was busy laying out stories for the week. Admittedly, we didn't interact all that much at first — she always seemed to be working on the task at hand with a dedication that I could only aspire to — but over time, I got to know Natalie for the wonderful person she is. On our Tuesday production nights, she would always ground us in a way that helped us get through the last few hours.
When we worked on articles together, she would always bring a compassionate lens — as is characteristic of her reporting — that would add a new (and necessary) dimension to the stories at hand. At the most difficult times, she was a calming force, whose presence always provided the quiet leadership to resolve whatever complication had arisen.
There's so much to be said about Natalie, and I could write pages about the various quirks that make up her personality or the stories that have arisen from her time at Amherst. Still, as I write this profile, I hope to capture at least a snapshot of her story, as is only fitting for someone who has cared for as many stories as her.
A Newarker's Way
Perhaps one of the most essential facts about Natalie is that she was born and raised in Newark, New Jersey, a place she loves and is proud to call home. She remembers some of her fondest memories from Newark, whether through walks from the dense city streets to the nearby parks or soaking in the "culturally and artistically vibrant" atmosphere that dominates the area.
In particular, Natalie highlighted the diversity of Newark as something she's grown to appreciate and realized to have been uniquely formative in her upbringing, especially considering her current status as a Latinx first-generation, low-income (FLI) student.
"Most people who know me know that I'm from Newark, since I take a lot of pride from being from Newark," she effused. "My mom is Brazilian, and I grew up in a heavily Brazilian and Latinx community at home, so being around people who innately understood that was something I didn't understand as a valuable experience until I came to Amherst, where that wasn't the case anymore."
But living in Newark still had its challenges, particularly with respect to education. Although Natalie consistently sat at the top of her class, the public schools she went to faced persistent issues due to budget cuts and lack of control over operations. For example, the Math Olympics team, of which Natalie was an active member, was shut down due to budget cuts.
During her sophomore year at East Side High School, these compounding issues came to a head after the institution was deemed a failing school and brought into the turnaround program, which would have meant longer school days, bringing teachers in for extra work for no additional pay and other major shifts in the school's institutional structure: Policies that would've particularly harmed low-income students and students of color.
Having "an acute understanding of school as a place that breeds inequality," Natalie knew that those policies would ultimately harm her community if enacted. So, building on the culture of activism instilled by her teachers and by Newark's penchant for social justice, Natalie sprang into action, becoming an organizer for the Newark Students Union (NSU) in an effort to prevent her school's redesignation. "It was through [the NSU] that we organized multiple sit-ins and walkouts, with over 2000 people attending them," she said. "And ultimately, it was this sort of guidance from the NSU that led the district to reverse its policies, so my school wasn't a full turnaround school by the end of the year."
For Natalie, it was ultimately an instructive experience. "Of course I knew I wasn't going to Exeter at that time, but to have something so drastic come face-to-face with your experience in ways that other people don't tend to have, and really seeing how these policies manifest in personal ways, that was significant," she reflected.
A Turbulent Landing at Amherst
When it came time for Natalie to think about applying to college, she was in a stressful position. Coming from a high school where most students don't ultimately matriculate to a postsecondary institution, she represented a beacon of hope in possibly being admitted to an elite university, due to her status as valedictorian and president of the student council. "From really early on, I was primed to think, 'I need to go to an elite school.' And I think it was really that FLI 'making it out' atmosphere, where if I don't go to Harvard, I'm disappointing my family, and I'm disappointing my high school," she recounted.
Accordingly, in her junior year of high school, Natalie applied and was admitted to the Questbridge College Prep Scholars Program, a program meant to connect exceptional low-income students with elite colleges. In particular, at a conference that was part of the program, she attended a panel on liberal arts colleges, which put Amherst in her mind as a possible option. "I remember thinking, 'Oh my gosh, this is exactly the experience I want,' … but I also remember thinking 'This is so perfect, but no one knows what Amherst is in my high school,' so I was really hesitant to lean into that," she noted.
When it came to her senior year, Natalie was still undecided. She felt particularly attracted to Amherst after attending the Diversity Open House (DIVOH) fly-in program, where she learned about Amherst Uprising, which had taken place a year prior. Ultimately, after becoming a finalist in the Questbridge National College Match and facing a rejection through the program, she received an email from Amherst inviting her to apply early decision irregularly, and then, realizing it was indeed her top choice, she took the leap — and was admitted.
Arriving at Amherst was a big culture shock to Natalie. In her first year, although she struggled to keep up academically, she still "looked at things through rose-tinted glasses," chalking the difficulties up to the transition from high school to college. But when those challenges persisted into her sophomore year, she was demoralized. "At that point, I couldn't use the fact that I was a first-year as an excuse," she recalled. "I remember thinking, 'I'm still having a hard time speaking up in class and writing my papers. I've been at Amherst for a full year; why am I still struggling?'"
At the same time, Natalie took a class called "Schools, Poverty and Social Policy," which she cites as being particularly influential in shaping her perspective. "Taking that class concurrent with all the things I was feeling sophomore year was just so powerful for me because I was able to historically explain my high school experience and why I'm struggling so much at Amherst," she said. "It changed my understanding: How do I find my way, academically and personally, in a school that wasn't designed for someone like me?"
Also in her sophomore year, Natalie became much more active in the college's FLI community, becoming vice-president and eventually president of the QuestBridge Low-Income Community, and speaking more actively about her positionality, her FLI status and her resultant trials with bodies like the Center for Diversity & Student Leadership. "It was really demoralizing, but it was also empowering to know that I'm a FLI student at Amherst: I'm here, and I exist," she noted.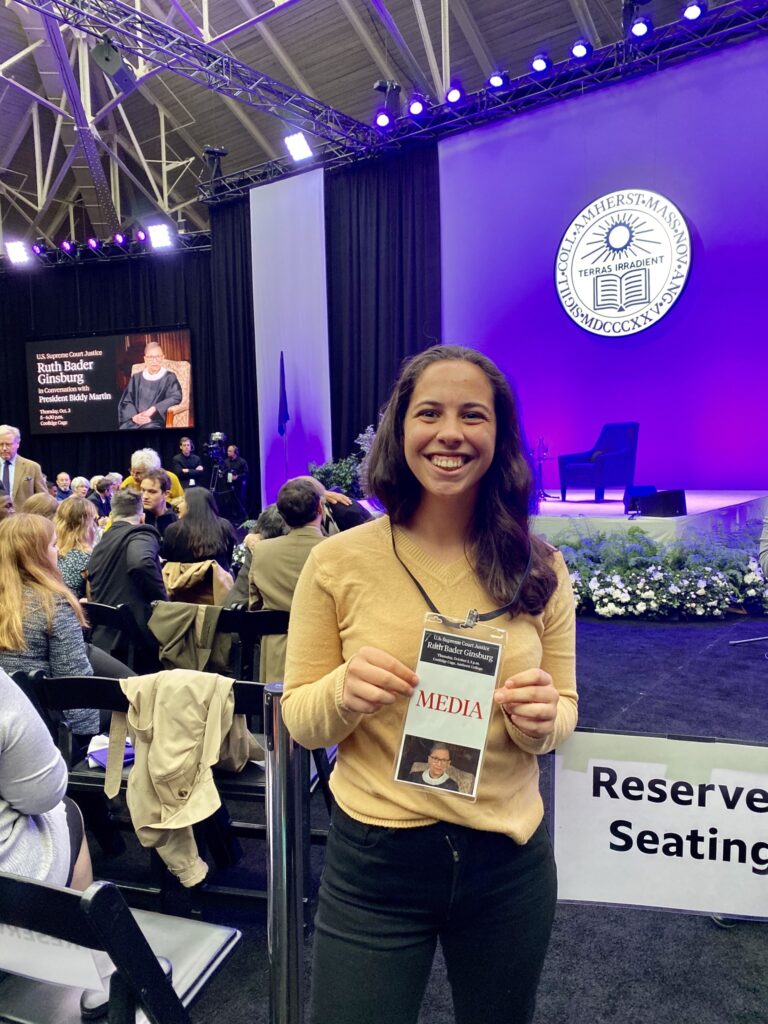 Storytelling and Identity
All that while, Natalie had also immersed herself in The Student, wanting an outlet to be able to write. But, although she made her way up to becoming a news editor, many of the same challenges she faced more generally reappeared at the newspaper.
"I didn't come from a high school with a journalism program, and — this is less true now, but especially when I started — most people had come from high schools with really strong journalism programs, they had done journalism programs over the summer," she explained. "It was a really intimidating environment to come into as someone with no journalism background or experience at all."
Still, as she spent more time with it, she slowly became acclimated to just what news could do and gained confidence in her abilities. That, combined with a new willingness to integrate her identity into her investigations, ultimately culminated in her two proudest pieces: a four-part series (co-written with then-editor-in-chief Shawna Chen '20) analyzing the state of Amherst admissions and the experiences of FLI students in wake of the 2019 college admissions scandal, and an investigation into some faculty members' opposition to an affordable housing unit, the latter of which prompted widespread discussion and activism on campus.
"While it was very important to elevate [the stories of FLI students] on a journalistic level, it was really valuable to me personally. Being able to listen to them for six hours on a Saturday, it made me feel so seen. I'm not the only one having a hard time here; you're saying exactly what I'm feeling," Natalie recalled about her experience investigating the admissions scandal. "And I think that was one of the first times where I was like, 'this is what journalism can do.' If this is how I'm feeling as a reporter, how might people who are reading these stories feel?"
For Natalie, those stories became the lynchpin of her philosophy on journalism: Journalism is fundamentally concerned with stewarding and nurturing stories, and enacting change based on them. "My experience [with journalism] isn't about accolades or accomplishments; it's really about the people who've entrusted me with their stories and let me talk to them for extended periods of time," she stated. "I don't take lightly that people have shared with me some very vulnerable things that they've experienced at Amherst, and I'm forever grateful to have been able to steward those stories and share them — hopefully well."
She held fast to these ideas as she was promoted to editor-in-chief in the spring semester of her junior year, with a number of specific goals at hand, including diversifying The Student and making journalism more accessible through a number of media literacy workshops and events. For the first while, things were going swimmingly.
And then Covid hit.
Back to Newark
"That spring was so hard. I could not study at home. I was just so upset with the way the semester was going out; I could barely finish my classes," Natalie recalled, speaking about the spring semester where students were sent off campus due to Covid. "And meanwhile, all the people I had classes with were at their parents' vacation homes, or on the beach, and they were talking about how easy the semester was, while I was just trying to pass."
Natalie had been thriving in her junior year. She had finally settled into her academics; after deliberating between English and history, she had decided to embrace being a history major, with a focus on social history and education studies; and she had a number of coming plans for both The Student and for a possible senior thesis in history. But being forced back home threw all those things in the air.
For The Student, Natalie and co-editor-in-chief Olivia Gieger '21 ended up redirecting their time to moving content online and to covering the myriad angles of the Covid crisis.
As Natalie wrote in her farewell letter, "In a year clouded by immeasurable loss and suffering, tuning into what's happening on our campus and in the world at all times is emotionally exhausting. Pair that with writing, editing, keeping up with finances, checking in on the paper's digital platforms, emailing back and forth with students, administrators and everyone in between, running The Student over the past year has felt like an impossible task." Still, despite having a few things inevitably slip through the cracks, they managed to stabilize.
For her academics, the prospect of doing a thesis was now uncertain. Due to the increasing difficulty of the pandemic, Natalie was unsure whether she'd even be capable of finishing such a project. But after a conversation with Professor of Black Studies and History Hilary Moss, who suggested that, being at home, she should write a thesis on Newark, Natalie became a bit more receptive to the idea. Despite not wanting to be pigeonholed as "the Newark girl" or to appear as too biased by choosing a personal topic, Natalie eventually overcame those barriers thanks to Eve Ewing's "Ghosts in the Schoolyard," a work conducted in similar circumstances and on a similar topic as hers. Natalie ultimately settled on the tension between the concepts of "community control" and "local control" in Newark schools, a topic that was indeed near and dear to her.
"The process of writing a thesis was a lot harder than it normally would be, and I feel like most of the process just sucked. I'd be sitting at my computer, thinking 'I don't even know if I can finish this thesis,'" she reflected. "But I think Professor Moss's encouragement, that I should write about a place that is familiar to me and that is important to me, really helped. Especially at the end, when I was starting to see it come together, I was like, 'This is so cool. I feel like I actually understand a little bit more about the place I come from and about the experiences of the people before me, who have really shaped the city I grew up in and came to know."
Finding Her Way
Now that she's graduating, Natalie is relieved. Although she doesn't have anything lined up immediately after college, she is glad to be able to take a breather after such a tumultuous period.
"As an underclassman, I always thought that if I didn't have a job by the time I graduated, that was a failure on my part. That's just not true for me right now, and I'm really grateful for that," she said.
"This summer is going to be the first summer I've had since high school where I've done nothing: no jobs, no internships, no summer programs, no research. Right now, things are uncertain, and it's really liberating to not have anything lined up and to have my future be up for grabs."
Indeed, where Natalie goes from here is uncertain. But if nothing else, it's difficult to imagine that her caring determination won't carry her far, or give her more stories to steward, or obstacles to overcome.