Arts & Living
Notable Alumni: An Amherst Duo's Pursuit of an Original Sound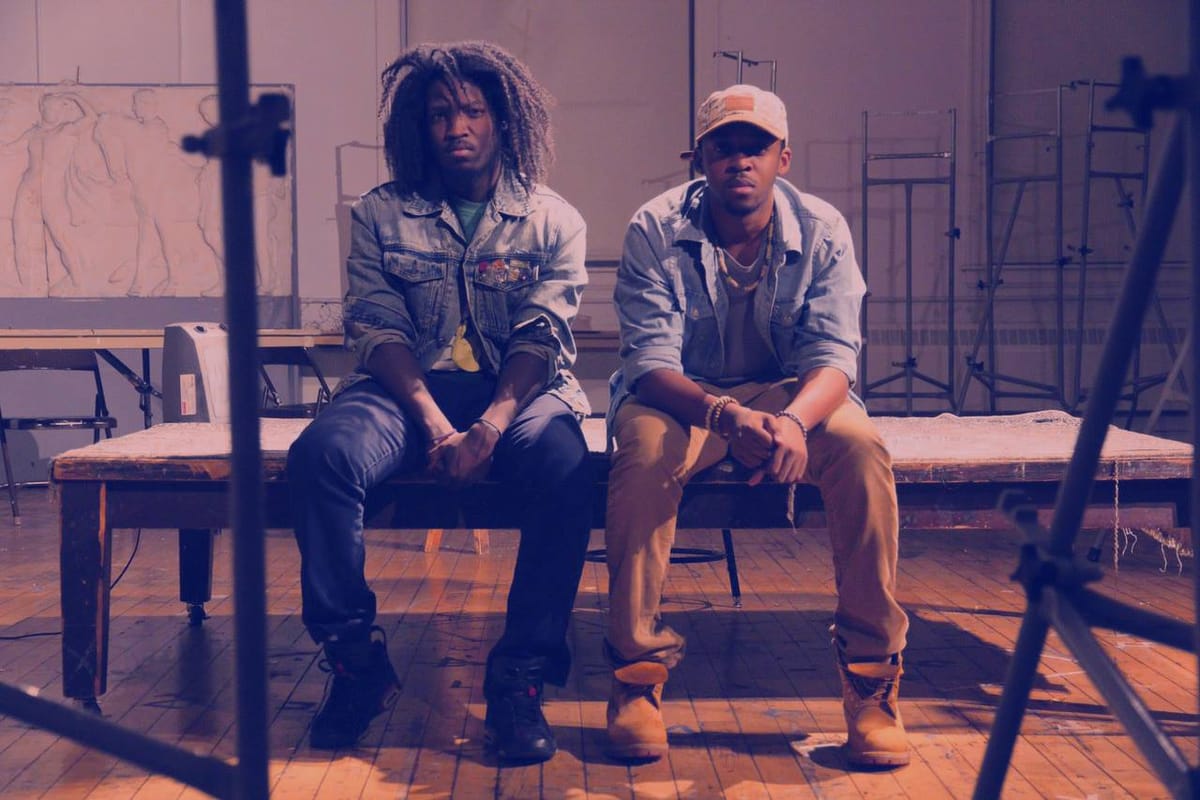 Two Amherst musicians, Julian Boykins '15 and Andrew Nwachuku '15, are trying to realize a dream that lies dormant within essentially every Amherst student. The duo, called Notable Alumni, make music inspired by the idea of greatness. Notable Alumni, are striving to be just that: notable.
Boykins, an economics major from Atlanta, and Nwachuku, a pre-med psychology major from Maryland, met their first year in Charles Pratt, through a shared appreciation for the intricacies of rap music.
The two quickly became friends, and they soon came to share a quirky tradition. The pair were not interested the cheap beer available at the socials, instead gravitating toward the wonders of America's favorite juice pouch. Boykins said that they would carry boxes of Capri Sun to the social dormitories, chanting, "ice cold Capri Suns."
"We had the socials going up," Nwachuku said. "It was so corny but people loved it. A few weeks later, people would come up to us and say 'Oh, you guys are the Capri Sun kids.'" That was just the beginning of their legacy, which Nwachuku said he "doesn't ever want to die."
The first-years quickly began working on song concepts, though they didn't actually record anything until their sophomore year. They said the work they believe really encompasses their ideology didn't take off until their junior spring.
Boykins and Nwachuku explained said that Notable Alumni originated because they wanted to surround themselves with peers who rapped, created innovative beats and shared their driven mentality.
"We want to be recognized, not just based on what school we go to; we want to leave a mark," Nwachuku said.
Notable Alumni's first release was "Sean Taylor," a song Nwachuku called their "most dynamic song thus far." The song, quickly taking over the iPhones of Amherst students, and a variety of notable music blogs, received an impressive 1,000 plays in two days, and 2,000 in a week. The original is a quintessential demonstration of the group's collaborative process.
"The second hook I sing made it more sing-songy and R&B," Nwachuku said. "Julian thought that sounded weird with the beat, so I decided I was either going to change the hook or rework the beat."
They collectively decided to alter to beat to support the R&B vibe of the vocals, and the result was a sound that is both smooth and hard-hitting.
What renders the group's sound unique is that there is no one, singular sound, and the sounds that they do utilize are far from familiar. They reject the tendency to maintain one repetitive vibe and have instead chosen to change the texture with each song.
"The three songs we've dropped are all different. We want to make a 'turn up' song, but we don't want to get lost in fads. We don't want to make a song that's hot just because that's what's hot at the time," Nwachuku said. "I'm happy 'Sean Taylor' was our first release, because it has elements you're familiar with like the 808 or a snare, but then the way the beat builds is like nothing you've ever heard before."
Notable Alumni hope to create truly original rap music.
"When's the last time you heard real singing in a rap song where the beat completely switches up to match the type of stuff you'd hear on a R&B album?" Boykins asked.
"We have soft sounds like strings, and then it goes right back to Julian going hard over the beat and with a song like 'Day One,' the way we utilized that sample isn't like anything I've ever heard before," Nwachuku said.
"There's a difference between most sing-song rappers and the rapping Drew does," Boykins added.
"I'll have parts of a verse where I'll layer it with a harmony out of nowhere. We are very conscious of what's happening in rap. And we are very sensitive of making sure to not sound like that and that's something we take seriously. We want to make sure to be as authentic to us as we can. But at the same time we want to be able to make something that makes everyone move and that's hard to do, especially out of the gate. It's easy to make 10 songs we know will work. We have so many songs we won't drop just because," Nwachuku said.
Following "Sean Taylor," Notable Alumni released "Day One," the track that, although slow to gain listeners thus far, is the one they consider to be their best.
"It's kind of slow because the high hat isn't really there, but the drums hit and the samples good. I think it's our catchiest one," Boykins said.
The most recent track is "Pretend." The song was actually recorded far before their previous releases, but reflecting the duo's pursuit of reflection, they weren't ready to release it until now. Notable Alumni consistently repeats the painstaking process of recording and re-recording, mixing and remixing. In fact, Boykins and Nwachuku do it all.
"The only thing we don't do is shoot stuff and that's about to change," Boykins said. The Amherst musicians hinted at a music video shoot in the near future.
The organic nature of the process is what they say makes their musical pursuit such a feat. Even while operating within the realm of unyielding Amherst demands, the two said they still refuse to cut corners.
"Going to this school makes it hard to get things done music wise," Nwachuku said. "We have work. If we went online and got beats already made and just worried about writing, it'd be different. We worry about writing, making the right beat, making sure the beat doesn't sound like this guy, making sure my verse doesn't sound like that guy. We care a lot."
"That's why it takes forever," Boykins added.
Notable Alumni's next release is "Drink in Hand," which features fellow Amherst musician Louis Read '16. The song was actually the first one they ever intended to release, but they were not happy with the song until now. They said that the recording process for the new track was especially fun.
The two friends say their talents complement each other well. Nwachuku is known as the one with impressive vocals, while Boykins describes himself as the Kanye West of singing.
"There is no reason ever to outsource singing," Boykins said. "Kanye got infinitely better at singing because he ever let anyone else sing his stuff. So I think that's what I should do."
Boykins also plays clarinet and saxophone and can read music, an ability many modern musicians lack.
"I want to be able to actually play some of the stuff that's on my record," he said. "I'll get funky on you real quick."
When asked about their inspirations, the duo responded, "We try to draw from all great artists, because there's a reason they've touched so many people. Like, I think 'Fuck Up Some Commas' by Future is the best song of 2015. There's a reason why Drake's songs are always paid attention to. There's a reason why Kendrick Lamar can make one album and people are still waiting for his next one after three years. Childish Gambino is great too. We' re similar in the way that we like our songs to build. It's a dynamic journey not just a song."
"I look up to Michael Jackson in that way too," Nwachuku added.
Boykins said that they like music that keeps things "real and simple."
"That's something I learned from Julian," Nwachuku said. "Like I came in freshman year with very lyrical stuff, and Julian said 'That's cool, but can you say all that in less?' I can rhyme words for days, but I want to be able to say a line that resonates with you for a reason you can't explain, but also that you can. I want there to be mantras you can ascribe to. That's harder to do than make a dope, miracle, spiritual, lyrical thing."
Notable Alumni recently performed at Cornell, and they have an upcoming performance at Amherst College, with a group called Cypher League that originated at Milton Academy, where Nwachuku attended high school. They are also scheduled to perform at Yale on Feb. 20.
What has allowed the group to be so successful?
"I just believe," Boykins said "I thought I wasn't going to cross the stage for high school, but then I believed. Am I going to be a rapper? Yes. Is there a doubt in my mind? No. If you keep that mentality, it's already been ordained."
"I have a phrase," Nwachuku said. "I'm trying to outlast Outkast."
He explained: "The only way to get to where we want to be is to keep that mindset. I come from a background where my parents don't want me to do this, so if I'm going to do it I'm going to be the best at it."
Both said that outside of a lifelong friendship, the best part of the experience thus far has been their consistent improvement.
"We've come a long way," Boykins said. "Now we're like, 'Forget a regular career.' We're different than most duos because we have experiences that are different from the norm. I just think we're different. We're going for gold."
Boykins said that he thinks all Amherst students can relate to the "Notable Alumni" mindset.
"If you strive to be as great as you can be its possible you'll be in that notable alumni list," Nwachuku said. "You know — this scientist got the Nobel Prize, this teacher got that award, this writer wrote this book. I think it is a mindset we can all relate, we can all stand behind it. We want to grow, and we want people to be a part of it."
Boykins also said that he wished Amherst had a more vibrant music scene.
"It's cool to talk about Drake, but there's a lot of people at this school making music," he said. "I would like to see the school support more musicians coming from their school … It would be sad if nobody was supporting us in the beginning."