Features
Old News: This Week in 1996
In this edition of Old News, Managing Features Editor Sonia Chajet Wides '25 delves into the May 8, 1996 edition of The Student, which dealt with the fallouts of a violent student altercation and a homophobic hate crime, among other campus events.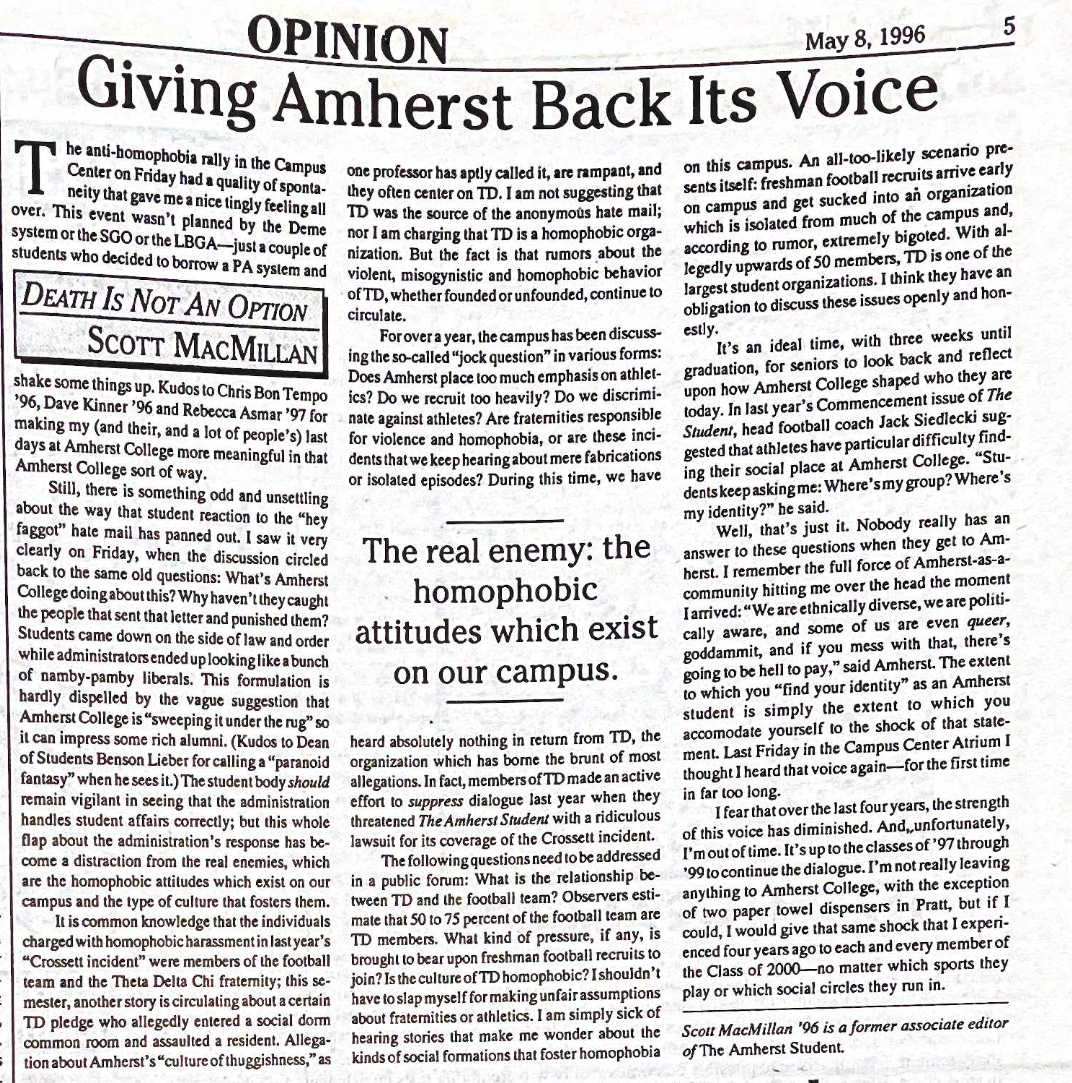 Content warning: This article contains mentions of physical violence and homophobic rhetoric.
Each week in Old News, I use a random number generator to select a year in the college's history and take a look at The Student's issue from this week in that year.
This Week's Year: 1996
Whereas last week's Old News took me the farthest back yet, this week's brought me my most recent Old News: Amherst College on May 8, 1996. This issue has the most similar layout to today's Student of all the papers I've looked at, and the consistencies don't end there. This edition included rich conversation and reporting about topics on campus that remain relevant today. The paper centered around two serious topics: a violent altercation between two students, and the fallout from a homophobic letter anonymously sent to a gay student.
Continuing Response to Homophobic Letter: Much of The Student's coverage this week in 1996 centered on discussions and events on campus in response to an anonymous, violently homophobic letter that was sent through campus mail to a gay student, Rob Sweeney '96. Following the letter's sending two weeks prior, the Queer Straight Alliance (QSA), the Lesbian, Gay, and Bisexual Alliance (LGBA), and other groups of students had conducted demonstrations and actions targeted towards standing against "intolerance" at Amherst.
According to the previous week's Student, the QSA printed photocopies of the letter and posted them in conspicuous places around campus alongside the message "This sort of harassment shouldn't happen. Not at Amherst. Not anywhere." Two other students constructed a board in the Student Center with a copy of the letter, a statement against homophobia, and room for people to sign their names and "to show solidarity and demonstrate to the victims of homophobic incidents that they are not alone." The board garnered over 300 signatures and comments.
The Student's coverage on May 8 included two news articles and numerous opinion pieces. The front page news story reported that "a reliable source within the gay and lesbian community at Amherst" told The Student that the letter's sender "may have been sent by a student who is gay or who is struggling with his sexuality." The source emphasized that "homophobia, internalized or not, is a malicious act … of pure hatred.''
The news article continues: "Squelching another rumor, the source added, 'From the information known, it's not a football player.'" One of the biggest pieces of information that the article revealed was that multiple students confirmed that the letter's signer, who wrote the initials SAGL at the bottom, was an individual, and not a group of students.
According to the article, the previous week, Sweeney had received an unsigned and "sincere" apology with similar handwriting to the initial letter.
"On the possibility that it might have been sent from someone who is dealing with issues of sexuality, Sweeney said he could sympathize with, although not condone, the act," the article read, "adding that he would hate for people to think homophobia is an issue of infighting within the gay community. 'If people think [the person who sent the letter] is someone closeted or questioning, I'd hate for them to dismiss the whole issue,' said Sweeney."
Sweeney himself also wrote a letter to the editor in this issue of The Student, proclaiming his pride in his gay identity. Sweeney wrote: "As for the letter I received, I strongly encourage the sender(s) to get in touch with me. I would value the opportunity to address whatever concerns they have and hope to convince them that homosexuality isn't a curse. On the contrary, you should see what it's done for my flower-arranging skills."
The other news story focused on a rally organized by Chris Bon Tempo '96 and Dave Kinner '96, which gathered 75 students in the campus center atrium. The rally was organized to "send the message that we're not gonna tolerate" situations like the Sweeney letter, and other homophobic events such as the ominous-sounding "Crossett Incident." One student quoted in the article, Deanna Fleysher '96, "observed that it takes a lot to get the student body at Amherst riled up, in comparison to other schools … She applauded the rally's effort to bring the student body together."
The rally focused on the student who sent the anonymous letter, but organizers emphasized that  the rally shouldn't just be about "locating the problem in a vilified other" and that "while harsh punishment of perpetrators may be necessary, such cases should not be used to provide a catharsis for the rest of the student body." Mike De Beer '96 "suggested that there is a hidden heterosexism or homophobia in a larger percentage of the student body than have been stereotyped," and that homophobia was "accepted by students in their everyday language."
The rally included student speakers and a "heated, impromptu" Q&A with President Tom Gerety, Dean of Students Benson Lieber, and Dean of Faculty Lisa Raskin. Students described Gerety as "taking over" the main discussion, which became a debate about the disciplinary system and the role of admin in addressing intolerance.
"While Lieber and Gerety recommended avenues within the system available for victims of harassment or violence," the article reported, "some students questioned the 'leniency' of recent decisions by the Committee on Discipline," including the committee's decision on a student altercation case, described later in this column, as well as a general lack of understanding of how the disciplinary process works.
Gerety said that the disciplinary system was being "reexamined" by a committee but that he was "uneasy about the blanket call for stiffer punishments."
Some of the organizers, such as Bon Tempo, were quoted in the article expressing disappointment, saying that the rally developed into "administration-bashing." Wallace Holland '98 said that "students are more effective in changing attitudes" than the administration, and that students "should take more of a leadership role in confronting intolerance."
The Student included differing opinions on the role of the administration in confronting issues like homophobia. An editorial titled "Back to the House of Pain: The Disciplinary Process is Lenient and Alienating" looked at the "faults of the College's disciplinary process as a whole," saying that the process was irrelevant and alienating, and was pushing student grievances to "public forums such as amherst.chat and campus center bulletin boards," venues that, in their words, "thrive on gossip and few first-hand facts."
"The confusing mixed-messages from the whole disciplinary process only alienate students and incite further suspicion of the administration's sense of justice," the Editorial Board wrote.
Another student, Scott MacMillan, wrote an opinion piece imploring his peers to take responsibility amongst themselves for the homophobic incidents. MacMillan wrote that while he applauded the anti-homophobia rally, there was something  "odd and unsettling" to him about fellow students' reaction to the hate mail.
"The discussion circled back to the same old questions," MacMillan wrote, "What's Amherst College doing about this? Why haven't they caught the people that sent that letter and punished them? Students came down on the side of law and order while administrators ended up looking like a bunch of namby-pamby liberals."
While MacMillan thought that the student body "should remain vigilant in seeing that the administration handles student affairs correctly," the focus on the administration's response "has become a distraction from the real enemies, which are the homophobic attitudes which exist on our campus and the type of culture that fosters them."
MacMillan pointed to the ongoing and unresolved debates about the role of the football team and the Theta Delta Chi (TD) fraternity, of which 50 to 75 percent of the football players were members, in ongoing homophobic incidents. The "Crossett incident" was perpetrated by members of the football team and TD, and other rumors swirled about TD's recruitment process and internal culture.
"The campus has been discussing the so-called 'jock question' in various forms," MacMillan wrote, "Are fraternities responsible for violence and homophobia?" He accused TD of attempting to suppress dialogue on the topic "when they threatened The Amherst Student with a ridiculous lawsuit for its coverage of the Crossett incident." MacMillan urged the team and fraternity to offer more transparency on the connection between the two organizations, and if the culture of the fraternity was homophobic.
"I shouldn't have to slap myself for making unfair assumptions about fraternities or athletics," MacMillan wrote, "I am simply sick of hearing stories that make me wonder about the kinds of social formations that foster homophobia on this campus."
Because TD was "an organization which is isolated from much of the campus, and, according to the rumor, extremely bigoted," as well as being "one of the largest student organizations," MacMillan felt that "they have an obligation to discuss these issues openly and honestly."
The so-called "jock question" was also referenced in a column by Jenn Hewlett, who wrote about the  "segregation due to lifestyle choices on this campus — particularly the 'jocks' versus the 'freaks,'" and advocated that "we need to bridge this unnecessary gap."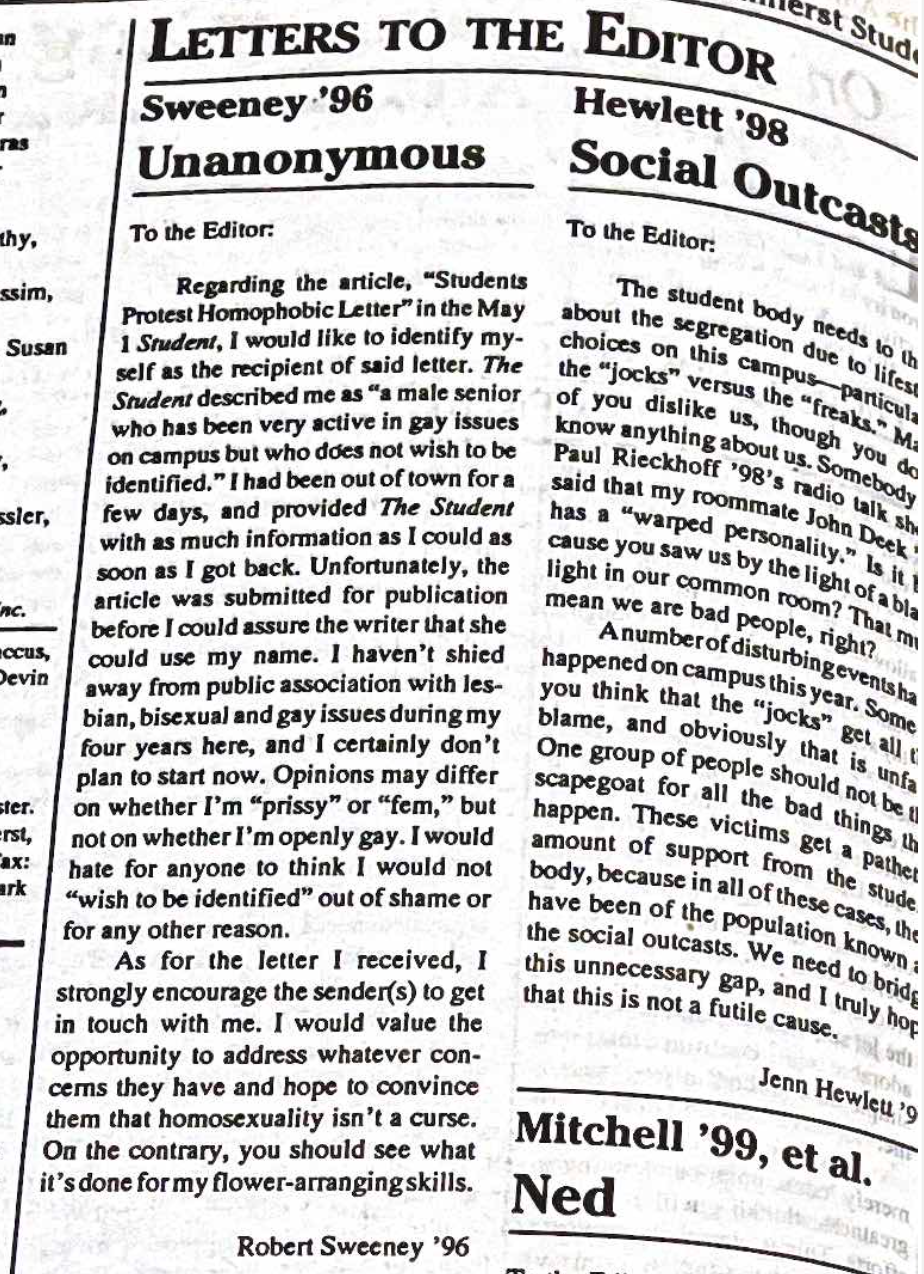 Student Altercation Leads to Disciplinary Questions: The front page of The Student proclaimed that a freshman student, hereafter referred to as Student A, had been found guilty of assault by the college's Committee on Discipline, following a seven hour trial hotly discussed by the student body. While the committee found Student A guilty, they decided not to serve him with the usual punishment of suspension for at least one term. Instead, he was placed on disciplinary probation, was required to complete 100 hours of community service the following semester, was prohibited from playing on the football team in the fall, and was required to compensate another student for damage done to her stereo during the fight.
The trial was convened surrounding an altercation that occurred that past February, after Student A entered the common room of a suite that he did not live in, around midnight on a Saturday. After Student A used the suite's restroom, a fight ensued between him and one of the suite's residents, hereafter referred to as Student B. Multiple witnesses alleged that Student A threatened Student B's life, saying  "Do you want to die? I'll fucking kill you." In the fight, both Student B and the suite itself suffered physical damage.
Student B filed a complaint with the college and Student A wrote him a letter of apology. Then, over spring break, Student B sent a letter to Student A at home, threatening to press charges unless Student A agreed to an out-of-court settlement for over $3,000. Student A's lawyer responded to Student B that his proposal could be considered extortion under Massachusetts law, and that if Student B pressed charges, Student A would press charges of extortion and hire a private investigator to find incriminating information about Student B.
The Disciplinary Committee referred to these letters in justifying their decision to not use the standard punishment against Student A, because Student B's letters "caused harm to [Student A] and his family" and were "not necessary." The committee also claimed it was uncertain of the events that led up to the assault and while people testified that Student B "in no way provoked … [the] assault," other testimony and Student B's "demeanor at the hearing" led them to conclude that Student B "likely 'would have responded to verbal aggression in a like manner.'"
At the time, Student B planned to appeal and pursue criminal charges. Some of the student controversy surrounded the fact that the Student Government Organization President had testified on Student A's side. As aforementioned, other conversations surrounded the college's general approach to discipline.
New Merrill Addition Almost Finished: Just like today, in 1996, the area near the Merrill Science Center was full of construction. A new addition to the old Science Center, a Biology wing, was being built. The department planned to move from their old home in Webster Hall in July. The project, which cost as much as $19 million, was part of a bigger effort to bring the scientific disciplines together under one roof. Psychology had moved from Appleton Hall to Merrill earlier that year. "In the future, there will be lots of interface between disciplines," said Professor of Biology Paul Ewald in an interview for the article.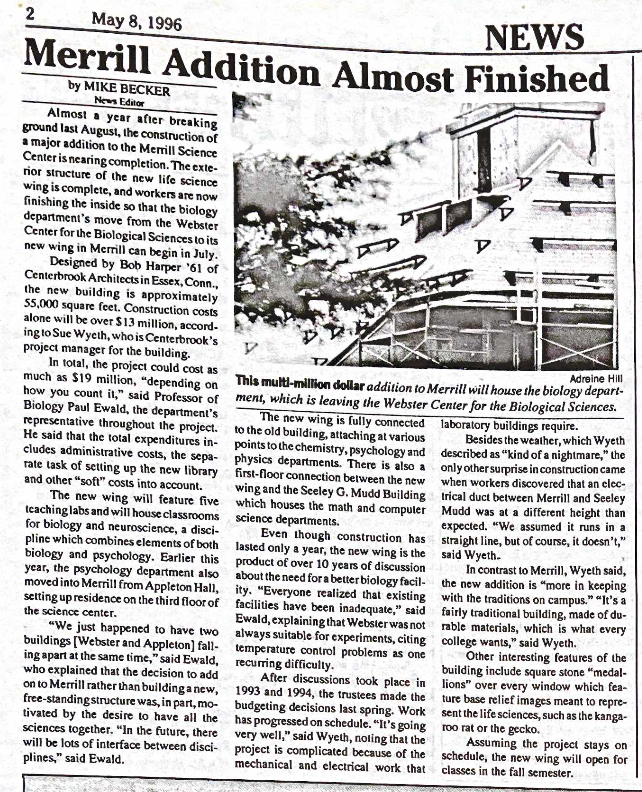 Crime Log: This was also the first edition of The Student I've encountered that shares our Police Log, then called the Crime Log. A few notable occurrences:4/24, 6:18 p.m., "A representative of The Amherst Student reported that 800 copies of their newspaper had been stolen from the lobby of Valentine Hall. The newspapers were found several hours later." 4/24, 10:58 p.m., "a student reported that she had been startled by a man hiding in the bushes near Jenkins. Officers investigated and learned that the man was an Amherst student engaged in a game of 'manhunt.'" 4/25, 2:19 a.m., "A resident of Pratt reported receiving an annoying telephone call."
International News: A "World News At a Glance" column reported that week's news from Serbia, India, Israel, and other parts of the United States.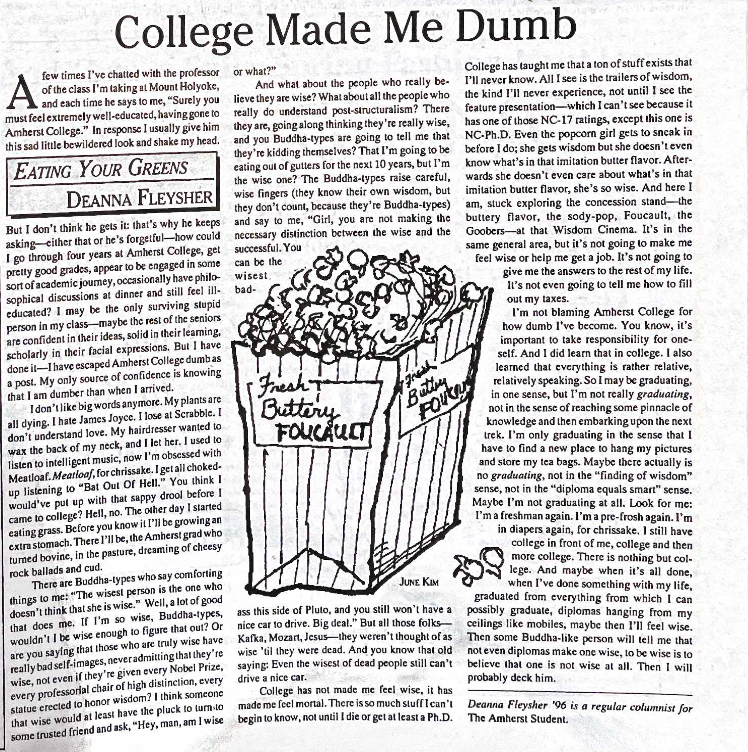 Sarcastic Columns: Two graduating students wrote humorous and reflective columns about their time at Amherst. In the column "Thought for Food," Mischa Field encouraged fellow students to also take up writing a weekly column, because "It's your VIP pass to the secret Good Life and Brave Amherst which includes: instant celebrity and fulfillment, life with the jet set, and milk and honey served to you by adorable squirrels." Field wrote out a number of rules for future columnists, among them: "Don't think … Be obscene … Disgust people … Be yourself." Deanna Fleysher wrote an opinion piece titled "College Made Me Dumb," saying "I have escaped Amherst College dumb as a post … I don't like big words anymore. My plants are all dying. I hate James Joyce. I lose at Scrabble. I don't understand love."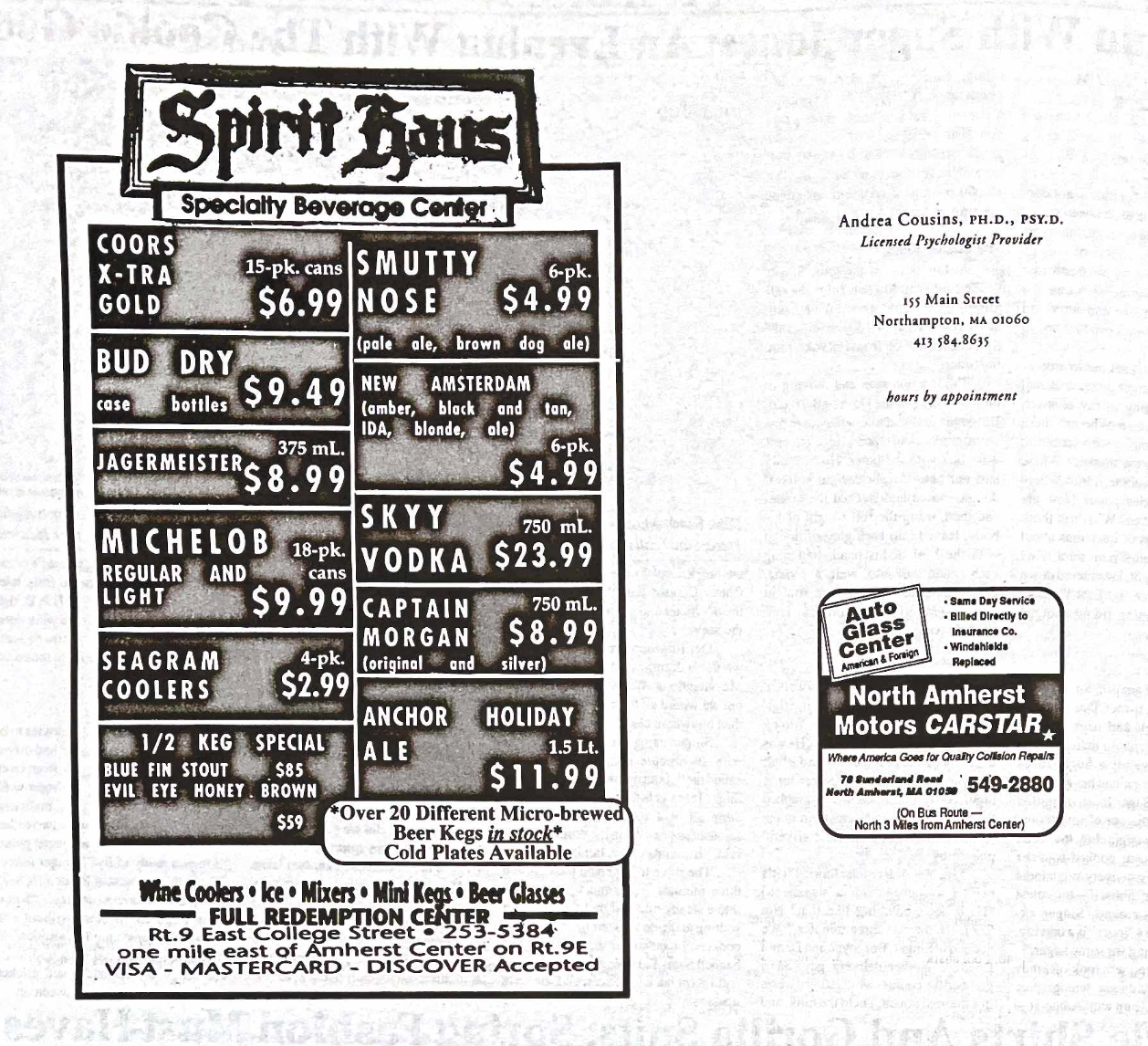 Ads: There were a few familiar advertisements in this edition of The Student: Panda East restaurant in town advertised a $3.95 lunch special, and the boutique Zanna offered a sale on Doc Martens. Various liquor stores also advertised in the pages of The Student. Next to a large and vibrant ad for SpiritHaus liquor store, there was a small, plain-text box advertising the services of a psychologist in Northampton. Teach for America, which was then in its first decade of existence, placed an ad in The Student attempting to recruit Amherst graduates.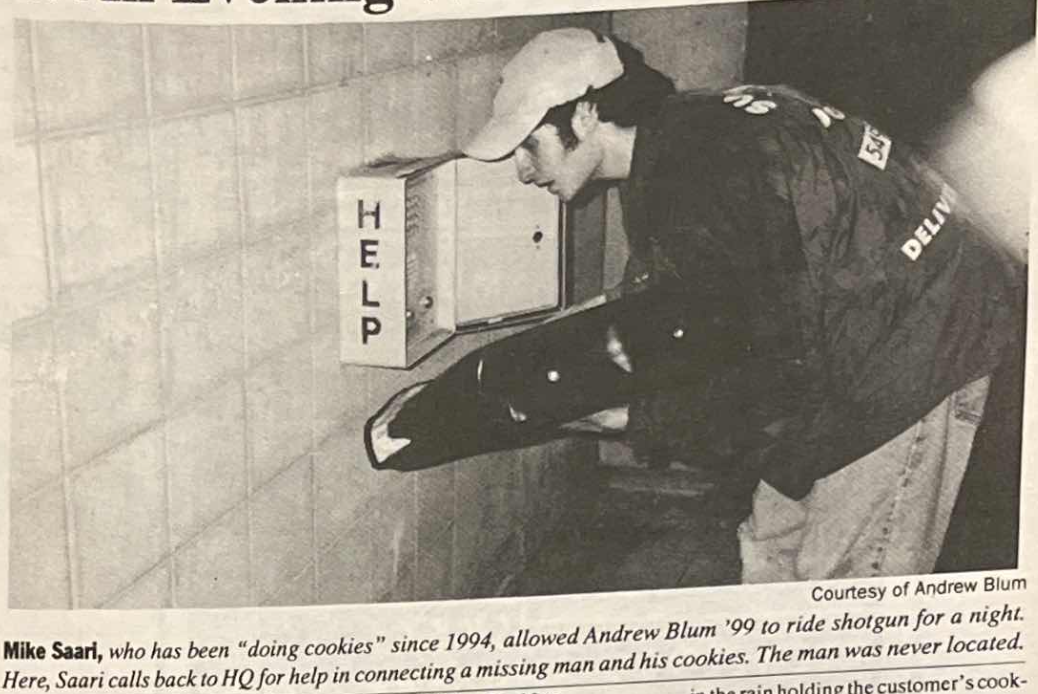 "Shotgun with Sugar Jones: An Evening With the Cookie God": One feature explored the nightly operations of Sugar Jones, a since-closed Amherst business that used to run a hot cookie delivery service, "Straight from our ovens to your door," each night. A student journalist "rode shotgun" to the Sugar Jones deliveries one night. According to the article, the bakery sold 1,000 cookies per night, and had gone through 60,000 lbs of dough since opening in Amherst. On each delivery, the store dropped off "half-raw cookies in eight varieties, a quart of milk, and a pint of Ben and Jerry's."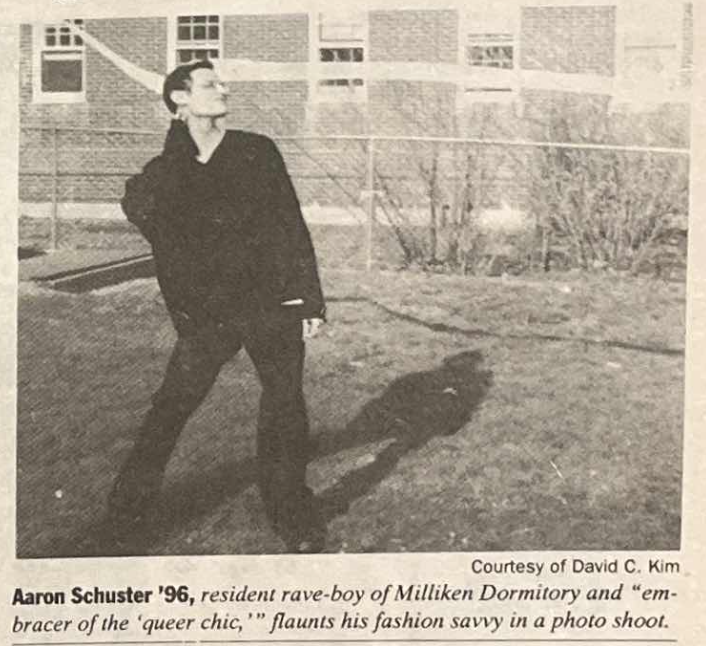 Fashion Week: An article titled "Spring Fashion Must-Haves" poked fun at the "boring" fashion of Amherst students. "Fashion at Amherst seems to be such a contradiction in terms," wrote the author, positing that a typical interview might go: "'What do you think of fashion at Amherst?' 'I don't care.'" Most interviewees described the  "Amherst look" as "preppy, casual, boring, plaid/flannel, [and] J.Crew." While students claimed to not have style sensibilities, many of them pointed to more fashionable people who strayed from "the college's typical mail-order aesthetic," such as Aaron Schuster '96, a "proud embracer of the 'queerchic,'" and Professor of Sociology Ron Lembo. The fact that people knew who was fashionable led the author to believe that "fashion was indeed in the back of their minds."
This Week in Amherst History: It seems that an Old News-esque column also existed in 1996, this one traversing a few year's in Amherst history with shorter facts. The column reported that this week in 1927, Amherst faculty were fundraising to rebuild the Shakespeare Memorial Theatre in Stratford-on-Avon, England. In 1970, 500 people gathered in front of Chapin Hall to protest President Richard Nixon's Vietnam War policies. And in 1985, 150 people gathered on the Frost Library steps to support Amherst Gay and Lesbian Alliance (AGLA).
Conversations on sex toys, senior theses, and a game show: A section called "Campus Conversations" included a swath of student quotations and reports. For one, May 1996 was the first annual masturbation month. "Even if you missed Amherst's own 'evening of female orgasms and vaginal bliss' last month at the Women's Orgasm Clinic," the article reported,  "Perhaps you attended the party in Pond Hall last weekend honoring the event. 'We decorated with latex gloves … and of course, served White Russians,' said Carolina Patino '99.'"
The section also reported on seniors finishing their theses, quoting Sonia Ochoa '96 as saying that finishing an American Studies thesis was "anticlimactic." Chemistry major Amy Barczak '96 said "I felt really sick because I'd just eaten a can of Pringles, Rolos, and Starbursts out of depression over the whole thing. When you've worked on something that big for so long, you lose your perspective."
There was an event titled "Amherst Squares," based on the game show Hollywood Squares, which featured campus "celebrities" including a staff member from Schwemm's snack bar, a student dressed as Lord Jeffrey Amherst, and LJST Professor Austin Sarat. "LJST Austin Sarat set the tone for the evening," the article said, "when Elwood introduced him as 'everyone's favorite professor, who also gave me a C on my first paper,' Sarat retorted, 'You deserved a D.'" One of the game show prompts: "List everything on campus named for the Pratt family."