Homecoming
Passionate Determination: An Artistic Pursuit — Alumni Profile, Luis Torruella '88
Discipline, dynamism, and captive creativity have fueled sculptor Luis Torruella '88 in his pursuits.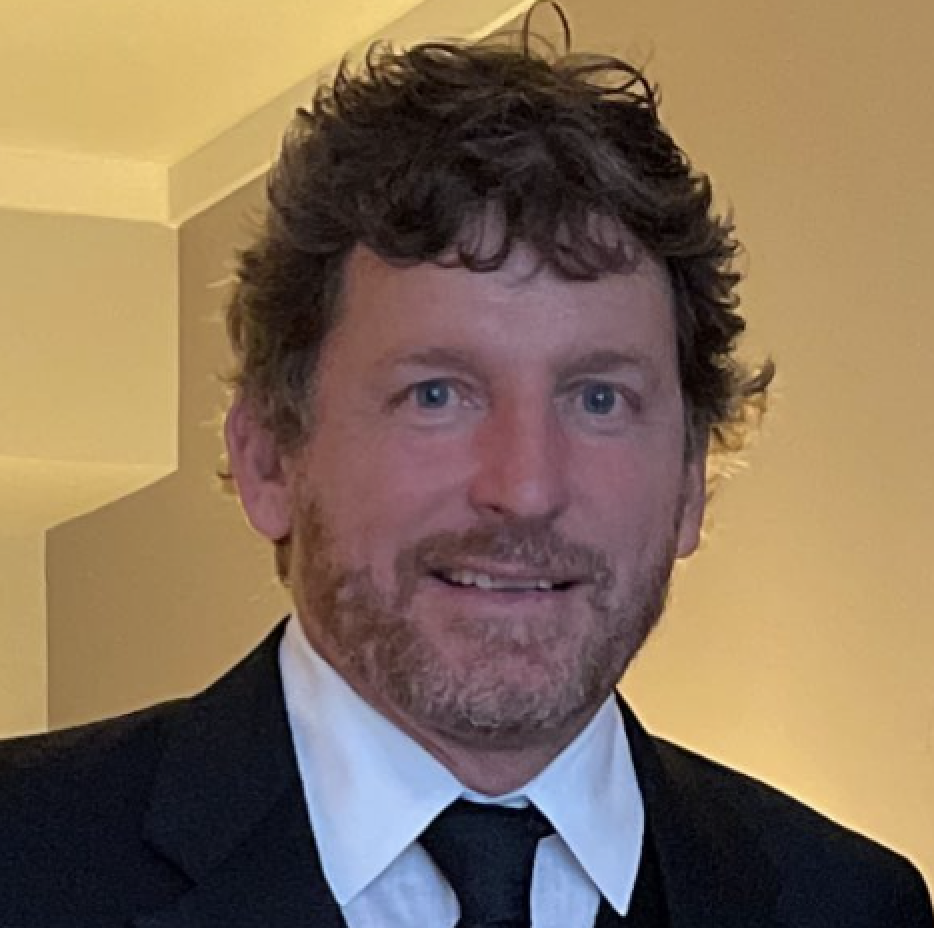 Rhythmic, geometric shapes of aluminum painted in bold colors work in perfect harmony to create a dynamic composition in Luis Torruella's '88 evocative sculptures.
I spoke with Torruella about his experience as a working artist. His days begin early, putting in hours in his studio, carving out time for his creativity. Through his evocative works, Torruella exemplifies the fact that passion and discipline can run in parallel.
Early Life
Growing up in Puerto Rico in a family of professors, Torruella's early life was shaped by the sciences. During his first two years at Amherst, Torruella planned to continue in their footsteps by studying math. It wasn't until the final semester of his sophomore year that he had an epiphany in his "Introduction to Sculpture" course and discovered his passion: "It was one of those moments," he proclaimed. "It's cliche, but it's so true. Everything went from black and white to color."
Before coming to Amherst, Torruella's only prior art experience had been during his final two years of high school. Torruella credits the opportunity to switch his course of study almost two years into college to his sculpture professor, James Sullivan, who motivated him to explore his passions.
When Torruella looks back on his time at Amherst, he recounts joyous times he spent in social clubs, at a time when Amherst had just abolished fraternities. He particularly remembers enjoying spending Interterm on campus. He found that the free time before the spring semester — a time that promoted experimentation, allowed him to take whatever class he wanted —  was fun enough to leave the beautiful Puerto Rican weather behind.
His epiphany to pursue sculpture drove him to spend hours in the studio, putting in the active dedication needed to become a successful working artist. To him, it felt like he was shifting his studies from "going through the motions" to laying the foundation for the career he loves: "I'm so grateful that, you know, 90 percent of the people around me that work don't really love what they do. They do it for the money, they do it for this. So it's such a bonus to really want to get up and do it. That doesn't mean on Monday mornings, you [are never] dragging your feet, but it means that you're interested [in] and you love what you do. It makes such a huge difference."
Starting a Career
After a post-grad hitchhike across the U.S. that helped him come to terms with the reality of his decision to pursue art, Toruella began an apprenticeship in Iowa where he learned about the intensities of being a working artist. The demands of the intense, occasionally unglamorous, and tedious lifestyle he experienced there didn't work out for him. He accredits this to a number of things, innocently admitting "my mind was probably still hitchhiking somewhere."
But he didn't give up on his passion for sculpture and left for New Jersey to begin a second apprenticeship at the Johnson Atelier Technical Institute. Laboring in the heat of the summer forced Torruella to do some soul searching. With the decision to complete a minimum of two years at the institute, he reinstated his drive to put in hours at the studio to go through a multitude of departments to learn as much as possible.
A trip back to Puerto Rico between apprenticeships, incentivized by the prospect of making money as a waiter, ended up being the serendipitous catalyst of his career. The owner of the restaurant asked to display some of Torruella's works in his establishment. He obliged but didn't think much of it.
Meanwhile, a renowned gallery owner in Puerto Rico saw Torruella's work displayed in the restaurant and was enamored. She reached out to him after he had finished his apprenticeship in New Jersey, and asked if they could talk on the phone. "Thankfully, I did; I called," he said with a sigh of relief. "She was awesome. And we struck up an awesome, beautiful relationship for the next 12 years." Suddenly, Torruella went from being an unknown artist, who used to hunt down scrap metal at junk yards to create sculptures, to one who was featured in a gallery; thinking back, he stresses the importance of making "those little connections."
While his career accelerated, Torruella began running sculpture workshops at a Puerto Rican high school and soon became the head of its art department. He made rewarding connections with the students he taught and enjoyed watching kids who otherwise struggled in the school's academic setting flourish in his workshops. Graciously forming bonds with the people his artistic endeavors brought forth remains a constant theme in his career.
As sales at his solo shows increased and the demands on his time stretched the hours of his day, Torruella ultimately chose to leave his teaching job and become a full-time artist. 30 years have passed, and he has had a steady flow of work ever since.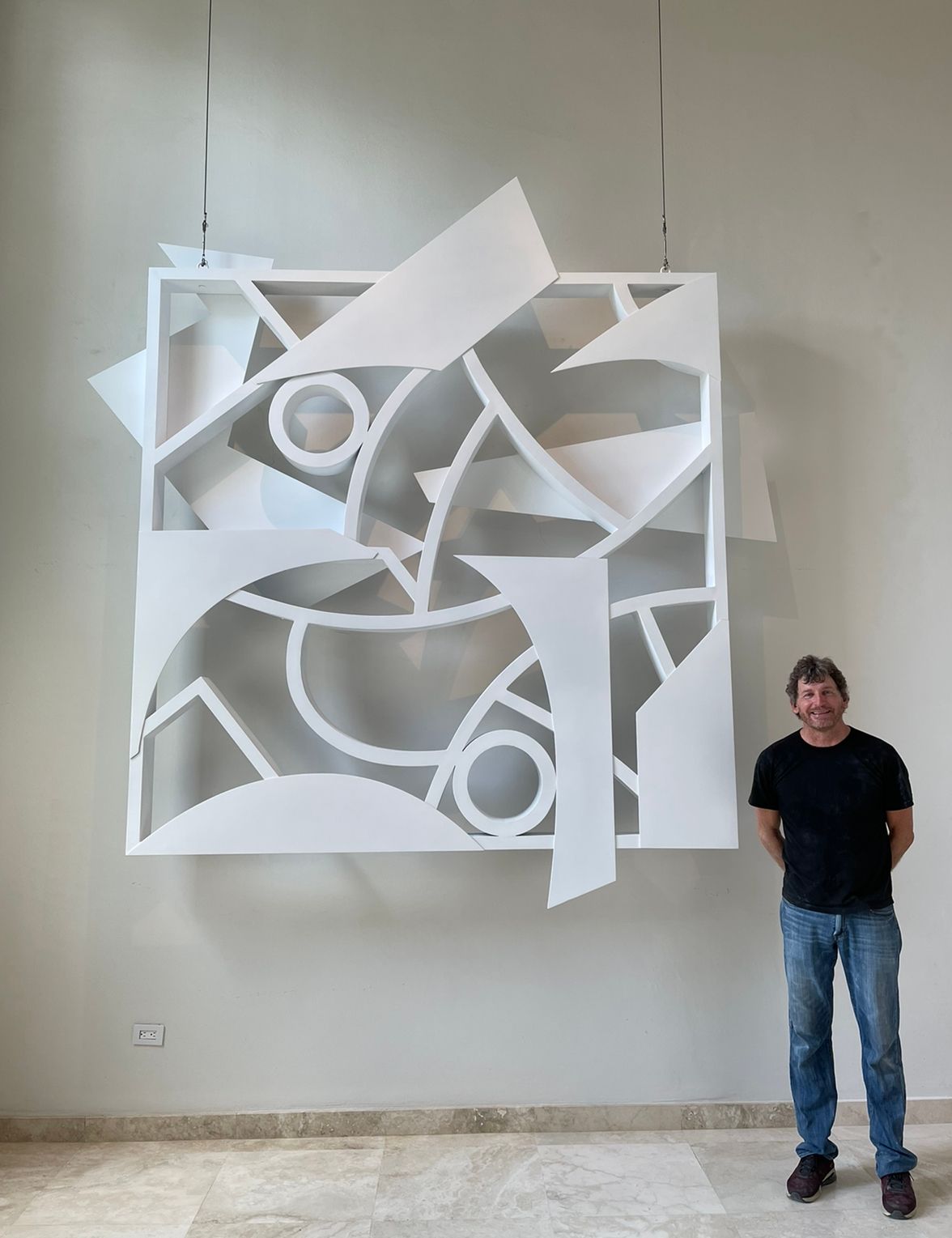 His Art
Torruella's artistic language is directly shaped by his medium of choice: aluminum. He gravitated towards metal ever since he saw a welder and torch in use at the Amherst sculpting studio. Akin to his personality, aluminum facilitates spontaneous impermanence. Pieces can be melded together and taken apart quickly, allowing him to brainstorm with his materials.
Made in his private studio in San Juan, Puerto Rico, his sculptures appear to be moving, a conglomeration of rhythmic shapes. The elements of his sculptures capture the energy of being quickly assembled and taken apart, all while remaining in perfect harmony.
Aluminum also allows for large-scale creations. Torruella does not shy away from working big; he told me about the excitement of creating art from the perspective of the observer: approaching the piece, walking around and under, and observing every angle. "Regata," located in Paseo Portuario, San Juan, stands 40 feet tall, demanding to be seen by its audience. Its bold blues and towering archways wrap around each other, encapsulating the viewer, drawing them in.
His instinct and artistic preferences constantly lead him to new discoveries: "I like a work if in the first 10 seconds, you can decide if it works for you or not, and then discover other stuff as you look at it more carefully … that's kind of my instinct. This style is like a language, and [as an artist] you just [have to] evolve it and perfect it over the years and push yourself to keep evolving. But [it's] also in a sense [about] holding on to what you think is really very, very dear to you and what works really well."
Bold saturated colors have been plentiful in Torruella's work ever since an exhibition on folklore songs in African Antillean folklore poetry required him to fit a colorful theme for his submission. "It's an awesome tool to lead the viewer," he said. "I want you to look at this piece, but I want you to look at it overall and I want you to steal your sight over to this side. You can change and accentuate a piece. Color is an awesome variable." The dynamism of his art and his impactful use of color makes his work distinctly unique.
Torruella stresses the importance of experimentation, but also acknowledges that artistic success is contingent upon becoming your harshest, objective critic. Avoiding perfectionism and restraining himself from attaching emotional sensitivity to his work is a skill he accepts as being a part of the creative process. "You've got to learn how creativity works, how it works for you," he stressed to me. " It took me a long time to understand myself. Understand what creativity means, how to coax it out of you, and that creativity is not on demand … I gotta eat well and sleep well on an evening to have a chance to be creative. So you know, if I'm tired I'm no good in the studio."
Torruella's art feels singular; you know it's his piece when you see it. There is purity and innocence in his creations, as well as confidence. He has won several distinguished art awards, represented Puerto Rico at the Universal Exposition of Seville (Expo '92), and created for international audiences on both hemispheres, such as his sculptures in Hong Kong.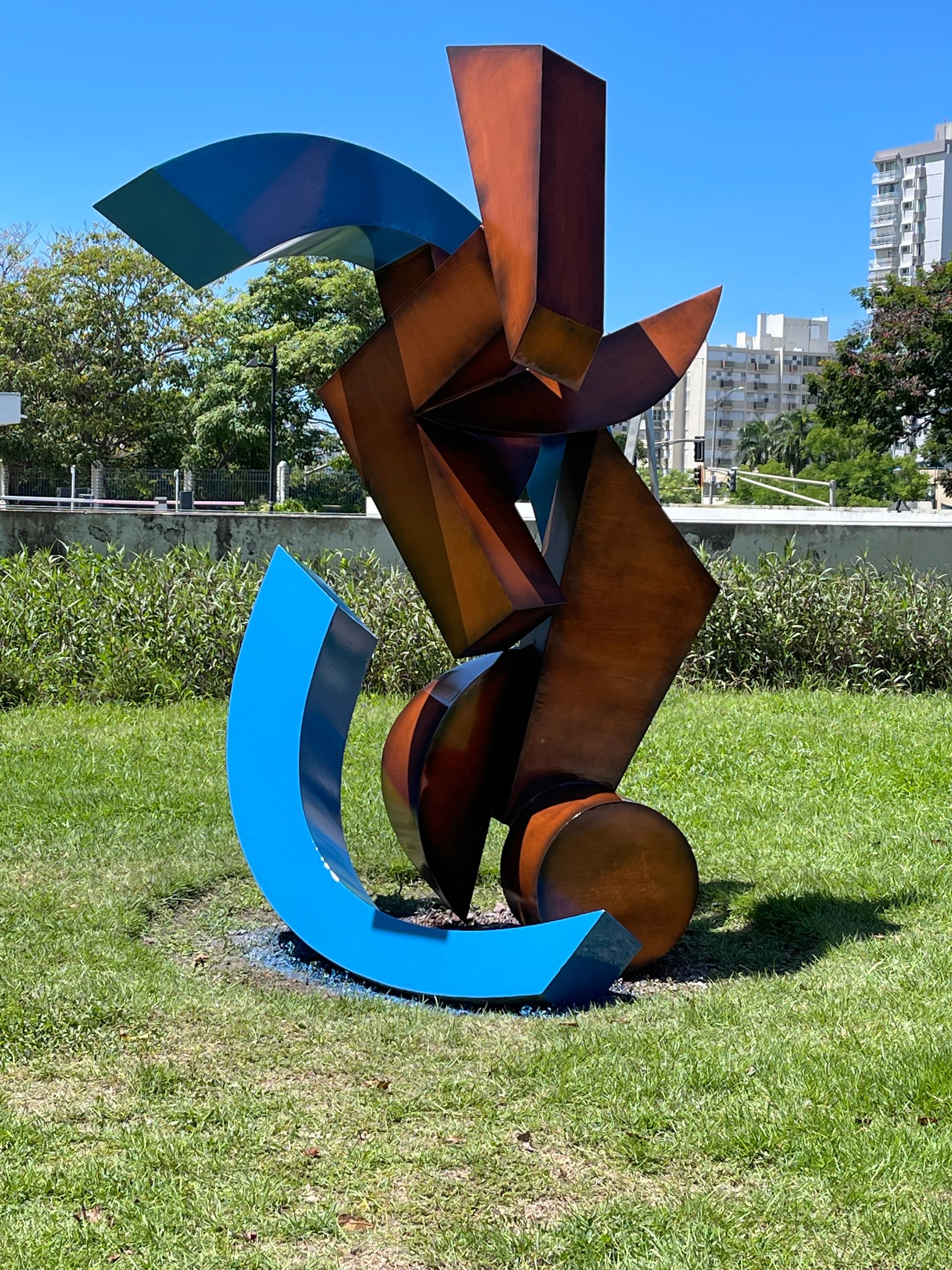 Find Your Place (or Lack Thereof)
When I inquired about his intentions when creating internationally displayed work, and if he changes anything about his style versus his usual creations, he emphasized how his work continuously manages to stand out amongst others: "[You want to] export your particular flavor and brand. That's what will be interesting, especially internationally. You want to stay true to your callers, and if they like it, awesome, if they don't, so be it, but do not adjust your style."
There are many worlds inside of the art world. It can be a tricky web to navigate, finding one's place amongst a group of extremely talented individuals. Torruella resonates with architects and designers, but he categorizes himself as "somebody that's been slightly on the outskirts of the art world in a sense."
"I just like going to my studio, doing my stuff, working hard, then going home to my family, you know," he said. "It's worked phenomenally well because I've managed to be a presence all these years but [always stayed a] little on the outskirts, which almost worked in my favor."
His down-to-earth answer is part of a greater theme for Torruella as an artist. He is successful because of a sense of authenticity that elicits his artistic creation; he does not put himself into a box. This works because he understands who he is and what he can do. His work is admirable because it doesn't try to be something it is not. It's both playful and mature, showcasing the natural element of his artistic vision, motivated by his robust drive.
Advice to Amherst Students
Torruella wanted to give advice to Amherst students, specifically those who want to work in the arts. He shared a quote by Steve Jobs: "'Stay hungry. Stay foolish.' It's about really embracing that kid [who] is fearless. [It's] been talked about a lot that you need to fail and [things] don't feel fair. Fear of failure, it's so true. Failure can't be this abstract context," he emphasized. "It has to be something that is painful, [that] you feel [in] the bottom of your gut. Those lessons [from] the projects that you don't get are the ones when you learn. Keep that spark, keep that spontaneity."
Our conversation ended with a piece of realistic optimism: "[I've] been doing this for 35 years, I've done very well. My message [is] if I can make it, you can make it. Whatever you decide, at the end of the day, feel like you exhausted all possibilities, you have no excuses. It's a weird world where very talented people cannot succeed. And if you don't succeed, it's not necessarily reflective of the fact that you're not talented. It's a world with a lot of weird [rules] we get to know. Use those rules to your advantage or figure out how to thrive in the system, there's opportunities everywhere, but you've got to look at it and see which is the best avenue for you to enter [the art] world."
Harnessing and maintaining your creativity is essential for an artist's development. Having confidence, perseverance, and discipline has allowed Torruella to be successful at a career he loves. In his words: "If I can make it, you can make it."