Arts & Living
Pioneer Valley Zine Fest Celebrated Alternative Modes of Expression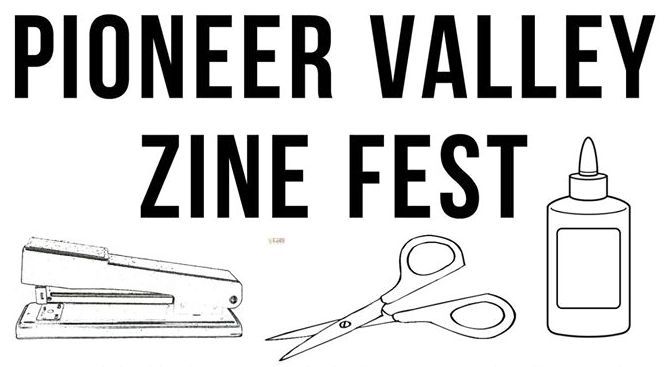 Flywheel Arts Collective hosted the annual Pioneer Valley Zine Fest on Tuesday, April 19. The event was a part of the Easthampton Bookfest, and it was free and run by a volunteer-based collective whose mission is to "build community and give artists of all types the opportunity to craft, practice and perform their work in an environment where creativity is valued over profit," as stated on their website. Zine Fest hosted thirty vendors that sold a diverse array of zines and comics.
Zines are a form of micropublishing popular in alternative communities, and are easily created with accessible materials. One can make a zine by creating a master copy out of printer paper and printing it through a standard copy machine. They are often distributed through zine distros, zine fests and websites like Tumblr and Etsy. Zines could be about any topic, but the most popular genre is personal zines, which are often serialized autobiographies. Other genres include art zines, which are more highbrow, political zines or any other genre that people are interested in. Generally, zines are made by leftist individuals involved in subcultures outside of the mainstream society. In part because of this, the possible profitability of zines has to be completely disregarded, and zines are relatively expensive to make taking into consideration their price, which is usually around $2 to $3. Creators of zines are more concerned with expressive properties than profits, and thus creating zines is not considered a full-time job by any means. However, the accessibility of zines allows for a rich subculture around the creation and distribution of these small micro-magazines.
Thus, it is no surprise that many of the zines being sold at the Pioneer Valley Zine Fest catered to niche communities. The small ballroom was crowded with vendor tables, and vendors selling zines about trans culture rubbed shoulders with those who were selling their zines on politics and sexual abuse. In addition to zines, people were selling self published comic books, buttons and prints. Other vendors sold collaborative booklets composed of science-fiction stories submitted by unpublished writers. Every aspect of Zine Fest held the core values of both Flywheel collective and zine culture, and the emphasis on collaborative expression without financial motives was strong.
Pioneer Valley Zine Fest was expertly curated by Flywheel Arts Collective. The small room, the crowded atmosphere and the diversity of the vendors perfectly expressed what zine culture is about. Zine Fest was a pleasure to attend because, at a glance, Amherst College often seems lacking in counterculture movements and expressions. Amherst is a bubble with its own culture and customs, so Zine Fest was refreshing as it allowed student visitors to delve deeper into a world outside of the limits of a liberal arts college. "It is often simple to become wrapped up in our own distinct Amherst culture, so it's easy to forget that there are cultural movements that are not represented by the students of Amherst," said Nicholas Christianson '19, an attendee. "Zine fest, with its adherence to counterculture standards, served as a distinct reminder that there is a wealth of cultural diversity outside of Amherst."
Although the Pioneer Valley Zine Fest is much smaller than zine fests in larger cities, it still had a wide variety and abundance of zines. Its size allowed less established creators a better chance to sell their material because larger zine fests often require vendors to have following and a sizeable portfolio. Flywheel Collective offered a wide range of table sizes at low prices, which allowed vendors of all experience levels a chance to have a table.
Zine culture and zine fests are valuable additions to any community. Events like Pioneer Valley Zine Fest act as distribution points for micropublishers to share their work. As forms of personal expression are migrating to digital means, zines serve as the more personal and physical form of communication that binds people through its creation and distribution. Physical copies of zines can be spread from person to person and can serve as a point of dialogue and personal connection often centered on social issues.
The Pioneer Valley Zine Fest excelled at exactly what it was intending to do. Through smart curatorial choices like low tabling fees and free admission, Flywheel Arts Collective succeeded in staying true to its mission of celebrating expression without attention to financial motives. In extension, Flywheel Arts Collective was able to host a true manifestation of the heart of zine culture.