Arts & Living
"Poetry Isn't Perfect," And Neither Is Publishing
The Emily Dickinson Museum's annual "Tell It Slant" Festival featured discussions and workshops led by acclaimed poets. Assistant Arts & Living Editor Sarah Weiner '24 reviews one of the headlining events, "Poetry Isn't Perfect: A Publication Panel with The Common."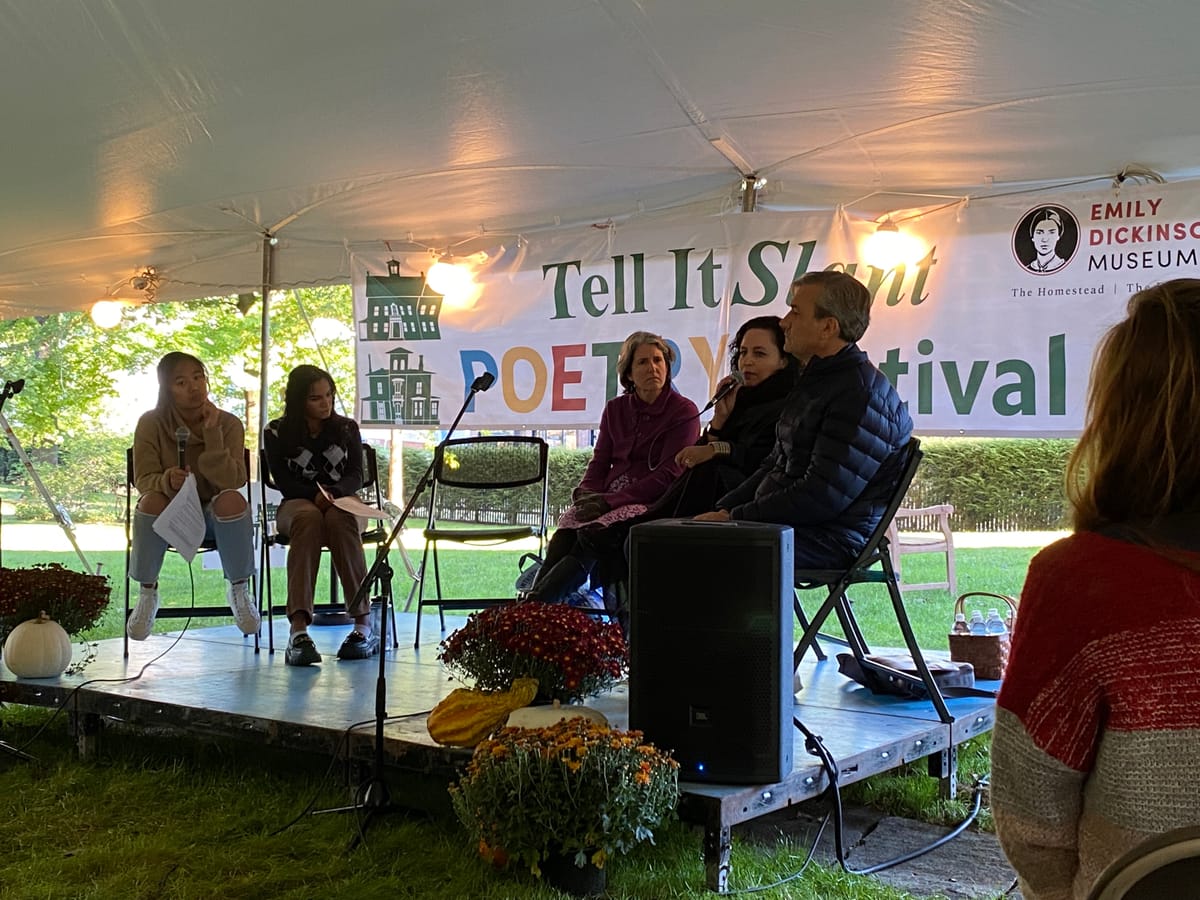 Last Friday, Sept. 23, various members of the Amherst written word community banded together to produce "Poetry Isn't Perfect," a panel featured in the annual Tell It Slant Poetry Festival. The festival was hosted by the Emily Dickinson Museum, and ran last week from Sept. 19 through Sept. 25, gathering the Pioneer Valley community for events, panels, and readings with poets from around the world.
"Poetry Isn't Perfect," a panel with The Common, the college's literary magazine, gave festival attendees the chance to hear from three established (and locally-based) poets: translator, organizer, and writer Jennifer Jean, 2019-2022 Northampton poet laureate Karen Skolfield, and Matt Donovan, the director of the Boutelle-Day Poetry Center at Smith College. The panel was moderated by two of The Common's editorial assistant interns, Andrenae Jones '23 and Sarah Wu '25. The students' perspectives, uniquely immersed in both the worlds of writing and publishing, contributed to a thoughtful conversation with the three panelists, generating valuable insight for up-and-coming writers, editors, and publishers.
To open the discussion, Jones and Wu asked the panelists about their creative processes: why they began writing poetry, how they write and revise their own work, and how they provide feedback on others' work (all of the panelists have taught at some point in their careers). For all three panelists, poetry was part of their childhood: Jean and Skolfield looked back on their first works with appreciation (Skolfield even recited one for us by heart), while Donovan was deeply embarrassed by his first poetic attempts to woo his middle school crush. Jean noted that she turned to poetry as a kid because it was "the cheap option" for the creative expression she needed.
As adult poets, their motivations for writing have evolved. Donovan explained that his writing, revision, and feedback processes all revolve around poems as "an act of interrogation." He later added, in a response to a Q&A question about what the panelists understand to be the beauty of poetry, his writing locates novelty in what we talk about and how we talk about it. Using as an example his forthcoming book — "The Dug-Up Gun Museum," which examines gun violence in America and will be released on Nov. 8 — Donovan noted that discourse around gun violence in our country is repetitive no matter the stance taken, but that he tried to use new research to approach the discussion in a novel way.
The conversation then shifted to a discussion of the publishing process from the writers' points of view. The consensus among the group was that publishing is one of the worst, if not the worst, parts about being a poet. Skolfield made it very clear that she never writes with the goal of publication in mind, adding that nearly every poet will receive far more rejected submissions than acceptances. Jean recommended that in the face of rejection, every writer should just get back up and keep going. "Gatekeepers are just people," she noted with a consoling chuckle. "... Most of the time."
Donovan then introduced the term "po-biz" into the conversation, which begrudgingly refers to the business of publishing poetry: who does it, how it's done, and how unnatural it feels in comparison with  the other parts of the poetic process. The panelists advised that "po-biz" be compartmentalized from all other parts of creating poetry. However, Donovan recognized that publishing, particularly the process of working with an editor, is an exercise of "writing diplomacy." He is interested in viewing the work of revising as a collaborative process that moves away from one authoritative figure — he is fundamentally, constantly in search of what is "best for the poem."
The last quarter of the panel, including the Q&A portion, concluded the discussion on a sweet note. Responding to a question from Wu about the importance of writing groups, Jean struggled to pinpoint why community is such a ubiquitous part of the poet's experience. She has traveled to open mics and writers' groups all over the world (she spent a residency working with Iraqi women artists) and has noticed that the sense of community seems the same everywhere. Skolfield echoed this, adding that an all-women group she attends once a year is a celebratory space that holds her accountable to work on her writing.
This sentiment of community was hammered home in the last question for the panel. An employee of the museum asked the panelists about their personal connections to Dickinson: Do they like her work? What does she mean to them? Jean expressed admiration for the depth of Dickinson's work: "It's like a black hole," she said, articulating how Dickinson's work extends beyond the page and goes down deep into the table beneath it. Skolfield added that even for her own kids, who grew up in Amherst, Dickinson is "the only poet."
Unlike Skolfield, Donovan only moved to Amherst a few years ago, so the novelty of being in such proximity to the "Belle of Amherst" is even fresher. When he rides past the museum on his way to work, he looks up at Dickinson's bedroom window, and knows that she wrote from that very room. He is astounded every time.
After the panel, I had the chance to reflect with Wu on the value of the discussion. She noted, "The ability to communicate with other poets and being involved in events is one way to learn how to write and see what other people are interested in…" Students and professionals shared the seats on the panel and in the audience equally, shedding any preconceptions of the hierarchy of learning and teaching. "[It is] great to bring together different interests and find a community through that."