Arts & Living
Punk Iteration of "Dr. Faustus" Transforms Elizabethan Play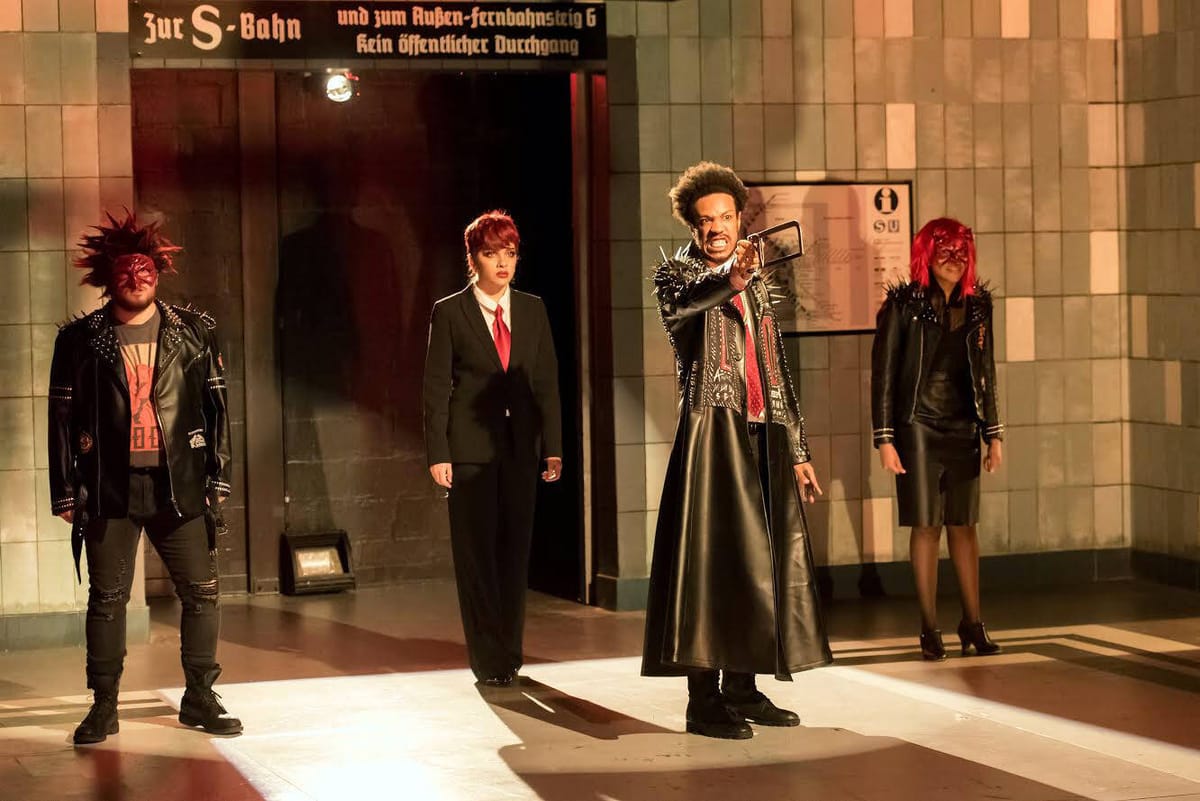 What happens after someone sells their body and soul to the devil? Although an unusual question, it is one the cast and crew of the college's production "Doctor Faustus" had to consider.
"Doctor Faustus," written by Elizabethan playwright Christopher Marlowe and first published in 1604, follows the tragic fall of its titular character after he promises his soul to the devil. However, this adaptation of the tragedy was in no way stuffy or outdated. Rather, it drew on a variety of distinctly modern elements in its costumes, set design and script alterations, which provided a refreshing and playful contrast to the play's Old English dialogue.
The play was the product of Wesley Guimarães' '19 senior honors thesis in theater and dance. His thesis advisor, Ron Bashford, joined as director. Bashford explained this attention to modernizing the old work, as he noted in an email interview that in the scene after Faustus sells his soul to Lucifer, the script calls for "devils [to] arrive with a banquet" so there needed to be "some kind of spectacle there." Rather than performing a banquet, the devils in this production — all with aggressive red mohawks and clad in leather jackets adorned with patches, safety pins, spikes and torn fishnets — dance to Eurythmics' iconic 1983 single "Sweet Dreams (Are Made of This)." It's a hilarious moment, when all of the tension of watching Faustus summon Satan dissipates immediately at the instantly-recognizable opening bars of the song. Although the concept of the scene is bizarre, it nevertheless fits perfectly. Perhaps this was because, as Bashford noted, "our costume designer [Sarah Woodham] had come up with Mephistopheles' [a devil sent by Lucifer to serve Faustus in return for his soul] look from Annie Lenox in the video of 'Sweet Dreams.'"
Walking into Holden Theater for the final and completely sold-out showing of "Doctor Faustus" felt like entering another world. The entirety of the theater had been tiled in pale green and blue subway tile, with signs in German placed over various entrances and exits for the actors. In the back of the stage, a large screen advertised different departing trains and their destinations, some seemingly arriving in 10,000 minutes or from different circles of hell. I had walked out of Amherst College and into a subway station from 1980s East Berlin.
Bashford elaborated that "the idea of the train station was the set designer's, Dedalus Wainwright. But I came up with the idea of communist East Berlin in the 1980s … Wainwright has been living in Berlin recently, and he did quite a bit of research. He pointed out that in communist East Berlin, certain subway stations were blocked off to prevent people escaping to the West: they were called 'devil stations.'
He also liked the idea of a train station being a place of destinations and arrivals, people coming and going, a liminal kind of space. Building the set was a major accomplishment for our technical manager, Jeff Bird, who was assisted by a crew of students." Sebastian Son '21, a member of the show's acting ensemble, said he was most impressed by the "incredible amount of thought put into every decision." He further explained, "The song played during the Sin Scene uses the phrase 'white horse,' which references colonialism but also was a slang for cocaine that ties in with the overarching theme of punk. All involved [in the production] did an enormous amount of research, and there were a thousand nuances ready to be examined on each night of the show."
As the show began, around a dozen people emerged on stage dressed in long black trench coats and sunglasses, rushing in and out of the "entrances" to the train platforms. Bashford stated that the punk influence on the costumes was the brainchild of Woodham. "It was the younger generation [in Berlin] who was interested in the West. We thought that if the state controlled religion and personal thought, then the West (punk) could represent both liberation and transgression, the world of the devil," said Bashford. Another striking element of the production was the comedy that ran through it. Even though the play is a tragedy, the audience was regularly roaring with laughter. Whether it was having a group of cardinals follow the pope while blowing into golden kazoos or having the pope talk in a baby voice, Bashford encouraged the actors to add their own comedic improvisations to the lines. The comedic breaks brought a needed levity and wit to a play that is frequently dark and foreboding, they also helped with establishing the modern and fresh feel.
When asked over email why he chose "Faustus" for his thesis, Guimarães stated that he was looking for a piece that would both challenge him personally as an actor and also allow him to bring in a large team of artists. "'Doctor Faustus' really checked all those boxes. When I first read the play, I fell in love with the way Marlowe's verse is so bold and demanding, and with how the story balances a dense and heavy plot with a lighthearted spectacle of characters and events. It was the perfect show to engage a lot of people in and to build a community of artists around it."
For Guimarães, playing a character who literally sells his soul to the devil presented a unique opportunity to dive deep into what is redeeming about the character. He said that "it was a marvellous experience to find out that Faustus was a lot more relatable than I'd thought. In fact, I think every one of us has a bit of Faustus inside — especially here at Amherst College. He is a man of honor and prestige, he holds imporant degrees and his knowledge is valued and renowned all over the world — almost like the profile of an Amherst alumnus, isn't it? Yet for him, none of that is enough … When I think about it, selling my soul to the devil could mean taking a job I hate for the sake of immediate stabillity, or going against my principles and convictions for the sake of my ambitions." However, unlike Faustus, Guimarães is not selling out — he shared that in the fall he will be pursuing an MFA in acting at the American Conservatory Theater, one of the top acting MFA programs in the country.
All of those involved stressed that the production would not have been possible without the dedication and passion of all those involved. This unity was vividly on display in the last scene of the play, in which all of the cast members are gathered in a circle, once again in their black trench coats and sunglasses like the opening scene, around a platform that displays the bloodied and tattered clothes of Faustus, who was dragged to hell by Lucifer's devils the night before. In one moment, they all whip off their sunglasses, and look into each others' eyes before the stage goes dark. In that moment the connection between the cast felt palpable, and it was clear that great works of art are not created in a vacuum but are rather refined and improved upon by everyone involved.