Opinion
Pushing Forward in Times of Crisis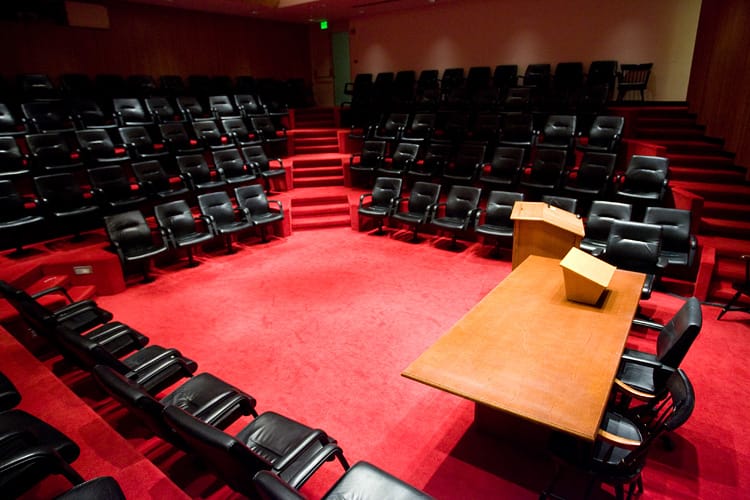 To the numerous students (and one gorilla) who joined us this past Monday: thanks! It was an eventful Senate meeting to say the least and we always love having students who are interested in campus issues.
We began by welcoming a new Senator, Pierce Edwards '13 and an interim treasurer, Abigail Xu '15, into our midst. Xu, an experienced Budgetary Committee member and Financial Administration clerk, is the temporary replacement for Diwa Cody '14, who recently resigned from her position as AAS treasurer. Xu said, "My biggest priority right now is to make sure that clubs get the funding they need for their end-of-the-year events." Although Edwards and Xu will serve for just a couple of weeks, it was heartening to take in two students who, I'm sure, will bring forth hard work and fresh ideas.
Speaking of hard work and fresh ideas, two first-year senators did and had some, respectively. Geoff Ainslie '12 presented on behalf of Benyam Ashenafi '15 an idea for adding picnic tables and hammocks to the main quad. So adorable! I agree that the lawn chairs out there definitely need some new friends.
Additionally, Dvij Bajpai '15 had brought to us last week an idea to install card-swipe entry (like we have for dorms) into the music practice rooms in the basements of Stearns and James. As the current system goes, each practice-needing student gets one key to one room, and if someone is already practicing in your room, tough luck, because you can't access any of the other rooms that may be (and usually are) open. As a key-holder to 14 Stearns, I agree that this is an issue because for some reason, 14 Stearns seems to be the most popular practice room (I'm not even biased or anything). Additionally, this would allow for greater security and accountability, as Bajpai has been working on securing alumni donations for new musical equipment for these rooms. This new system would cost around $12,000, which, as the Constitution dictates for expenditures above $10,000, the Senate needs to pass by two-thirds majority. If only simple majority is attained, a referendum goes out to the student body for approval, and this is exactly what happened, so get excited for an upcoming referendum especially if you practice in these rooms… and especially if you practice in 14 Stearns.
A turning point in the meeting occurred when Josh Mayer '13 spoke. In the wake of this elections turmoil, his speech covered a few key points — his resignation from his Senate seat, his decision to stay on the presidential ballot but without campaigning further, his apology for his involvement in the prickly situation, and his respect that presidential candidate Tania Dias '13, who he claims had remained "untouched by and uninvolved in this incident." Most notably, he expressed his indignation and outrage that his recent actions have been charged as criminal while previous AAS Executive Board members allegedly committed similar actions (acquiring, distributing and/or manipulating elections results before their release to the public) with no penalties whatsoever. He charged AAS President Romen Borsellino '12 of the "ultimate hypocrisy" of condemning Mayer's actions when he too had acted similarly. Mayer showed support for the initiative to make things right, but he insisted that if we "clean up the AAS, we should clean with an even hand."
Mayer concluded his speech by moving to create a Committee of Inquiry to investigate the actions of and perhaps recommend the impeachment and removal of AAS President Romen Borsellino '12 and Judiciary Council Chair George Tepe '14. Mayer alleged that Borsellino had previously engaged in multiple occasions of electoral fraud similar to or worse than Mayer's own actions. Most recently, he claimed that the e-board had rejected the BC's legitimate action of choosing Xu after Cody's resignation. According to Mayer, Borsellino and Tepe instead encouraged Chris Friend '14 to take the position, thus eliminating him as competition against Tepe for the seat of AAS Vice-President. Mayer recommended that this attempt to "stack the deck in two out of five Executive Board seats, even excluding the Presidential race" was an unprecedented instance of "electoral engineering" to be investigated by this Committee, composed of five Senators elected by the Senate through secret ballot. The Senate voted against it, but in the words of Mayer: "I am bringing these allegations to light because I have nothing to lose and fear that the others in the know have more at stake."
Senate adjourned on this tense note on Monday evening. Maybe my naivety as a first-year Senator is laughable, but this meeting was a bit of a shocker for me because as far as I know, the members of the AAS have generally been good to me and to each other throughout the year. I was saddened to see that this is not always the case, and I along with the rest of the student body can't help but feel disappointed.
However, I also feel optimistic about what will happen in the future. From what I know about us, I believe that the AAS, the student body and the College community as a whole has the resiliency to overcome such animosity and wrongdoing, and, more importantly, move on once this dispute is settled.
On that note, the Judiciary Council chaired by Cole Morgan '13 is currently investigating the actions of all parties involved and a public hearing will be held this Thursday at 7 p.m. in Merrill 3.