Arts & Living
Q&A: Cellist of Dover Quartet Reflects on Career and Life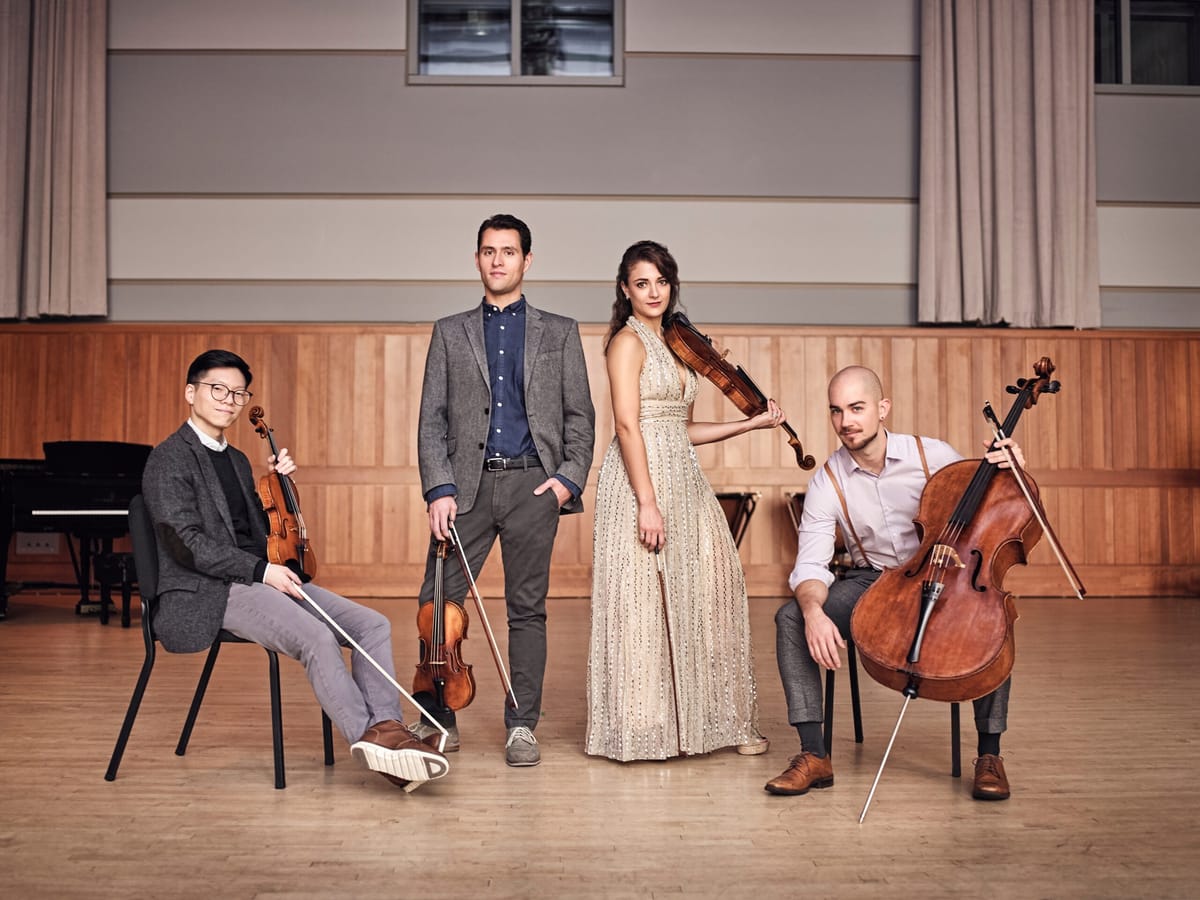 Named the Cleveland Quartet Award-winner, and honored with the coveted Avery Fisher Career Grant, the Dover String Quartet has become one of the most in-demand ensembles in the world. According to Strings Magazine, the quartet's rise from up-and-coming young ensemble to occupying a spot at the top of their field has been "practically meteoric."
The Dover performed Mozart pieces as well as works by Samuel Barber, Caroline Shaw and Dimitri Shostakovich last Friday evening, Feb. 14, in Buckley Hall. They were joined by bass-baritone Davóne Tines, an artist described by the New York Times as "charismatic" and "full-voiced," joined for Barber's "Dover Beach" and Caroline Shaw's "By and By." I interviewed a member of their quartet, cellist Camden Shaw, who offered some insight into the life of a contemporary artist.
Chang: What is the origin story of Dover String Quartet? Is there a moment of friendship particularly dear to you?
Shaw: We formed at the Curtis Institute of Music in Philadelphia when we were teenagers. The lower strings were playing together in various groups and trying to form a quartet; the violinists were already in a great quartet, but their cellist and violist graduated, and they were left without a foundation! So we swooped right in there… and the fit was noticeably great.
C: What inspired the name Dover?
S: We're sneakily referencing the Curtis Institute because the piece "Dover Beach" was written by Curtis alum Samuel Barber, and it was premiered by Barber and the Curtis Quartet.
C: What is the life of a traveling musician like? Is there a synthesis happening also outside the quartet; do other minds come into conversation?
S: In a few words … sleep-deprived … but it's magical to share music all over the world and see how connected we all are. And yes — our musical ideas are influenced by our experiences, so every moment even outside of rehearsal is the music.
C: How do you prepare for concert days?
S: To be 100 percemt honest, I think the best way to combat nerves is simply to perform often. I'm sure there are lots of hacks to get that blood pressure down, but nothing calms the mind like repetition. However! If you are the studying type, check out the book "The Art of Learning" by Josh Waitzkin. He discusses a month-long process of hacking the brain for performance. Also read the "Inner Game of Tennis," [by Timothy Gallwey] the ultimate performance psychology classic.
C: What has been the process of recording an album? How does this differ from the experience of playing in a live concert for you?
S: Recording is such a different experience. In a live concert, you are only playing each piece once, and you can forgive yourself for a few flubs in pursuit of a beautiful emotion — but on a recording day, you're playing full effort for eight hours, and the expectation these days is that an album will sound perfect. This causes a strange type of playing during a recording session — but it also can elevate your playing to crazy high levels just because you will it to be so.
C: What are your thoughts on the relevance [of music]? Of a live concert? The role of the artist in society?
S: Wow, great question. At this moment in time, I see the world exploring more and more the mechanisms of intelligence and in fact being able to construct them outside of the human brain in various forms, such as machine learning or AI (artificial intelligence). Nevertheless, I think art reminds us of our humanity in that it touches the intellect and our emotional languages in tandem, and that is something that not only connects all humans but in some sense might come to define what is human.
C: What has been the most meaningful concert experience to you?
S: I heard Steven Isserlis play the first Benjamin Britten solo suite in a church in England where Britten used to attend church. His seat was left open. It was not only a stunning performance, but a very profound sense of place.
C: I think a member of Dover mentioned, in a past interview, the idea of 'living with a piece of music'? Has a piece you've played transformed for you/how so?
S: I used to think that pieces should be in the tempo that feels/sounds best. Now I believe that while that is not untrue, the caveat is that what does "best" mean? For me, a good example is the first Bach Cello Suite. In the context of the six suites the first represents youth, freshness and innocence.
C: Who or what has influenced your playing, whether in music or in ideas from another place? How have you found your own voice in the midst of these inspirations?
S: The Guarneri quartet was and is a huge influence on us, as well as Shmuel Ashkenasi of the Vermeer quartet. As for finding our own voice — I think everyone is unique, and it just takes time to become confident in one's uniqueness.
C: What questions are you at the moment grappling with within music or in relation to?
S: It is very hard in some ways to keep improving without outside input. Thankfully, in a quartet we all get coached by one another. That really helps. Right now we're grappling with the balance of poise — in terms of pulse/rhythm — and abandon. Too much of either one and you sound boring. It's boring to be in control of your emotions all the time — it's also annoying to be out of control all the time. So where's the sweet spot? Is that sweet spot subjective? Yes it is.