Homecoming
Reporting the World: An Unexpected Journey — Alumni Profile, Sarah DiLorenzo '03
Sarah DiLorenzo '03 values knowledge gained from meandering, which she said is particularly valuable in a career as a journalist.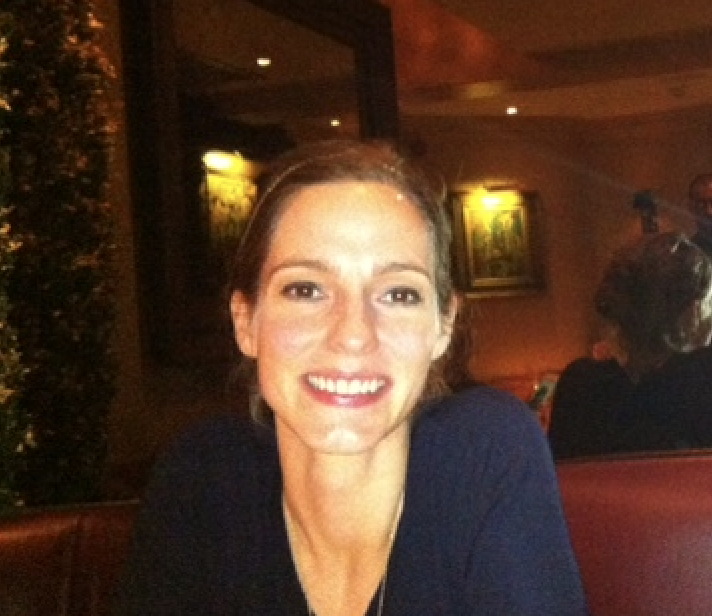 As a top stories editor at the Associated Press (AP) in London, Sarah DiLorenzo '03 has worked in New York City, São Paulo, Dakar, Paris, and Bangkok, among other cities, since graduating.
Given DiLorenzo's variety of editing and writing experiences, it's surprising that during her senior year of college, she had doubts about a journalism career in her future.
"I applied to like a hundred small newspapers and I didn't get a single one," DiLorenzo said. "I was bemoaning to my French advisor like: 'I'm not going to get a job, what am I going to do?'"
This was when DiLorenzo's advisor suggested that she apply to a fellowship in Dijon, France, to teach English for a year, as a backup.
"It was an incredible experience and I enjoyed it at the time, but behind it, I had this worry that I was never going to be a journalist," DiLorenzo said.
That worry was assuaged when the French visa DiLorenzo obtained from the Dijon program gave her the chance to work for the International Herald Tribune (IHT), an English newspaper in Paris. It was her first foray into professional journalism.
"I realize now that I actually should have done more meandering," DiLorenzo said. "The knowledge I gained was so helpful to me when I was a correspondent in Paris years later."

Before Amherst: "Planting a Seed" in Journalism and a Liberal Arts Education
DiLorenzo's English teacher was constantly trying to get her to expand her writing in essays.
"He said to me at some point: 'the only place your brevity is appropriate is journalism," DiLorenzo added.
Because her teacher was also the newspaper advisor, he urged DiLorenzo to join the paper, which nurtured her desire to pursue journalism as a career.
However, when considering colleges, fitting journalism criteria was not the top priority for DiLorenzo.
Even though she didn't end up playing the sport in college, it was lacrosse that "planted the seed of: 'Oh, maybe, I should go to Amherst,'" DiLorenzo said. "It's so silly, it's kind of the reasoning of a teenager."
While at a lacrosse camp after DiLorenzo's freshman year in high school, her favorite coach was from the college.
To DiLorenzo, her initial dream of Amherst, a small school in New England, fit the image of what a college should look like.
Despite the fact that DiLorenzo researched and became interested in other schools, she never let go of that experience at the lacrosse camp.
Life at Amherst: The Benefits of a Broader Education
DiLorenzo saw college as a place to grow socially and emotionally, more so than academically or professionally.
"I wasn't very mature when I got to Amherst," DiLorenzo said. "I needed to have experiences to mature a bit, and those [experiences] fed back into my career later on."
That's not to say that individual topics from college didn't have clear applications to her career.
Early on in DiLorenzo's work for AP, the newsroom was discussing the death of Jacques Derrida, an Algerian-born French philosopher.
"Derrida is kind of obscure but I had this moment of 'wow, Amherst prepared me for the world,'" DiLorenzo said. "I feel good. Here I am in this newsroom with lots of sophisticated adults and I can hold my own — it seems to me more and more that I didn't need Amherst to teach me journalism."
DiLorenzo, an English and French major, placed greater importance on the liberal arts education that the college provided her.
"I needed Amherst to teach me how to learn, how to write, how to think, how to be curious, and how to seek out information," DiLorenzo said. "In a way, that is how to be a journalist, but I'm grateful that I had that broader education rather than a more journalist-focused education."
DiLorenzo also wrote for The Student for two years, which provided her with a community of like-minded people from different backgrounds that she wouldn't have met otherwise.
"The cool thing about journalism is that it's always an entree to learning," DiLorenzo said. "[Working for The Student]  allowed me to learn more about Amherst — it gave me an excuse to ask questions and call up people I normally wouldn't have."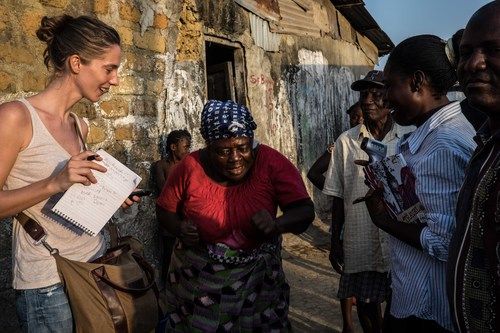 After Amherst: Branching Out as an International Reporter
Despite all this time "shining a light in places to help people tell their stories", there's a regret that sits with DiLorenzo.
As a freelance journalist in Liberia, an article fell through.
DiLorenzo aimed to write about a rise in teen pregnancies in the country, which she had heard about anecdotally from NGOs, in order to investigate the effect of the government's hyperfocus on ebola on reproductive healthcare.
"I remember interviewing a girl who recently had a baby; [the girl] was orphaned and living with her aunt. It was the most tragic scenario you could imagine," DiLorenzo said. "One of her friends grabbed my arm at one point and said: 'You have to help her.'"
But DiLorenzo couldn't prove the rise in teenage pregnancies; the country's health services were too preoccupied with ebola to gather the data. Because she was a freelancer without the same resources that come from being associated with a publication, it never became a story.
"It felt hollow to say: my story is how I help, and having never written that story felt even worse," she added.
Reporting and Editing: Dealing With Disaster
Apart from this experience freelancing in West Africa, reporting on disaster sticks out the most to DiLorenzo, largely because those stories were less common in her career, she said.
In these cases, DiLorenzo was sent somewhere for breaking news to help out another bureau.
"That's always very intense because usually it's a pretty big story if they're drawing in people from other places and also, you're playing catchup," DiLorenzo said.
Logistics such as finding a place to sleep or navigating transportation can pose additional barriers, she added.
When Mount Merapi in Indonesia erupted, DiLorenzo and her colleagues were set to fly into an airport close by, but the ash resulted in the airport closing and thus a long, exhausting drive from an airport far away.
"It's kind of your nightmare scenario because everyone's waiting for you to get there and get lovely details for the wire," DiLorenzo said. "But no, it's 10 p.m., you've been traveling for 12 hours by road and you're not going to know where to go or what to cover."
Walking into a disaster and being able to garner trust is another difficult layer to situations like these, DiLorenzo added, raising ethical issues.
She tries to keep in mind: "What is my place here? How can I be sensitive? Is what I'm doing causing more harm?"
Because the traditional vision of journalism is illuminating clearcut wrongdoings in cases like political malfeasance and corruption, it can be difficult to balance roles as both a human and as a journalist when the situation is more ambiguous.
"We're trained [as journalists] to press on and ask the next question without being embarrassed," DiLorenzo said. "But there are times when we respond as humans by pulling back, saying, 'I need to leave this person now. I'm not going to get enough for my story by asking them to talk about this [grief]."
In the case of the volcanic eruption, DiLorenzo continues to reckon with her portrayal of the disaster.
"I still remember seeing people who were burned beyond recognition," DiLorenzo said. "Those stories stick with you … I come back and think about whether I handled it well, whether I'm proud of it."
Another moment where DiLorenzo covered a disaster, faced with the question of whether to react as a human or as a journalist, was during Japan's 2011 tsunami, which had knocked out a nuclear plant.
DiLorenzo reported from an office in Tokyo, putting together what colleagues had investigated on the ground.
"I remember my colleagues were sent out to places where they were arriving before rescue crews … we did a story on some of those people," DiLorenzo said. "We took some heat for it: 'how can you not help these people?' that sort of thing."
Their internal editor at the time responded by clarifying that the reporters did give water and food to victims of the disaster, but his larger point was that the journalists helped by telling the story.
"There are countless times where journalists get there first and rescuers know to go there," DiLorenzo said.
DiLorenzo emphasized that her time as a reporter was not all natural disaster-related. She joked that, in fact, she spent a lot of time covering another disaster: Europe's debt crisis.
As a business reporter in Paris from 2011-2014, DiLorenzo went to European summits and finance minister meetings to cover policy.
Between 2014 and 2018, she worked as a freelance journalist in places like Senegal with a focus on the effects of ebola, and in São Paulo, Brazil covering culture, politics and economics.
Her editorial experience started in 2018, when she began working as a news editor at AP in New York before taking on her current role in London as a top stories editor at AP.
The Merits of Meandering
Although DiLorenzo initially had some doubts about not going to a journalism school, she said she feels like it was the right decision.
"It's easy for me to valorize the things I did were the right things because it worked out. And there are obviously many other paths to take," DiLorenzo said.
She noticed that in any profession, but particularly in journalism, "a little bit of life really helps you. Sometimes I think: 'what else could I have learned if I had meandered a bit more? What other major life experiences would I be able to draw from?'"