News
Resurgence of Party Culture Unleashes Rampant Vandalism
With the return to a fully populated college campus, students, administrators and campus safety officers have observed a dramatic shift in weekend culture. The resurgence of parties has coincided with an increase in reports of vandalism and alcohol overdose calls.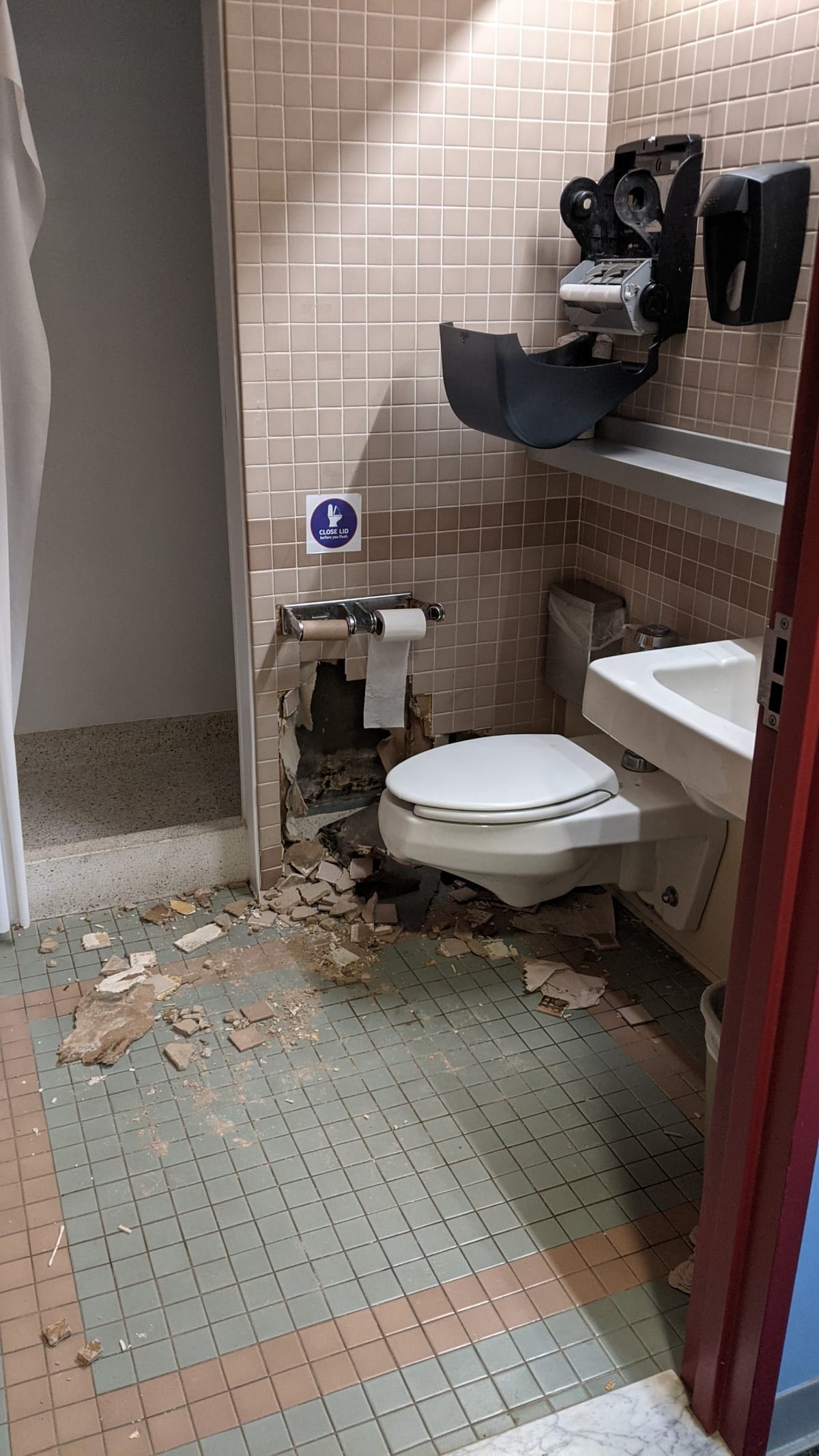 On the morning of Sunday, Oct. 17, Community Advisor (CA) Dylan Byrne '24 woke up to find Plimpton House trashed. A glass window on a door was shattered. Blood, from a student who had injured themselves smashing the dorm the night before, covered the carpet. The destruction of Byrne's residential hall is one of numerous vandalism instances that have occurred this semester.
With the return to a fully populated college campus, students, administrators and campus safety officers have observed a dramatic shift in weekend culture. The resurgence of parties has coincided with an increase in reports of vandalism and alcohol overdose calls. The college's renewed "work hard, play hard" mentality, as Dean of Students Liz Agosto put it, has jeopardized student safety and led to the destruction of college property.
According to Agosto and Chief of Police John Carter, the increased intensity of on-campus party culture has harmed students in two ways: property destruction and emotional well-being. Byrne noted that the toiletries of residents are commonly left squirted on the bathroom floor. He expressed sympathy towards residents who are unsure about the security of their dorms.
"[This vandalism] means that going back to your dorm doesn't necessarily mean you're going back to a 'safe place.' You know that one night you may come back — like what happened last week — and there might be blood all over your bathroom. That's hard for a lot of people," he said.
In Morris Pratt Dormitory (MoPratt), similar destruction has occurred. CA Carolyn Thomas '23 noted that the lower floors are usually littered with empty beer cans. Higher up on the fourth floor, Thomas said, the damage is more permanent: "A couple of times, our paper towel dispensers have gone down. We also had an exit design that was broken multiple times."
Aidan Cook '24, who lives in Cohan dorm, experienced vandalism first hand,  "Late on Saturday night I heard a lot of banging from my room so I went out into the hall and saw that the shower wall in one of our bathrooms was completely smashed in, with pieces of plaster all over the bathroom floor. I really don't understand why someone would think doing such a thing is fun or a good idea." Cook expressed that he feels for the maintenance employees that had to fix the wall.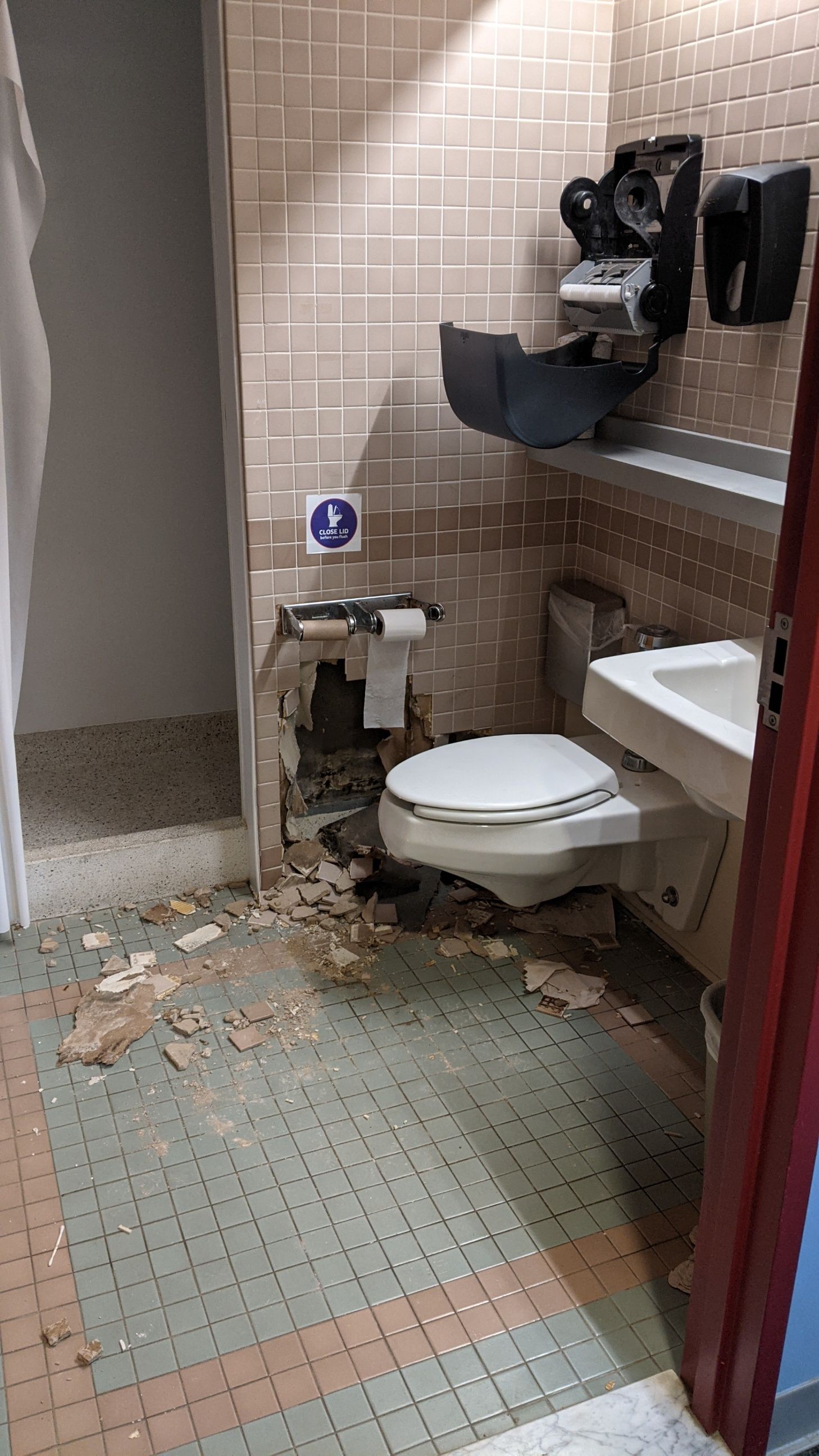 Agosto attested that Hitchcock Dormitory was ravaged the weekend of Oct. 16: "Last week, in Hitchcock, groups of students ripped down shower curtains, stuffed wet paper into the drains, and removed soap dispensers. That impacts your ability to feel comfortable and safe."
In the past five years, the college has spent a quarter of a million dollars repairing destruction of college property due to weekend night activities according to Agosto. The funds have gone into cleaning up after parties, fixing exit signs and repairing soap dispensers. "[Vandalism has cost] a lot of money, time and effort. A quarter of a million dollars over five years is a staff position or student's aid," Agosto said.
Agosto commented that, individually, dorm restoration costs seem small. However, the expenses accumulate over time. The perpetual trashing of residential halls also impacts the morale of staff, particularly our custodial and grounds staff. "The money may come in small amounts, but it adds up because we were seeing exit signs, soap dispensers and common spaces destroyed every weekend," Agosto said.
The burden of fixing the property and cleaning up falls on the custodial staff. Custodial Supervisor Liz Pereira expressed that the additional cleanup has taken a toll for those who clean the dorms each day. "When students vandalize the dorms or grounds, without regard for how it impacts staff who take pride in their work, staff feel disrespected, which takes an emotional toll and affects their wellbeing," Pereira said.
Char, a custodial staff member who cleans MoPratt, noted that the mess places a significant strain on himself and his co-workers. He said that he is "used to cleaning up the mess now," but is tired from it.
Alyssa Houn, another member of custodial staff, was originally assigned to clean the Morris Pratt Dormitory. After a few months in that dorm, Houn requested a change. Houn said that she switched dorms because "cleaning the mess had taken such a toll." She had broken all of her nails and could not handle the physical demands of cleaning the extra trash.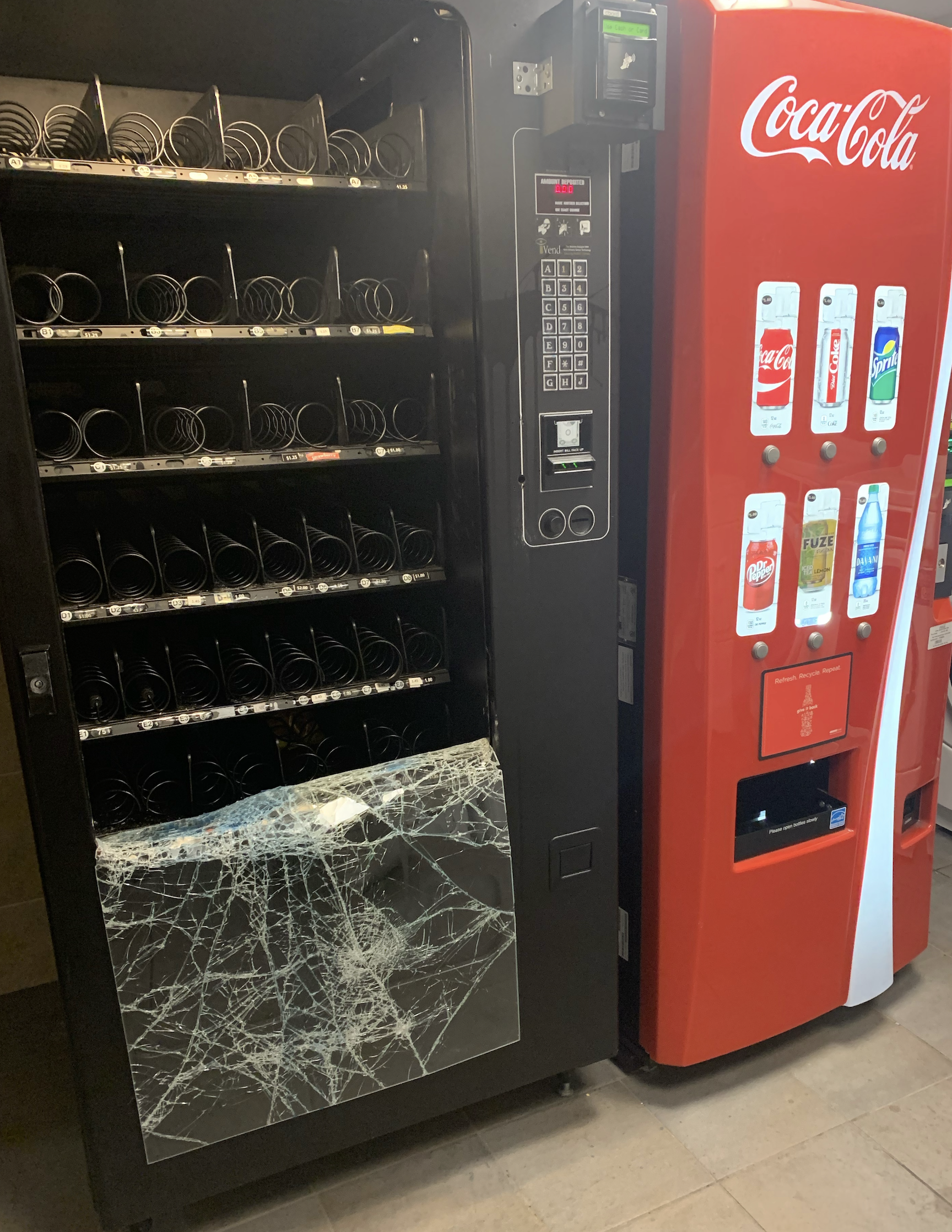 Holding the right parties accountable for these acts of destruction is not always straightforward. Carter noted that the damage may be from those outside the college community, but that is most likely from students. In a statement to The Student, Carter communicated that there have been cases where individuals "not directly affiliated with the college" were responsible for damages. He did conclude that "it is more likely that the damage is done by our own residents within the residence halls."
Carter detailed that students who are found to be responsible for the destruction of college property are subject to criminal courts proceedings. "Any incidents of vandalism in which an Amherst College student is identified as having participated is managed through the college's Community Standards process. If the vandalism is particularly egregious in scope or intent, it may be addressed in the criminal court. If an incident involves a student from another of the Five Colleges, the college will work with the other relevant college(s) or ACPD may seek a criminal complaint," he wrote.
Beyond cases of damage to college property, students have noticed a change in culture from the previous spring semester. Though Byrne is unsure as to whether the number of parties have increased from the spring, he has observed that students are partying much more openly. As opposed to hosting parties in campus buildings, "there were a bunch of woods parties last semester. I suspect that the number of parties have increased, but if nothing else, then the amount of parties is certainly more visible this semester than it was last semester," Byrne noted.
For Byrne, the unregistered parties are disruptive to student living: "The resurgence of these kinds of parties comes with disruptive elements that are pervasive in a lot of party cultures. My theory of it is just like the greater amount of parties leads to greater amounts of vandalism."
Some students believe that the reason why dorms are left in disarray is because parties have gone underground. Before the pandemic, students filled out an official Amherst College Party Notification form to register all student events. They would reserve dorm spaces and notify the college of the date, time, expected attendance and location of their party. In fall 2020, the college stopped allowing students to register parties in an attempt to combat Covid protocol transgressions, and has not yet reversed the change.
Agosto said that all parties have been unregistered ones, "What's been happening is actually that all the events that have been occurring are unregistered. The original policy was that no events with alcohol were allowed on campus."
Thomas said that she believes that registration is the key to decrease vandalism and mess. "I remember my first year when we had registered parties, there was like a culture to clean up and put everything back where it was. I feel like that's not the norm anymore," she said.
The administration eliminated party registration to discourage students from breaking the Covid rules. "If you are going to a party and drinking, you're removing your mask indoors. We know that limit reduces inhibitions for maintaining a six-foot distance and maintaining your mask wearing," Agosto said.
To combat vandalism and encourage students to clean up, the registration process is planned to relaunch for Halloween weekend. Registration for parties will be available through the Office of Student Activities Event Registrations on the The Amherst College Hub.
Heading into the Halloween weekend, administrators and the ACEMS Board of Directors advise students to be conscious of their alcohol consumption and stay safe. On behalf of the ACEMS board, Director of Personnel Cece Hong '22 stated, "It's always smart to be aware of how many drinks you've consumed in one night. Students should call x2111 in any medical emergency, even if they aren't sure what's going on. It's always better to call us and have us ready and waiting in case someone needs our help. Anyone that calls ACEMS will have medical amnesty, including friends or bystanders that call on behalf of other students. We are here as a resource and a service to help everyone on campus!"
Correction notice: An earlier version of this article incorrectly stated that the name of a CA was Dylan Bryne rather than Dylan Byrne.