Sports
Ruderman '21 Captures Two Diving Titles at Nationals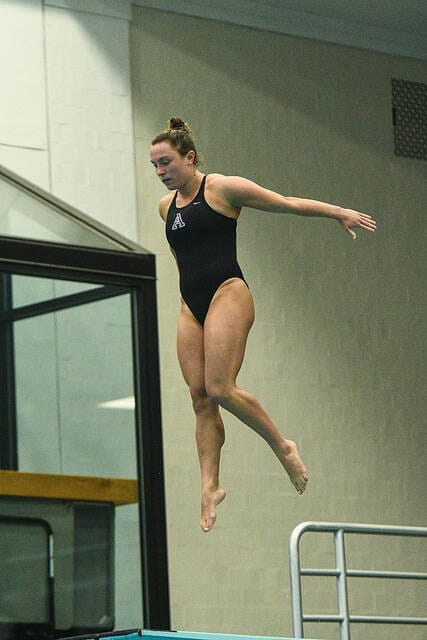 Most everyone expected a national champion to be crowned at Amherst this winter, but many observers probably would have put their bets on the women's basketball team. An informed observer, however, would have noted the meteoric rise of an athlete, who in her own right has become as dominant as any of women's basketball Head Coach G. P. Gromacki's squads: Lindsey Ruderman '21.
Ruderman claimed both individual diving national titles at the DIII Championships this past weekend, in the one-meter and three-meter events. Unsurprisingly, given her complete sweep of the national titles, Ruderman was also named the DIII women's diver of the year These titles, however, have been a long time coming. Last season, Ruderman finished fifth and sixth at the national championship meet in the one- and three-meter dives respectively, second in the regional tournament, and was named NESCAC Diver of the Year for 2018.
This season, she has won every meet she entered, except for the regional tournament, where she was bested by Deborah Wen of MIT. That achievement, in and of itself, is extraordinary.
At the Championships this past weekend, Ruderman bested Wen by 10 points in each event, and finished just half a point behind her personal best record in the one-meter dive in the finals. It is worth mentioning at this point, on the subject of records, that Ruderman has set every single Amherst college record in diving events this season. The national championship, it seems, was the icing on the cake of an impressive season for the sophomore. Ruderman also became the first Mammoth since 2016 to capture multiple national championships in a single season, and the first to do so as a sophomore.
Ruderman said in an email to The Student: "The other divers I was competing against push me to be my best—it was a tough competition and there were points during the meet where I was very far behind first place after not doing well on several dives. I knew I had to do the rest of my dives as well as I possibly could, and my teammates, coaches, and the training I had put in throughout the season gave me the confidence and ability to do so."
Ruderman looks forward to adding more complex dives to her repertoire in preparation for next season in an effort to repeat her national championships and perhaps attempt to capture a national record in the process.
On the back of Ruderman's impressive performance, the Mammoths were propelled to an eighth place finish at the championship meet. In addition to Ruderman's title, Nina Fitzgerald '21 placed seventh in the 200-yard breaststroke and Briggette Quong '19 placed 13th in the 200-yard backstroke.