Arts & Living
Shiru Cafe Calls into Question the Cost of a Free Cup of Coffee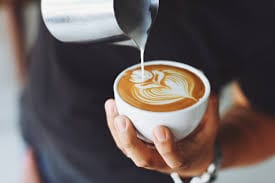 A new coffee shop, Shiru Café, has plans to open in Amherst's already saturated coffee market. However, it has a unique draw: the coffee is free for students. Well, sort of … rather than paying with cash or card, students give Shiru personal information and with their new Shiru login, they can order their free drinks through the company's website. Shiru, which is owned by the Japanese company Enrission Inc., first opened in Kyoto, Japan in 2013. The company now has over 20 locations at some of Japan and India's most prestigious universities and came stateside in Feb. 2018 when the first U.S. location opened at Brown in Providence, Rhode Island.
Now, they are planning to open a location in Amherst where Share Coffee once was, at 17 Kellogg Avenue, in the "first week of December," according to the Instagram profile Shiru created for the Amherst location. The website also indicated that locations at Harvard, Yale, and Princeton are "under construction."
Reactions to Shiru's business model have been mixed. Many people say the information that Shiru asks students for — their name, age, major(s), school ID number, email, phone number, along with career interests and "previous internships" — is innocuous and could be easily found on Facebook or another social network, without any coffee given in return. Shiru takes the student data it has collected to connect students to "corporate sponsors," companies which have paid Shiru to have access to potential new employees. A Boston Globe article on Shiru described it as "both a vendor of drinks and an intermediary connecting corporate recruiters to the youngest members of the American intelligentsia."
Corporate sponsors with Shiru can reach students through three channels: advertisements in the store, site programming, which includes inviting recruiters to talk with students at Shiru, and direct emails, which Shiru sends students on behalf of the company. Shiru is quick to assert that it is not in the business of selling individual's data. Alex Inoue, Shiru's general manager, said to the Boston Globe, "We never, ever sell student data … All of the data is protected safely and only used internally to provide students with access to professional opportunities." Inoue expanded on this point when speaking with NPR that Shiru does not provide companies with data on any specific student, but rather "aggregate data such as student majors and expected graduation years."
Still, some students are attracted to Shiru for both the free drink available every two hours and the prospect of being connected to a job at one of the large companies Shiru has already partnered with in Asia, including Microsoft, Mitsubishi, Panasonic and Nissan. However, although the coffee is guaranteed, the prospect of landing a great job is not. An article from NPR noted that as of September 2018, the Providence location of Shiru has not had any corporate sponsors, even though it has been open since February.
 Some students at Amherst are happily anticipating Shiru's opening. Jake Montes-Adams '21 said that he was comfortable with the amount of data Shiru was requesting, as most of it could be easily found on his Facebook, but he said he would not go as far as to disclose their GPA or transcript to Shiru. He also admitted that he doubts that Shiru would be able to connect him with a job as he plans to work for an NGO or nonprofit and did not believe "any place I want to work for would practice mass data purchasing."
This point hits on one of the main controversies surrounding the Shiru Café at Brown. A letter to the editor published in The Brown Daily Herald, Brown's student newspaper, urged students to "boycott Shiru Café" and expressed concern that "40 percent of J.P. Morgan Japan's new hires were Shiru Café patrons" coupled with the fact that 42 percent of Brown graduates from 2016 worked in finance, consulting or technology. The authors of the letter worried that Shiru would only serve to increase the number of Brown students who end up working for "large corporations, whose principles are frequently at odds with those of our community" and decrease the already small number of Brown graduates working in sustainability or community development. Large and affluent companies already have many advantages in connecting with talented and motivated students compared to non-profits or smaller businesses — and being able afford a Shiru Café sponsorship only serves to give them another one.             
Along with possibly increasing the difficulty for small companies to hire elite university graduates, another, less frequently discussed, consequence of a Shiru Café could be an adverse effect on local business. Of all the U.S. locations where Shiru plans to open shops, the town of Amherst is by far the smallest and has a coffee shop culture that is, in my opinion, completely unique. The majority of coffee shops in Amherst are locally-owned chains, with locations only in Amherst and its neighboring towns. As all of the local coffee shops in my hometown fall victim to a wave of Starbucks, I appreciate that Amherst sustains a variety of local coffee shops, each with its own atmosphere, menu items and quirks. By only serving students and faculty and not Amherst residents, Shiru's impact on other businesses may be limited, but not if it captures the majority of the student market.
Other than the negative effect Shiru's business model may have on local businesses, Shiru poses a more intangible but no less pernicious threat to the unique environment of Amherst. The establishment of a corporate-backed coffee shop that bars non-students from patronage creates a space that can no longer be a "third place." While the home is a person's "first place" and work is the "second place," a "third place" provides an important alternative social environment that sociologists have argued are essential to civil society, civic engagement and democracy as a whole. Some common third places are churches, cafes, bars, public libraries, diners, malls and parks. In order to serve as a third place, the space must be a leveler, in which one's status in society is not important and therefore cannot be any prerequisites to entry.
A third place should be accessible to all. Although the concept of a third place may seem alien at first, it has been extremely important in history. For example, Viennese coffee houses served a vital role in shaping the culture of turn-of-the-century Vienna, when the major thinkers and artists of the era, such as Gustav Klimt and Sigmund Freud, read newspapers, wrote and shared ideas together for hours in their preferred "kaffeehaus". Many even had their mail delivered there instead of to their homes. Additionally, third places are widespread in modern popular culture. Do your favorite TV show characters have a bar or café that they frequent? That's their third place. Currently, all of the coffee shops in Amherst can and could easily serve as someone's third place. They are leveling, accessible and accepting, a space where you can feel at home.
Although Shiru Café may be beneficial to local students by providing free caffeine and even possibly a job opportunity, the business decision to only serve college students and staff presents a barrier to being fully able to integrate itself into the Amherst community. In a way, Shiru represents — and exploits — a divide between the highly educated elite and the rest of the population. By making a space that should be accessible to everyone only accessible to students of elite colleges, and by taking personal data as a form of currency, Shiru Café may understand only too well where we are headed as a society.
Blake Doherty, the Research, Instruction, and Outreach Librarian at Frost Library, encouraged students to "be wary and think critically about the exchange they're making in patronizing Shiru. The coffee isn't free; you're paying with your own data. What are they doing with the data? How do you know? What does that mean for you, and for the community?" However, if you are making an informed decision, there is no wrong choice. But, keep in mind that in the grand scheme of things there really is no such thing as a free cup of coffee.