News
Social Impact Careers Panel Celebrates 60 Years Since JFK Speech
As part of its broader celebration of President John F. Kennedy's 1963 speech at Frost Library, the college hosted a panel of alumni who have pursued social impact careers. Kennedy's speech commended the College's commitment to public service.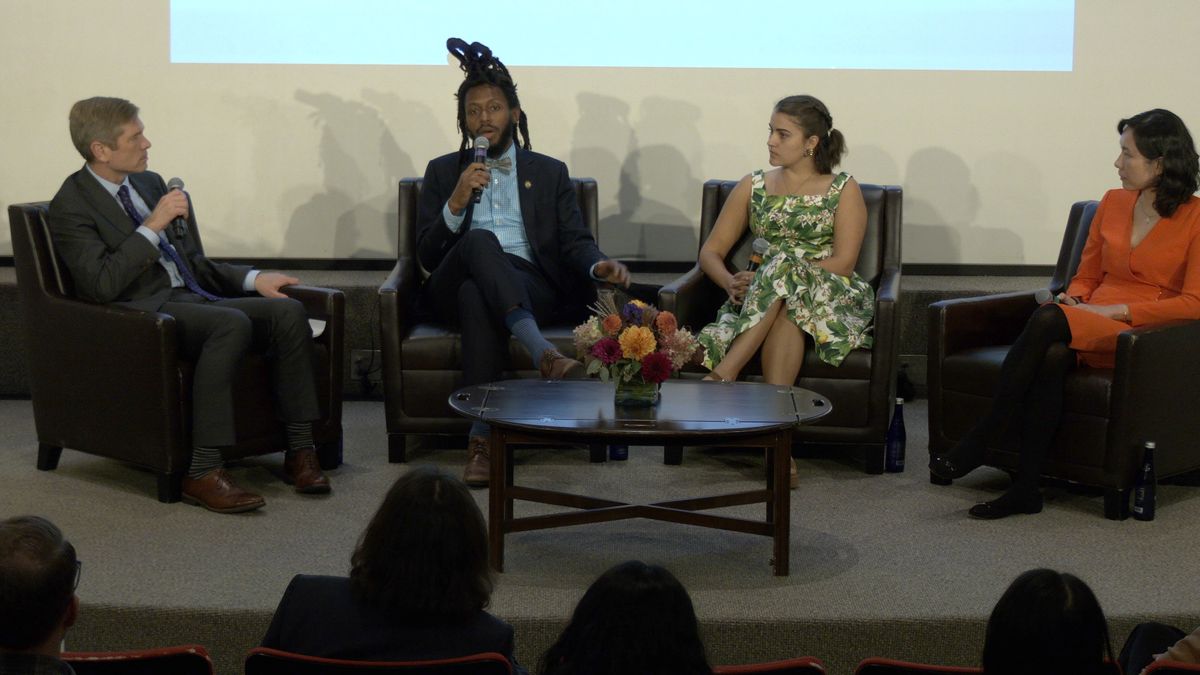 Sixty years after President John F. Kennedy's historic visit to Amherst on Oct. 26, 1963, College President Michael Elliott celebrated the occasion by hosting a panel discussion on social impact careers — including three Amherst alumni who discussed their pathways to public service.
The panel featured Helena Burgueño '19, a video producer for Unifying America, a nonpartisan nonprofit that seeks to make politics more accessible to Americans; Mike Simmons '06, an Illinois state senator who is the first Black representative of his district and the first openly gay member of the Illinois senate; and Yinan Zhang '12, who manages a program for joint climate action in South Asia at the World Bank.
They discussed their individual paths to social impact careers, their years at Amherst, and the ways they have dealt with some of the challenges presented by a career in public service.
The speech which inspired the event is often referred to as Kennedy's last major address before his assassination on Nov. 22. Speaking at the ceremonial opening of Frost Library, Kennedy emphasized the importance of public service and what it means to truly make a difference. He was also awarded an honorary degree from the college.
Elliott opened the event by discussing Kennedy's dedication to public service and its importance to Amherst's own values.
"We're celebrating the anniversary of Kennedy's remarks by reaffirming as a college our ongoing commitment to preparing students for a lifetime of contributing to the greater good," he said.
Elliott then invited Emily Griffin, executive director of the Loeb Center, to speak about  the expansion of the Careers in Social Impact program. Led by director Micah Owino, the program includes funding for an annual alumni-in-residence visit, the $2,000 Rosenberg Senior Grants for non-profit work, and the $10,000 Project of Peace grants for students in peace and conflict studies. Griffin also announced a new initiative called Interning for Democracy, which will provide support and internship funding for students looking to intern at pro-democracy organizations.
Following Griffin's brief statements, students currently involved in politics and democracy on campus were invited on stage to introduce the alumni panelists.
Lori Alarcon '24, president of the Association of Amherst Students, introduced Zhang. Lucas Romualdo '24, co-president of the Amherst Political Union (APU), then introduced Burgueño. Then Simmons was introduced by Ava Knapp '24, the other co-president of the APU and member of Amherst Students for Democracy.
Elliott began  the conversation by asking the panelists to describe their paths towards public service.
Zhang said she came into Amherst with an interest in educational opportunities and focused on pursuing that interest.
She cited the Center for Community Engagement as a useful resource during her time at Amherst. "Through [the center], I was able to quite intentionally build a toolbox of skills and experiences," she said.
Elliott asked the panelist to address student concerns that public service careers would not allow them to sustain themselves financially.
Burgueño explained that there is an unglamorous side of working toward your goals in public service. She lived with family members and worked freelance jobs while saving up money to pursue nonprofit work.
Panelists were asked how they sustain themselves through the difficult issues and long hours that their work entails.
Simmons explained the importance of self-care in his line of work. Simmons, an avid cyclist, rides for at least 50 miles each week. Apart from physical activity, he noted the importance of  spending intentional time with loved ones and putting down his phone.
"There's always something very personal to you that helps you to recharge yourself and preserve yourself in the field of public service, because it does take a lot from you," he said.
The floor was opened up for students in the audience to ask questions. One student was curious about which people have influenced each of the panelists in their paths towards public service.
Simmons said Amherst's diverse student body prepared him for his work in the Illinois senate.
"The friends that I had at Amherst and the people that we are surrounded by prepared me to be in multiple multicultural contexts like the one where I live now," he responded.
Both Burgueño and Zhang also discussed the support they found in friends at Amherst and beyond.
Students who attended the event said that it was helpful to hear from alumni working in the public service fields.
"I think for students who are possibly looking to pursue a career in public service, hearing from their personal stories, challenges, and successes can give the best takeaways when thinking about your future," Nife Joshua '26 said.
Sofia Tennent '25 similarly praised the panelists' advice for students.
"You should really dive into your interests when you're looking for a job with impact because it seems like there's just a ton of different avenues you could take," she said.
Elliott closed the event by thanking the panelists and encouraging students to attend the conversation with Massachusetts Governor Maura Healey on Nov. 1, another part of the college's celebration of Kennedy's visit to campus and the college's commitment to public service and the greater good.