Arts & Living
Solange's "When I Get Home" Interrogates the Individual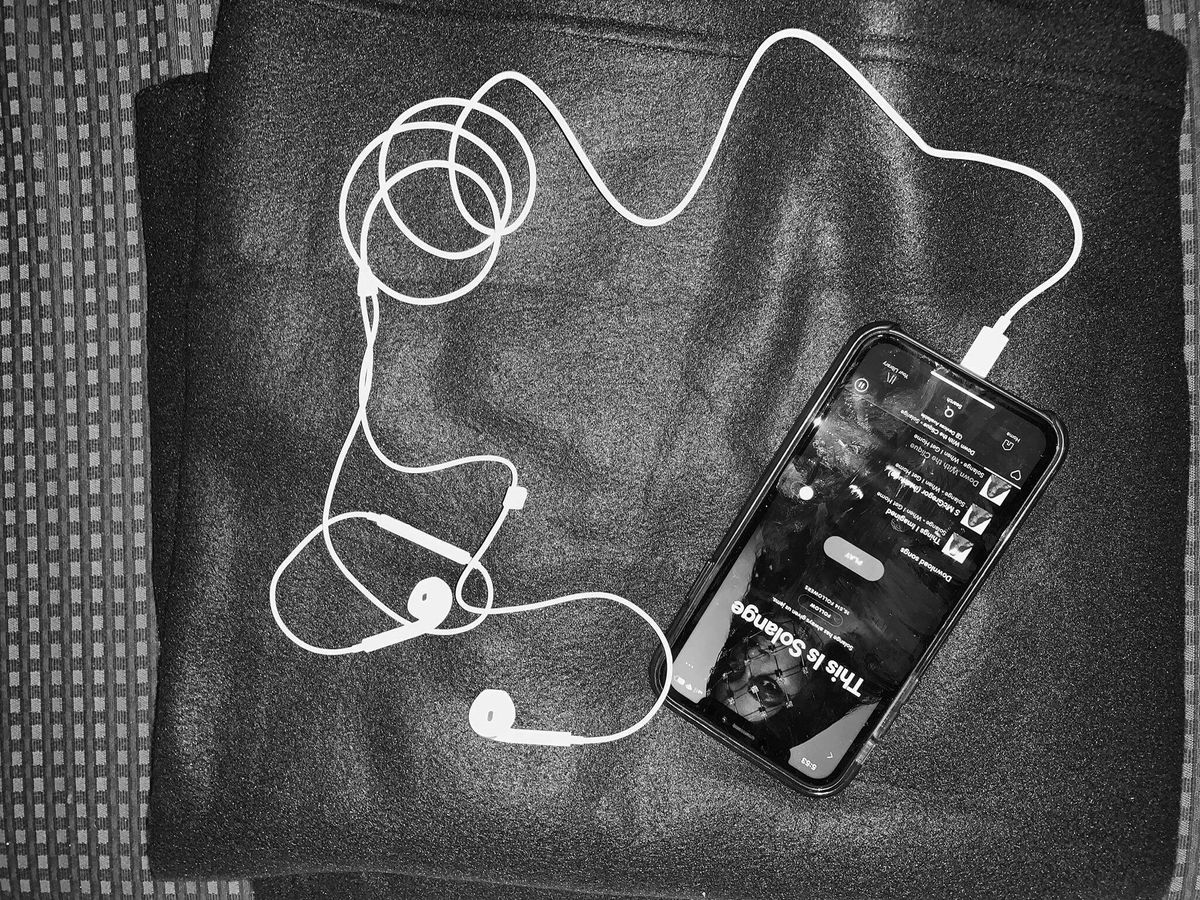 t first glance, the album cover for R&B singer Solange's recently-released "When I Get Home" appears to be a partner piece to her 2016 album, "A Seat at the Table." Both covers feature a stripped-down headshot of Solange, and even though little has changed in the technical making of the photograph, there is a clear shift marked on the singer's visage.
On the previous album's cover, the styling clips lingering in her hair soften and compose Solange's image, indicating some sense of intimacy to the viewer as she prepares herself for the day. She now dons a pair of peculiar, futuristic eyeglasses, which make the former cover look juvenile, and even passive, compared to the hardened visage that now defines her profile.
This cover was a brilliant choice of design because even at first listen, Solange's 2016 sound persists in "When I Get Home." However, by the end of the first track, "Things I Imagined," the familiar smoothness dissipates into an ethereal jazz that is completely new to her body of work. It is unmistakable that this album is much more than just a sequel to its predecessor. Like the covers, a first pass at this work can seem familiar, but it is only through a deeper listen that we can comprehend the significant shift.
Although the album only lasts for 39 minutes, "When I Get Home" is incredibly dense, which is in part thanks to the fact that Solange wrote, performed and produced the album. Through utilizing her own production, Solange is able to play off her musical history to point at the nuances of "When I Get Home" in a way that not only avoids being trite but is impressively efficient and impactful. She is not completely reliant on herself though, as she sources a range of collaborators such as Pharrell Williams, The Internet's Steve Lacy, Panda Bear, Dev Hynes and Metro Boomin.
However, the impact of these collaborative efforts is not felt until the latter half of the album. This is in part a downfall of the album but is also deeply linked to Solange's newfound philosophy of approaching her musical work. After her performance piece "Scales," Solange revealed in a 2017 interview, "I realize how much wider, figuratively and literally, my work could be if I took myself away as subject." Solange is most successful when she follows these instincts to make her music less personal, which she announces on her track "Can I Hold the Mic (Interlude)" as she states, "I can't be a singular expression of myself — there's so many parts, too many lines, too many curves, too many journeys."
While Solange's goal for the album was to remove herself as the lead, she mixes ethereal melodies with the Houston-born, hip-hop sound of the 90s chopped and screwed (a turntable technique of slowing down or skipping beats while scratching and warping the original sound), which can hardly be a coincidence as Solange herself is originally from Houston. This homage to Houston creates an underlying tie to Solange's experience of belonging, which subtly places the singer back as a lead of sorts. She is attempting to tell the stories of others, but she often tells these tales from her own point of view. By assuming this first-person position semi-objectively, she poignantly implies that we cannot remove ourselves from a shared experience. This sensation is felt less lyrically than it is felt in the tensions and releases of the music and certainly markedly so in the instrumental transitions between songs.
One of these strong transitions occurs between "Almeda" and "Time (is)." Within "Almeda," elements of Southern black culture, especially in regards to Houston, are highlighted with the help of collaborators Playboi Carti and The-Dream, which feels comparable to her earlier collaborative efforts with Lil Wayne. The pensive and modern hip-hop sound slowly rolls into Solange's velvety voice running over minimalistic piano in "Time (is)," which is the fruit of the second collaboration between Sampha and Solange. Despite initially possessing ballad elements, the song fills the listener with a growing sense of anxiety as a synth beat begins to pulse more urgently under the smooth vocals. Echoes of Sampha whispering introduce his voice to the track before both artists join together in an almost feverish mélange of sensual and nervous energy. Before the song can settle, the beat is stifled and we are already into the next track, "My Skin My Logo." This transition embodies the spirit of the album incredibly well because it is both disorienting and completely intentional. The shifts roll fluidly yet starkly, leaving the listener watching the last track roll by in the rear-view window as the next track is already well under way. This pacing introduces the true intent of the album and is the real success in tying together the many musical narratives.
Following this untraditional pacing, Solange begins winding down the album with "Jerrod" as she longingly, even pleadingly, sings "I know it, I know it, I know it … Call you in your name, and you know you gon' get it." But this sentiment of confusion and longing is gone seamlessly by the introduction of the following track, "Binz," in which Solange renders herself an anti-stereotype while using the vernacular of her oppressors. With the track giving a production credit to Panda Bear, who is better known as Animal Collective's Noah Lennox, it is perhaps the most deftly produced track and the most strangely sourced partnership off of the album. It is a percussion-heavy piece with ribbons of experimental vocalization leading us into the sunshine pop of Solange singing, "I just wanna wake up to the suns and Saint Laurent." There is a clear influence from Erykah Badu in the seamless and clever nature of the song.
This is an album of contrasts, and "Beltway," which is likely about the TX-8 Beltway that runs around Houston, moves circularly through chants of "love me, love me, love me" and "lone, lone, lone." The lull of this song produces the same sensation as driving down the highway with sleepy eyes and a wandering mind. The introduction to Solange's internal monologue is warmly received by the listener as a signal of intimacy at this near-ending point of the album but is quite lonely and romantically desolate in its empty honesty.
The album closes with the minimalistic 70s-inspired tune, "I'm a Witness," which is jazzy with nods to an underlying funk. This is the moment where the album comes together, and all the hints unify into a confession: "You can work through me, you can say what you need in my mind, I'll be your vessel, I'll do it every time." Solange's lyricism could be perceived as calling out to her lover, but in juxtaposition with the rest of the album, it is much more apparent that she is speaking directly to the listener. She has narrated many tales that were not her own as though they were for the sake of making them into the shared narrative of many.
"When I Get Home" is a complex work that takes time to digest, but the payoff is immensely worth it. It is remarkable how the sound is hardly about the lyrics painting the visual, but more about how the total production manifests in an incredible visual quality, which is no surprise as it is intended to be consumed alongside the film also titled "When I Get Home."
This transition of her work seemed at first glance to be a continuation of where "A Seat at the Table" left off, but it is not so easy to write it off as a sequel. She shifts from character to narrator and builds a story of shared life, shared unity through a tangle of emotions that are unknowable yet entirely felt. Where words fail, Solange's direction in her music and visuals prevail. "When I Get Home" is challenging in a way that is not designed for passivity but for an audience who is looking to restructure and disentangle the pacing of daily life and the struggles and joys that make us a collective whole.