Sports
Spring Fling: Track and Field Hosts Only Home Meet
For the first time since 2019, the men's and women's track and field teams took to Pratt Field on Saturday, April 9, hosting their only home meet of the year. Despite the ominous storm clouds overshadowing the day (and causing two rain delays), the Mammoths shone through.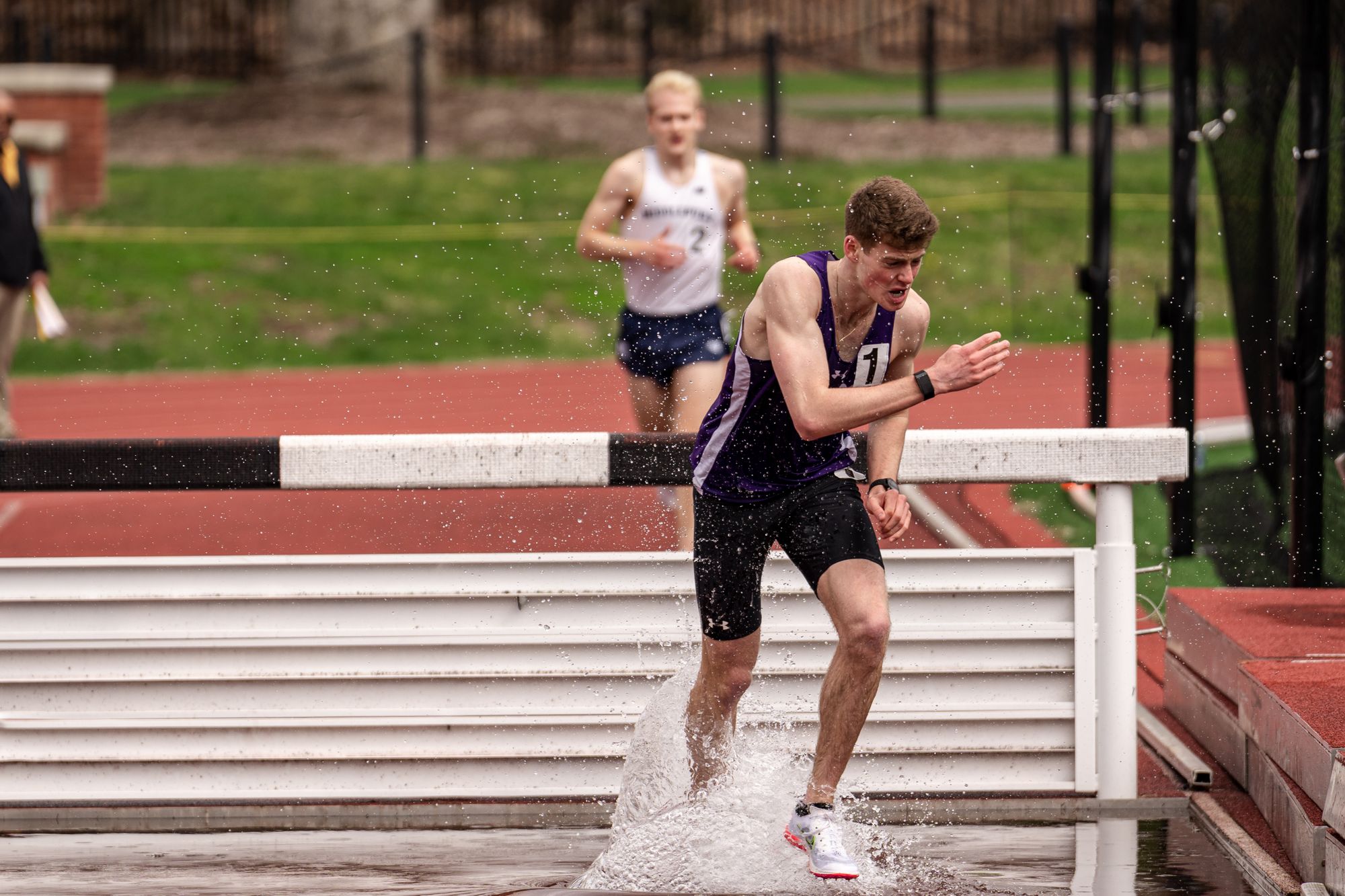 Men
The men's 4x100-meter relay team, consisting of Henry Buren '22, Matt Gelin '22, Ben Bell '24, and Theo Woodward '25, dusted the cobwebs off the school record, which was set in 1970, with their time of 41.18 seconds. As if shattering a 50-year-old record by more than a second wasn't good enough, the team now holds the second best time in this season's NCAA Division III rankings.
In addition to the record-breaking success, several members of the team have now already qualified for New England Division III Championships. Eager to leave a lasting impression in his final home meet, Buren also took first place in both the 100- and 200-meter dashes in 10.90 and 22.08 seconds, respectively. Junior Kelechi Eziri '23 soared into first place in the long jump, setting a personal record of 6.80 meters. Gabriel dos Santos '24 triple-jumped his way to first place as well, with a mark of 13.11 meters that bested his previous record, and Wilson Spurrell '24 crossed the finish line first in the 800-meter event. The Mammoths also swept the 5,000-meter run, with Ajay Sarathy '22 coming in first, closely followed by teammates Keon Mazdisnian '23 and Theo Dassin '24, both of whom ran personal-best times.
Over on Hitchcock Field, first-year David Brown '25 took first place in discus throw with his heave, which was almost three meters farther than his previous personal best. Brown said that he hopes to break the school record this season, and is "only two meters off [that record] following my mark on Saturday. I improved by several meters in just one meet, so I think I have a good chance [of breaking it]." Like many other members of the team, Brown loved the support the home meet fostered: "It was really nice to have parents there, as well as the entire team and fans, and I definitely think it helped [my performance]." And in Coolidge Cage, the wins continued, with Troy Colleran '22 dominating in the pole vault event, clearing 4.45 meters and qualifying for New England Championships.
Women
The meet was also a success for women's track and field, who claimed wins in nine events. Mary Kate McGranahan '23 flew through the 3,000-meter steeplechase with a personal-best time of 11:29.22 that won her first place and qualified her for NEICAAA Championships.
In their first collegiate outdoor meet, the first-years dominated across the board, with nine qualifying for New England DIII Championships later this spring. Julia Schor '25 and Margo Pedersen '25 finished second and third in the 800-meter run, earning top-20 DIII times nationally. Fellow first-year Julia Zacher '25 ranked in the top 10 nationally for her winning leap in the high jump, clearing the bar set at 1.67 meters with ease. Sidnie Kulik '25 took first place in the 1,500-meter event with her time ranking in the top 20 nationally (notice a pattern here?). Eliza Cardwell '25 joined several of her teammates in recording top finishes and top-20 DIII rankings as she soared over the 100- and 400-meter hurdles, taking first place and NEICAAA-qualifying spots in both events.
Eve Giancarlo '25 tied the pole vault school record of 3.40 meters, which was set by fellow first-year Jordan Hecker '25 only a week earlier. Sophomore Deb Thayer '24 threw a personal-best 34.75 meters in discus, notching a first place finish and qualifying for New England DIII Championships. Also on Hitchcock Field, Bethany Martin '24 took first place in the hammer throw with a mark of 41.07 meters.
With their home meet in the rearview mirror, the team's next competitions are this weekend, on Friday and Saturday, April 15-16. The team's decathletes and heptathletes will travel to Williamstown for the Williams Invitational, while the rest of the team will be competing at Connecticut College's Silfen Invitational. Events for both meets begin Friday afternoon and will continue throughout the day on Saturday.