Features
Staff Spotlight: T.J. Cahill
T.J Cahill is the Assistant Strength & Conditioning Coach who often works in the weight room, designing team lifts and motivating students. In this Staff Spotlight, Cahill reflects on his experience in college athletics pre-Amherst and how they shape his current coaching philosophies.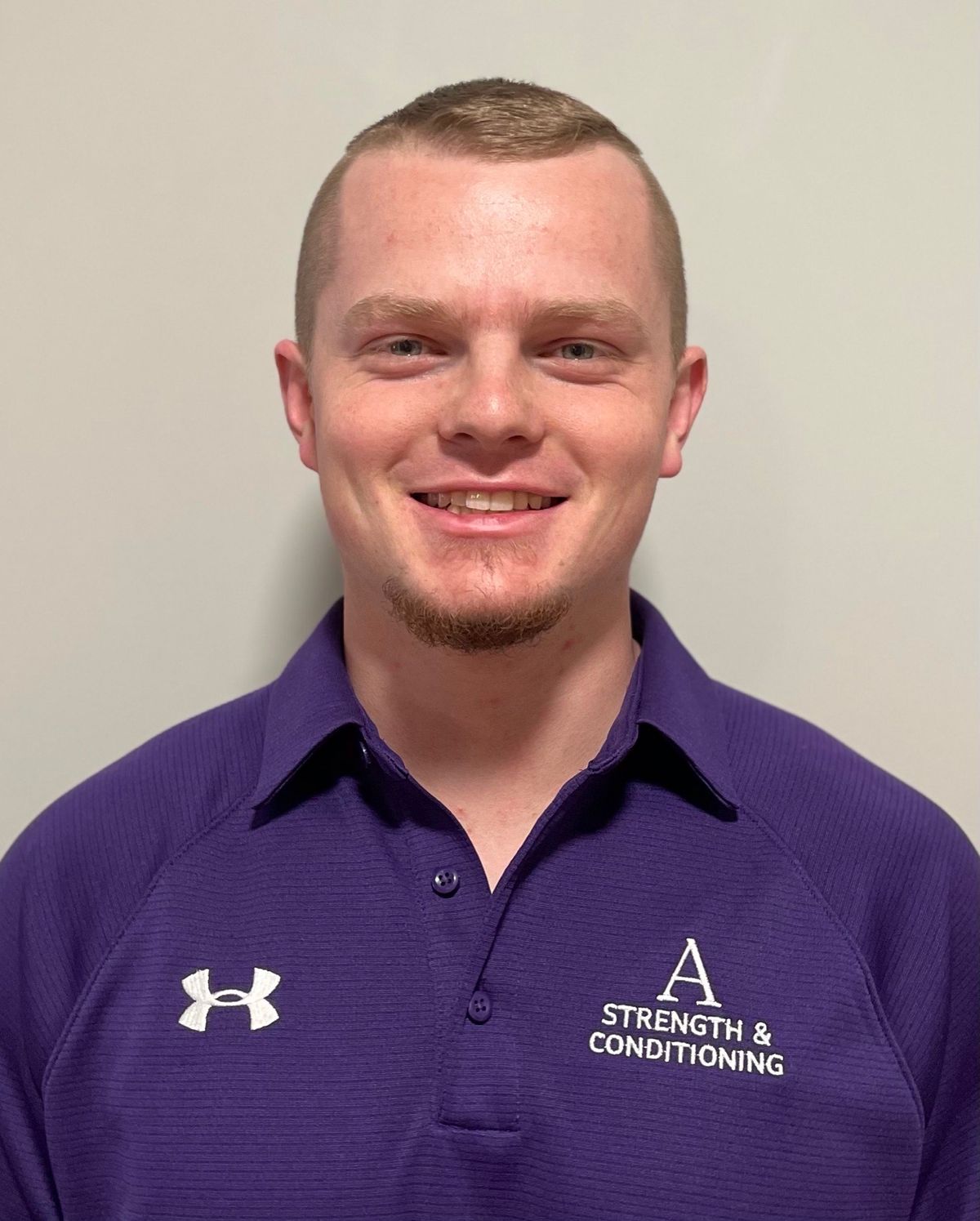 Tanmai Pathak: Where are you from?
T.J. Cahill: Originally, I'm from Woonsocket, Rhode Island.
TP: How did you come to work at Amherst?
TC: I went to undergrad at Springfield College about 30 minutes away from Amherst. And when I decided to come back to grad school for strength and conditioning at Springfield College, the director of the program there, told me about this position for a two-year graduate assistantship at Amherst College where I would go to school at Springfield College, get my degree there, but work in the weight room here at Amherst College. And I thought that'd be a great opportunity to be somewhere for more than one year. All my internship experiences before that had been for a semester or a year. I thought it'd be a great opportunity to be able to work with athletes for more than one year and continue to build those relationships and help them perform better. So I interviewed for the position with [Head Strength & Conditioning] Coach [Chris] Boyko and accepted it as soon as I was offered, and was fortunate enough to serve my two years as a graduate assistant and then be offered another full-time position to come back here as a strength coach for my third year.
TP:  How was it balancing academics and athletics in your grad school years?
TC:That was probably the hardest thing that I've had to do for those two years, be a student and a coach at the same time, and it helps me as a coach understand what all of you as student-athletes here have to balance in terms of being a Division III varsity athlete, as well as being part of several different clubs on campus and also trying to balance your schoolwork with having a life and keeping yourself happy and healthy. And so I think the biggest challenge throughout the past two years was figuring that out. And it's nice not to have the school to balance with anymore.
TP: What are your own experiences with athletics or sports?
TC:  Growing up, I played many, many different sports. I grew up playing basketball and baseball, primarily, got into soccer a little bit, and played until I was in eighth grade. And then switched gears, and started to do cross country in high school as well as playing baseball and basketball. Did a little bit of track and field in the distance realm. Then in undergrad at Springfield College, I played club ultimate frisbee, as well as club powerlifting. Now I am a recreational Spartan Racer and obstacle course runner, and just love to train.
TP: What does a typical workday look like for you?
TC:  So I get here early in the morning, not too crazy early, and we have a big morning rush of a lot of teams. A lot of our groups like to lift either before class or after class. So for about three hours in the morning, we got a lot of teams in here. A lot of groups that Coach Boyko and I are balancing [between each other]. Who's working with which groups, who's out in the cage running speed development, and warm-ups, who's in the weight room checking sets, helping teams out with their lifting stuff. And then it quiets down for a little bit. So mid-morning, usually I end up getting to train when we have other teams in the weight room, then I get some work done, get whatever housekeeping stuff needs to get done around the weight room, fixing equipment, putting new equipment together, things like that, and work on some programs for the teams coming up. Then usually we'll grab lunch together as a staff, just me and Coach Boyko. And then after lunch is the same thing. That's when all of our teams like to come in after class, we get a big, big rush again for a few more hours in the afternoon. The weight room is pretty packed, and just busy throughout the whole day. And then the end of the day, clean up everything in the weight room and close it all up. Close some things up in the office, tying up any loose ends that were there throughout the day. And that's about it.
TP: How does your approach change with different teams or different athletes?
TC: Overall, the further away we are from the season for teams, things tend to be more general. And there might be a lot of overlap between different teams in terms of the warm-ups, the movements that we're doing. And a lot of them are going to look pretty similar when we're in our offseason because the goals are pretty much the same. We're working on restoring some movement patterns, teaching these sorts of basic movements, and getting the athletes working in the movements that they're going to be doing throughout their sport. And then as it gets more into the season we start to give what they're not getting on the court or the field and that's going to look very different sport to sport. Squash for example, for you, there's a lot of back and forth, side-to-side stuff. So we're not gonna do much of that in the weight room. Whereas another team might not get any of that in their sport and we can kind of still train that throughout the season. But as it gets more into the season, it ends up being more specific to each team. And we also try to take into account what teams like and what teams want, what they're looking for in their programs. Year to year that might change as teams get stronger. Then I'd say, "Alright, we're looking to start to get a little bit faster now that we've kind of built that foundation of strength over the past few years, and now we're looking to adapt with some new qualities, and then we'll change it up that way."
TP: What are your favorite parts of the job?
TC: One of the job's best parts is working in college athletics. I've known I've wanted to be a collegiate strength and conditioning coach since I was 14, so 10 years now. I've always been involved with sports, and I love being around sports, that's probably the best part of the job is being able to work with college athletes and spend my day hanging out with college athletes. Overall, it's just a relationship type of profession. You can program all the sets and reps you want, but if you can't get them to do and you can understand why they want to be there, what motivates them, what gets them going, why they want to play their sport, what's going to help them play their sport, then none of that matters, all the sets and reps stuff. I like the relationship aspect and continuing to connect and grow relationships with athletes and getting to know them better as people rather than just athletes.
TP: What is the most gratifying thing about your job? What kind of moments make you feel the most proud?
TC: It's funny that you're the one asking this question. I think one of the biggest gratifications comes from when athletes do something they didn't think that they could do before, and they push past some of the limits that they kind of set for themselves. And to get into specifics, seeing athletes that come spend a ton of time rehabbing with us and come back from an injury, and having them go out and win a match or that first match back. That's kind of very gratifying to see because, having gone through my injuries before, I know what it's like to have to come back from a difficult injury, and it's cool to see that happen, and I know that you were at least a small part of that.
TP: That was my next question. I know you faced an injury in the recent past. How has that helped you deal with injured athletes, mentally and physically?
TC: Dealing with that broken foot injury was probably the biggest injury that I've ever had to deal with. And it came at a really good time in terms of professional development and career growth, and all of that, and it helped me understand … you know, I was on crutches for 10 weeks. So I understand what it's like for athletes to have to be on crutches and all of the small considerations that you have with that, like, you might not have an injured upper body, but you can't carry the weights back to your bench or on crutches. So you have to kind of adapt around that. And overall, just recognizing little ways of helping them see that we can be a little bit better than we were yesterday. And even though that's not where we want to be, it's where we need to be, and we're headed in the right direction, it's always a step forward, even if it doesn't feel like you're going anywhere. And I learned a lot in my rehab, in taking videos of myself and the rehab exercises I was doing and then, you know, weeks later, I'd be able to look back and be like "Wow, I didn't think that I was doing well with these," but when I look at what I was doing three weeks ago, it looked horrendous, and now it looks a little bit better. So that's something that I've encouraged my athletes to do and it helps to see where you've come from, to put into perspective of where you are now. And that was probably the biggest thing that I took away from being injured and the mental aspect of that and recognizing that you're not gonna be 100 percent yet, but you're taking the small steps they need to to get back there.
TP: What do you think is the single most important thing for either student-athletes or as general advice for anyone, to do in terms of their health?
TC: I think that health is super important and often underrated and overlooked until you're not in the best health. I think that's usually what opens people's eyes to the importance of living a healthy, balanced, well-rounded, happy lifestyle. And usually, that comes from having something taken from you like an injury or an illness or something like that. And so I think the number one thing is to remind everyone that the goal is to be happy and to find something that you love to do and do that every day even if that's not the majority of your time. But just the overall importance of balance and taking care of yourself goes a long way.
TP: What does the athletics community at Amherst mean to you?
TC: I like the athletics community at Amherst because it's such a small group. We don't have hundreds of people on an athletic staff, so it's a very small community in one building. It's the small college vibe that I'm used to, having gone to Springfield College. And that's the small college aspect of being in a NESCAC school. And I like how all of us are very dedicated to helping the athletes succeed on and off the field.
TP: How do you spend your time outside Amherst?
TC: Well, it's Saturday and I'm here with you at Amherst College. So outside of the weight room, I enjoy watching my team's games. So going out to, since it's the fall right now, the soccer games and when the winter comes, going to see basketball, hockey, squash, all of the sports that I spend a lot of my time with, I enjoy going to see all of them play their games. And then other than that, I enjoy hiking, reading, and learning. I don't do a lot outside of Amherst but I enjoy overall growing as a person, like figuring out different ways to learn more about myself and how to make myself better and stay healthy and stay happy in the crazy hectic environment of Amherst College athletics.
TP: Awesome. Any last words to the readers of this article?
TC: Thank you for having me, and maybe one other person will read this haha.