Sports
Sue Everden, Head Volleyball Coach, to Step Down After More Than 1,500 Games Coached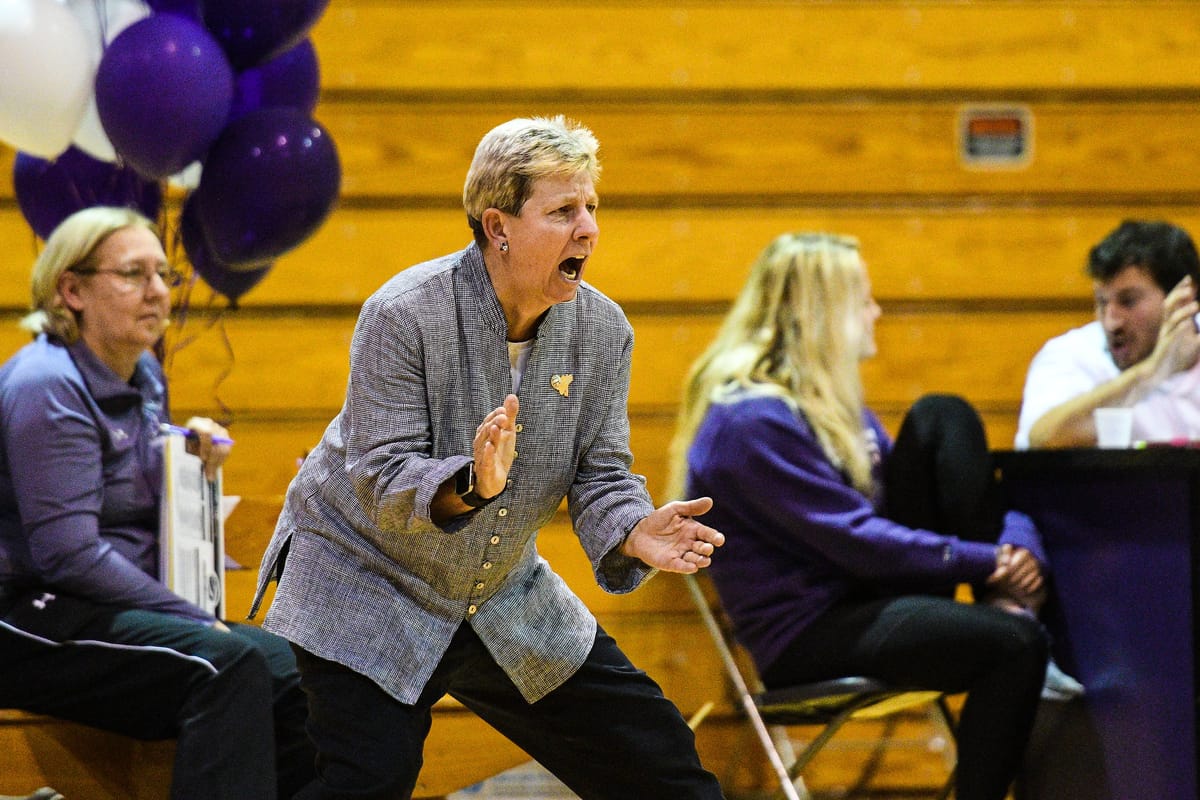 One of the most revered and recognized figures in Division III volleyball, Amherst College Head Coach Sue Everden, after more than 30 seasons and 700 volleyball wins, has decided to retire and begin a phased retirement.
Everden will step down as head coach at the end of the 2019-2020 academic year but continue to remain involved in the program in some capacity, including planning and leading a team trip to Japan during the spring of 2021.
Before Everden came to Amherst, she was an undergraduate at Slippery Rock University in Pennsylvania, where she played field hockey. Afterwards, she earned a master's degree in teaching and administration at Springfield College.
Early on, Everden decided that she wanted to be a full-time coach. "I was always intrigued by the relationships between coaches and athletes, particularly at the collegiate level," Everden said. "It's a challenge to try and be a part of that, to try and impact that."
Her coaching career began at Clarkson University in Potsdam, NY, where she led the women's tennis, lacrosse and swimming and diving programs. Everden then moved on to the Coast Guard Academy, where she coached volleyball, basketball and softball.
Despite all this experience, Everden and her trademark Mickey Mouse earings settled on volleyball when she came to Amherst.
"What drew me to Amherst when I was applying was that the academic portion of this venture was premier to those individuals coming here. I knew that once we got it rolling, I was sure that the volleyball was going to be better than good, it was going to be the pursuit of excellence. I knew that was going to be possible because there would be individuals coming here for that same pursuit of excellence in their academic lives with a crossover to athletics," she said.
On why she chose to coach volleyball, Everden said, "I always wanted to coach volleyball and/or football," adding, "The reason being is that I felt those were the ultimate team sports."
"In volleyball, one person can't even touch the ball three times in succession; it's illegal. It's really dependent on that relationship with your teammates, which I think drives the sport," she added.
Everden's instincts turned out to be correct: Since she took charge of the Firedogs in 1986, the program has yet to see a losing season, with 34 consecutive campaigns speaking to Everden's remarkable consistency, ability and passion for her sport.
The team has also been to every single NESCAC volleyball conference championship since the competition was started in 1999, and under her leadership, Amherst has won three.
The Firedogs have also made seven trips to the NCAA Division III championships, including a 2007 run to the national quarterfinals. Everden has been recognized twice as NESCAC coach of the year and twice as the New England Region Coach of the Year.
Her office is adorned with dozens of pieces of Disney memorabilia and championship trophies, but one thing that no one can miss is the sign hanging right above her desk that reads, "See the possibilities." Everden is quick to mention that winning is not her greatest or most important focus.
"I wanted [student-athletes] to leave here loving volleyball, if possible, more than when they came in. Particularly at the collegiate level, for women, this is their last chance at that type of elite competition, and I think it should be special. And, in order for that to be special, it has to remain a passion versus an obligation or a duty," Everden remarked. "One of the differences about coming [to Amherst] is that the athletes know that this is going to be a learning experience versus them coming in thinking that they already have it. It's the journey –that process that happens each year – that is most special."
Sue Everden, head coach of the women's volleyball team, will begin a phased retirement at the conclusion of the 2019-2020 academic year. She leaves as the first Amherst coach to achieve 1,000 career wins.
Although best known as the coach of the Firedogs, Everden has served as a past head coach of the Amherst women's squash, lacrosse and softball teams and has recorded over 1,000 victories as a head coach at Amherst. She holds the school record for most games coached, with more than 1,500 contests.
Everden has had a critical role to play in the expansion of women's sports since Amherst began admitting women in 1975. She remarked, "When I first got here, the number of opportunities for women in athletics was limited. Then, it exploded."
"What I found interesting about this particular department and athletics as a whole, was that it looked to grow with that expansion and did not limit women's choices," she added."Sometimes it took longer than I would have liked, believe me, but I never felt like it was going to be 'never.' It always felt like [expansion] was coming."
While Everden is undoubtedly proud of the victories and successful seasons, she has repeatedly stressed that her greatest joys came not from the games but from watching her athletes find their voices and footings as students and young adults.
The Firedogs nickname that has stuck with the volleyball team is perhaps the best example.
Everden's eyes lit up when telling that story: "Let me tell you about the Firedogs!"
"It was the mid-90s, and [The Student] had, all the sudden, taken to calling the women's teams the Lady Jeffs. My student athletes came to me and said, 'Coach, there's no such thing as a Lady Jeff. There is no Lady Jeff! Could they just call us the Jeffs like they used to?'"
"And I said, 'Fair enough, we'll sit down with the newspaper and it will be fine! We'll ask, and we'll ask in a nice way, and it will go back. The three weeks after that, in succession, Lady Jeff felt like every other word in the articles. It had gone from bad to worse."
She continued, "We were in a van to go to a contest against Smith College, and one of the student-athletes in the back of the van said, 'We're not going to be the Jeffs, or Lady Jeffs, or any Jeffs any longer!'"
"And I asked, 'So what are we going to be?' Then, one of the other kids said, 'Firedogs! We'll be the Firedogs!'"
Laughing, Everden told about how one one of the athletes, whose family had a long history of going to Amherst, sent her a package the next week filled with almost a thousand t-shirts and hats emblazoned with the new Firedogs mascot. Unsure of what to do with her new wares, Everden handed one out to anyone who passed by her office or attended a match.
More serious now, and with a glimmer of pride in her eye, Everden continued, "I thought it was great, this is their voice."
"With the graduation of that particular group, I did think that this was going to run its course, but it seemed like it was a vision. Instead of just a mascot, just a Firedog, it was what they then saw themselves as," she said.
Everden commented on how her team handled the situation, saying, "It speaks so highly of this place, and of the women who have played volleyball for Amherst."
"It just took off, and even if I had wanted to put a stop to it, there was no way."
Everden leaned in, misty-eyed but with a smile on her face.
"Which I didn't."