Sports
The Biggest Little Game Ends in Anguish for Amherst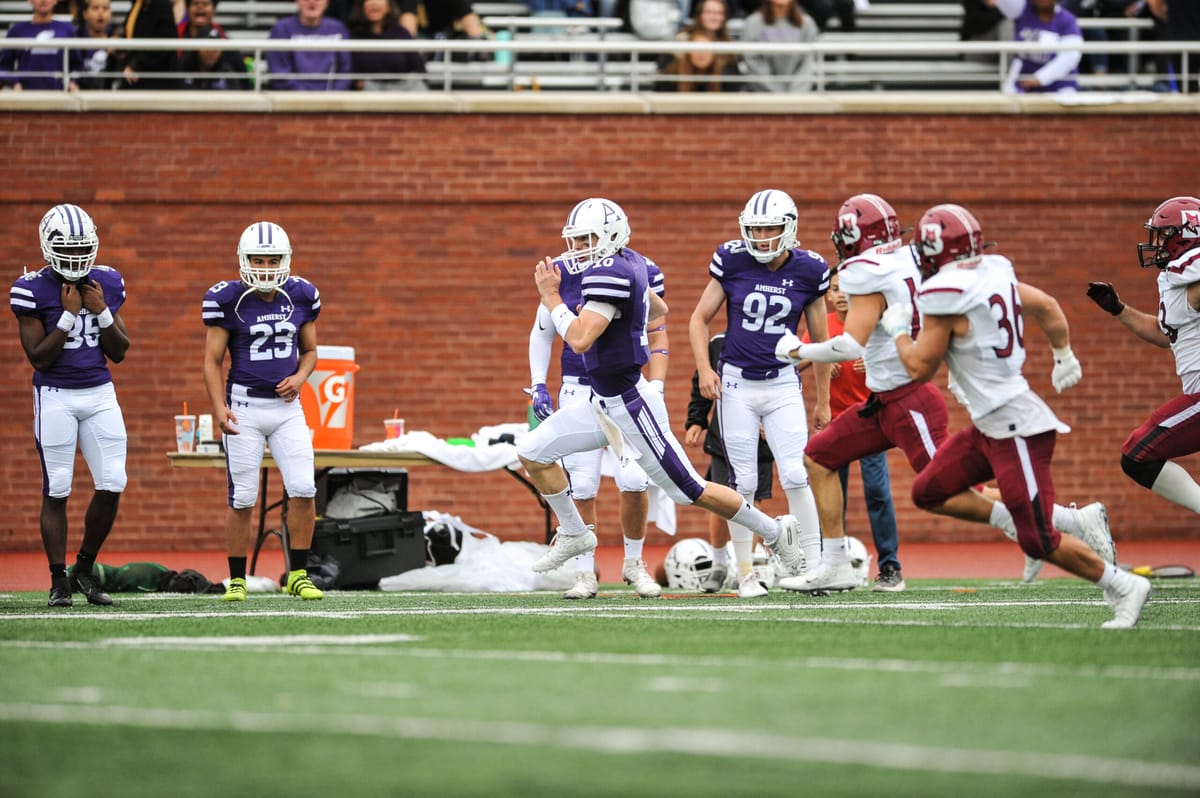 Call it the "Biggest Little Game in America." Call it Amherst/Williams or Williams/Amherst. Call it a huge disappointment for this year's Mammoth football team.
In the only NESCAC game of the year on regional and national television, the Mammoths and the Ephs faced off in what was to become each team's defining matchup of the season.
With both teams eliminated from playoff contention, the 6-2 Ephs and the 4-4 Mammoths took to the field.
One game would have to determine whether the Ephs or the Mammoths saw their seasons as a success or disappointment.
In recent years, the Mammoths dominated the longstanding rivalry, winning seven of the last eight matchups, including last year's 45-14 victory at home in the teams' 133rd matchup.
This year's game would not follow the same script. Williams led the entire game, with the Mammoths unable to grab a lead at any point.
The Ephs jumped out to a 17-0 lead due to two quick touchdowns in the first quarter, scoring the first barely two minutes into the game.
The Mammoths finally got on the board towards the end of the first half thanks to Ollie Eberth '20 making a touchdown pass to James O'Regan '20. It was the eighth time the two seniors had hooked up in the end zone on the season.
The Mammoths would eventually pull to within eight points at halftime, trailing 17-9 during the intermission.
The second half, however, belonged exclusively to the Ephs.
The Mammoths' defense was able to hold the Ephs to just two touchdowns in the second half, but the Amherst offense was unable to move the football effectively, leading to a final score of 31-9 in Williams' favor.
The inability to generate offense was what ultimately doomed the Mammoths.
Eberth was relatively effective in the passing game, however, throwing for 137 yards and a touchdown as opposed to the Ephs' 125 yards through the air.
It was in the running game through which Williams' offensive and defensive dominance truly shown through. Eberth was the Mammoths' leading rusher with 20 yards on the day, while Williams had three individual rushers who more than doubled Eberths' total.
The standout performer on the day was Williams' first-year running back Joel Nicholas, who gained an astounding 211 yards on the ground and found the endzone three times.
He alone outgained the entirety of the Amherst offense, both passing and rushing.
The Mammoths, on account of their inability to generate any offense against a stout Williams defense, were a paltry 1-11 on third down.
The Mammoths only managed 11 first downs on the day while the Ephs registered 24.
The Mammoths' loss dropped them to 4-5, the first losing season for the Amherst football team since 1993, ending the season on a disappointing note for Amherst.