Features
The Conversation That Defeated the Profile — Alumni Profile, Thomas Ferraro '79
Thomas Ferraro '79 traces, through eccentric and dazzling conversation, the complex web connecting his work as an author and professor of English to his identity, history, and time at Amherst.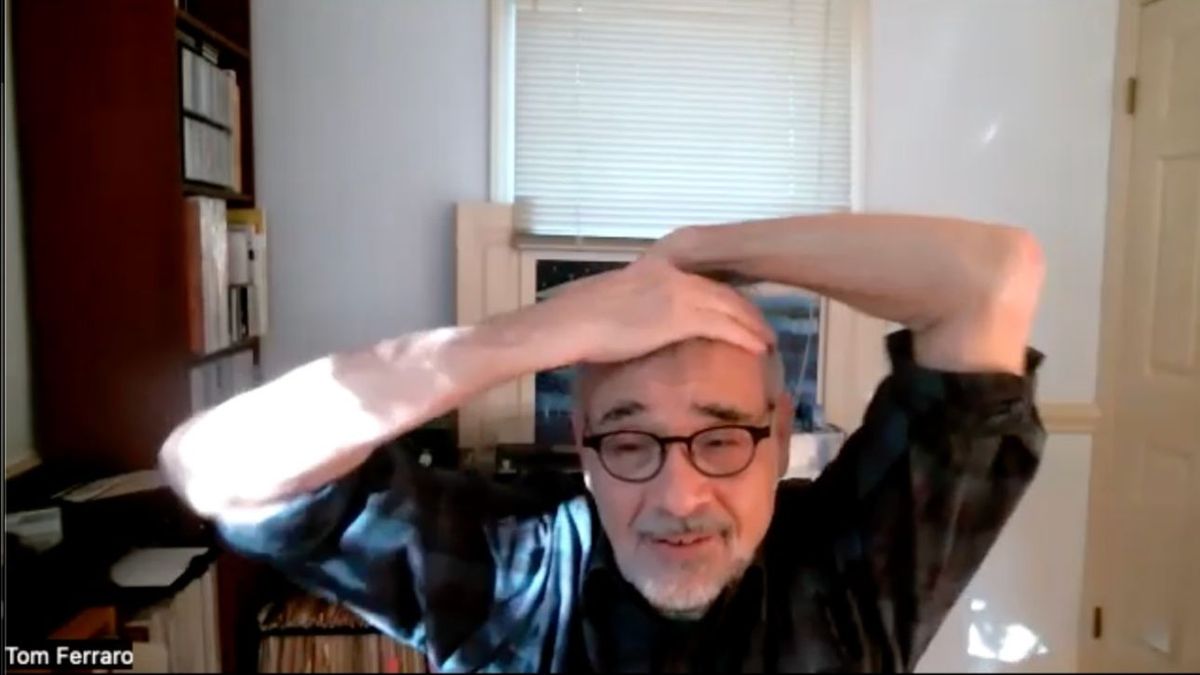 After looking back at my notes and recordings of my conversation with Tom Ferraro '79, I was worried that I didn't learn enough about him to write this profile. Before our interview, I knew he was an English professor at Duke and that he'd been teaching there since 1988, but our conversation never clearly revealed how he got there, or even the trajectory of his career as a professor. Instead, for two and half hours, I was dazzled by the rambling connections he drew between his writing, his identity, and his time at Amherst.
Ferraro is far from an apathetic speaker. From the moment our conversation began, he was jumping in his chair, his arms and hands moved all around his Zoom box. At times, they were pressed up around his face, at others his fingers were almost touching the camera. Whenever one of his ideas gained traction his voice crescendoed both in pitch and in volume, until he would recompose himself with a gentle smirk.
The interview began as I intended: He told me about his family; where he grew up; and how he found himself in Western Massachusetts for college. But quickly, and without me realizing, Ferraro absorbed me into his chaotic manner of speaking, which, at first, was admittedly quite hard to follow. I soon realized it was this exact chaotic passion for conversation and connection that made him into the renowned scholar he has been for the past 35 years.
Most of his childhood was spent in Concord, New Hampshire. He attended the local public school until he was sought out by the prestigious St. Paul's. "I lucked out, " he said. "They recruited kids in Mattapan, East Harlem, Montana, but also in Concord where they took a chance on a couple of townies, which is what I was."
Ferraro noted the opportunity as "life transform[ing]" for him and the other "outsiders" he became friends with. In the form of a self-proclaimed nerdiness, he thrived at St. Paul's both because he loved the classroom and also because the magnitude of the opportunity for a "townie" like him meant "[he was] never going to screw it up."
His dad was a physician and his mom was a nurse, but they weren't from New Hampshire. "My mother grew up in Bay Ridge and Coney Island," he reflected. "It was essentially the part of Italian America that you do not see in 'Do The Right Thing.' My father grew up as a latchkey kid, raised by his mother. He grew up in Hackensack before it became gentrified. Exactly like the opening credits in 'The Sopranos.'"
(Throughout our conversation, Ferraro continuously punctuated his reflections on his life with references to pop culture.)
By the time he arrived at Amherst (which he chose because it looked like "St. Paul's on steroids"), Ferraro found one of the most valuable aspects of the college to be its diversity. "At an Anglican high school, you knew all the non-Christians by name," he said. "It was completely different at Amherst."
He told me about his different friends and acquaintances that came from all around the world, but also his professors. He showed me a legal pad that listed "10 faculty who descended from very different backgrounds" but who were all simultaneously teaching him American studies — and thus what it means to be American.
He elaborated on the importance of this idea, referencing the contrast between Amherst's atmosphere and his own Catholic upbringing. "We were at a very interesting moment for somebody like me who walked into Johnson Chapel for the first time, stunned by its beauty," he said. "Why? Because it was congregational. It has a congregationalist heritage. The only decorated thing was the pulpit."
Within his large Italian family and rural hometown, Ferraro suggested this "congregation" of diversity and of ideas never really had a place. "I will defend to the death, the quality of the meals in my house, but not always the quality of the conversation."
While his first interest was in physics, he eventually became enamored by the exchange of ideas in the humanities. "Instead of looking down and trying to titrate, the folks in the humanities argued ideas," he said. "There is a brilliance to naming a humanities center a lyceum; there was always a real sense of intellectual community."
As an American studies major in the 1970s, he recounted the way he learned from the likes of Frost, Dickinson, and Hawthorne. In the end, his thesis was about Emerson. And while, during our three-hour conversation, we never really got into what it was exactly about, the thesis proved to be pivotal in the trajectory of his work in academia. "Although I had learned how to read [those authors] for their power, I realized it was also for the form of skepticism that they themselves found in the breakdown of their own idealists," he said.
And so, in his first book as an academic, "Ethnic Passages: Literary Immigrants in Twentieth-Century America," Ferraro recontextualized the narratives of famous immigrant writers, just like writing his thesis recontextualized the narrative of his own life. "None of these books were written in immigrant households," he told me. "They advertised Anzia Yezierska as if she had written her story up from the ghettos on a paper bag in between her stints in the garment district, but she had twenty years of education, and even went to Columbia!"
This was a text that he had written over 30 years ago, and yet Ferraro's passion to reclaim the immigrant narrative is permanent. Right after this assertion, the Zoom meeting's 45-minute timer cut off our conversation.
As I emailed him a second link thinking about how I would slowly lead him back to his train of thought, he suddenly joined the new meeting, and, without hesitation continued in his eccentric monologue defining what it means to be American. "The text that [immigrants] produced, needed to be understood as interrogations, not only informed by the kinds of things that Emerson and Melville were worried about, but answering them" he said. "Answering them in a way for which the ethnic cultures that they emerge from — are indispensable."
He emphasized the notion that these two strands of American literature are far from separate in the way most make them out to be. Instead, they are in constant conversation with each other.
While these ideas are obviously important to him intellectually, Ferraro kept stressing the importance of conversation in a more elementary sense.
At Amherst, he recalled his time at the Snack Bar, something I didn't even know existed until he mentioned it. "[The college] had a corner of a building that they weren't using for anything," he said. The building, I later found out, was Fayerweather Hall. "So they built a two-sided 'snack bar' with a quiet area on one side and a talky area on the other side which the Vietnam vets that lived in Amherst would camp out," he said. "So, there were all these older students I could talk to. "
From the beginning of the interview, Ferraro expressed no hesitation in his comfort with talking to me. But, as he continued in his description of the Snack Bar, finally his hands were stuck to his lap, his voice quieted and its pitch leveled out in a melancholic tone. "For all my hyper nerdiness, but sort of gregariousness too," he said. "I get itchy; I want to talk to folks, and I've realized I believe in talking to the same people, and people I've never met before, [and] even people I barely know, just because they happen to be in the same classroom or space as I am — like the Snack Bar at Amherst."
Suddenly, his eccentricity reemerged as he still couldn't resist adding a quip about how we currently avoid discussion. "Converse rather than, you know, phones!" he said. "You all flip them open, staring at them while walking, practically bumping into the other people in the room!"
I ended up leaning as much as possible into his philosophy of conversation, not only comparing our experiences at Amherst, but also sharing my thoughts on "The Sopranos" and even connecting my own upbringing as a second-generation immigrant to his work and to his own ramblings about identity. In the end, my Friday morning was no longer constrained by an interview; instead, it was opened up — to a connection and an opportunity to be comfortable in my own skin. In his own unconventionally captivating way of speaking, I think he'd agree.
"In my work, I do a sort of a vernacular appreciativeness [that is] coupled with the fat intellectual generalizations for things, but also — Amherst let me be more myself."