Arts & Living
The Green Room's "Amherst Psycho" Kills at Premiere
The Green Room presented their original play "Amherst Psycho" last Friday. Managing Arts & Living Editor Sophie Durbin '25 reviews the play, appreciating its humor and collegiate commentary.
"Amherst Psycho," the latest production from student-run theater group The Green Room, premiered on Friday, Oct. 20, in O'Connor Commons, the basement of Charles Pratt Hall, to a packed audience.
The play, a parody of the film "American Psycho," was directed by Madina Oraz '25, who co-wrote the script with Dylan Schor '25, J.E. Cramer (Hampshire College '25), and Hunter Kloss '25. The plot loosely follows the original film, a dark satire about an investment banker who moonlights as a serial killer, but takes place at our very own college, replacing the cutthroat environs of 1980s Wall Street with Division III athletics. Coincidentally, the collegiate setting reminds me of a different Bret Easton Ellis adaptation following Patrick Bateman's little brother: "The Rules of Attraction."
Joe Sweeney '25 plays protagonist Patrick Bateman, a psychopathic football player whose disillusionment with college life leads him on a murderous spree. As he goes through the motions of everyday interactions, he begins to question his meaningless relationships with other athletes and his girlfriend Willa Williams (Isla Steinman '26), and cultivates homicidal desires. In place of the film's voice-overs, the play cleverly communicates these internal thoughts with frequent monologues during which Bateman speaks directly to the audience, and all of the other characters freeze.
Bateman's spiral into insanity begins when he murders his rival, Paul Allen (Teddy Stephens '26), in the Plimpton House basement — a pointed reference to the real-world vandalism that occurred there last year. This victory spurs Bateman to eliminate all sources of irritation in his life one-by-one. His serial killer tendencies, however, are complicated by the investigations of Park Bench (Ventura Garcia-Perez '27), a writer of the satirical Amherst Muckrake disguised as a reporter from The Student who suspects Bateman's involvement in Allen's disappearance.
The play hits its climax when Bateman's victims come back to haunt him, literally. Unlike the film's mind-bending conclusion, "Amherst Psycho" ends with poetic justice: The ghosts of the people he murdered hold him responsible for his crimes.
"Amherst Psycho" is a treasure trove of references to both "American Psycho" and Amherst College lore. The play offers an absurd Amherst equivalent to every infamous scene from the film, satisfying film buffs and lovers of the college's history alike. Instead of seeking reservations at the exclusive New York City restaurant Dorsia, characters brag about scoring a weekend reservation at local Chinese restaurant Panda East. Instead of murdering Paul Allen in his penthouse to the tunes of Huey Lewis and the News, Bateman blasts Nicki Minaj. And instead of gently pampering himself with expensive creams in the film's infamous beauty routine scene, Bateman douses himself in Axe body spray while "hiding in the utility closet so [his] suitemates don't think [he is] gay."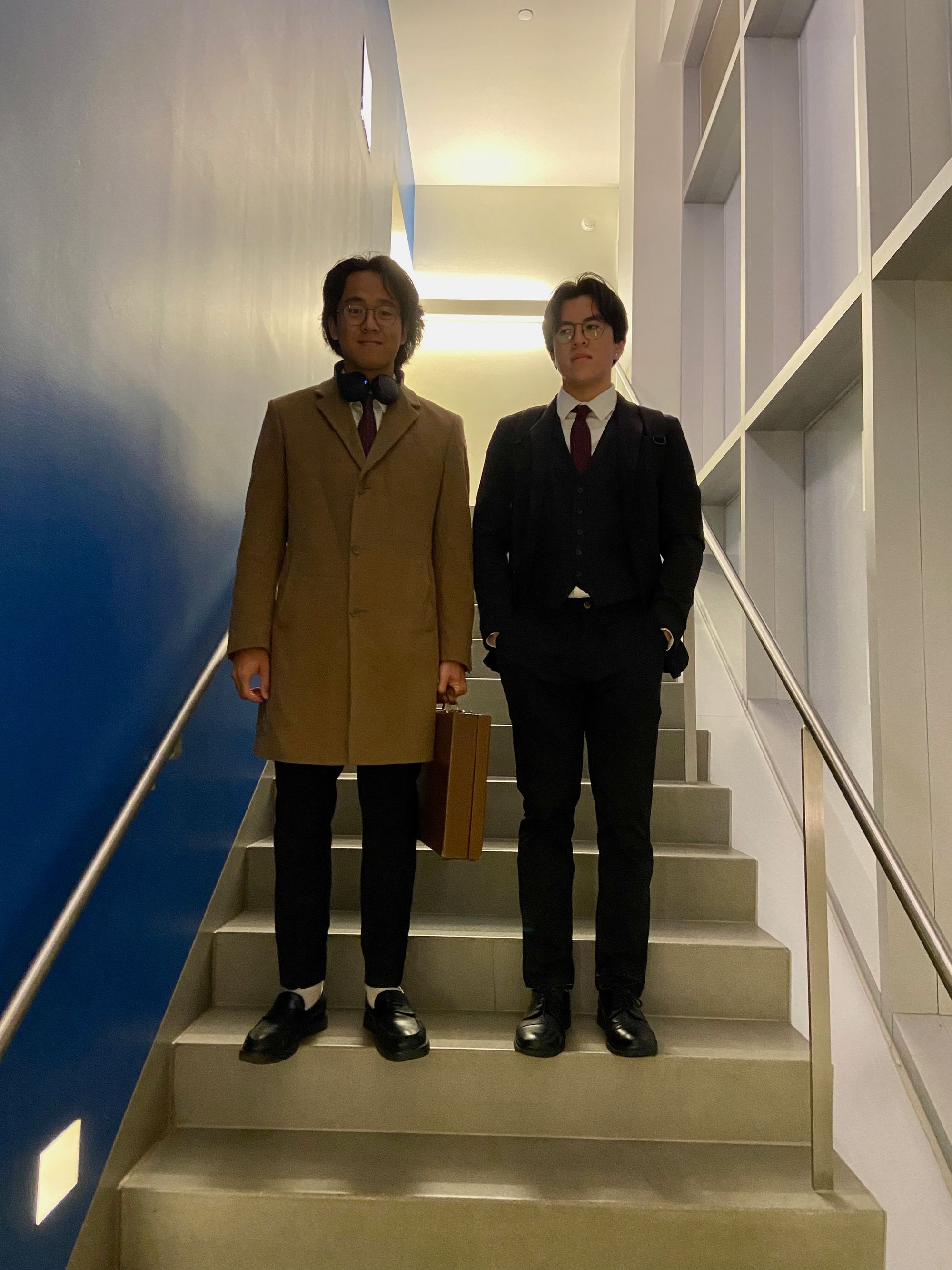 I was impressed by the play's attention to detail, and indeed, Oraz told me that they watched "American Psycho" twenty times in preparation. They added that The Green Room writing team met once a week over the summer on Zoom and continued tweaking the script up to the last minute, adding a timely reference to the SHEs' (Student Health Educators) ongoing "Sex Week" the night before Friday's performance.
Nonetheless, "Amherst Psycho" is more than a recreation of "American Psycho" with college students. It offers thoughtful political commentary on relevant issues by poking fun at Bateman's performative wokeness, something the film only briefly touches upon. The play emphasizes Bateman's hypocrisy. In one scene, he tells his friend to "cool it with the homophobic remarks"; yet, when Allen makes a pass at him, he grows enraged that people might think he's gay and murders him. Bateman's monologues remind us that he only values the appearance of political correctness and morality — a fault of Amherst students, perhaps, that the writers intended to critique.
The play also criticizes the Amherst tradition of stealing the Sabrina statue, who is hilariously personified by Lucas Bernstein '25. Echoing previous objections to the tradition, Sabrina Shortz-Livingston (Bren Curley, Smith College '25) argues that the formerly all-male student body objectified the nude female figure by passing her around as a possession. Sabrina's presence has faded since her 2013 disappearance, and I'm glad the writers revived her.
"Amherst Psycho" was a delightful romp into the college's past and present. Despite being a parody, the play expanded upon its source material to create something fresh and new. And, it was actually pretty funny.