Arts & Living
The Singing College Shines at A Cappella Showcase
Managing Arts and Living Editor Madeline Lawson '25 reviews the diverse performances of Amherst's six a cappella groups at their first showcase of the year.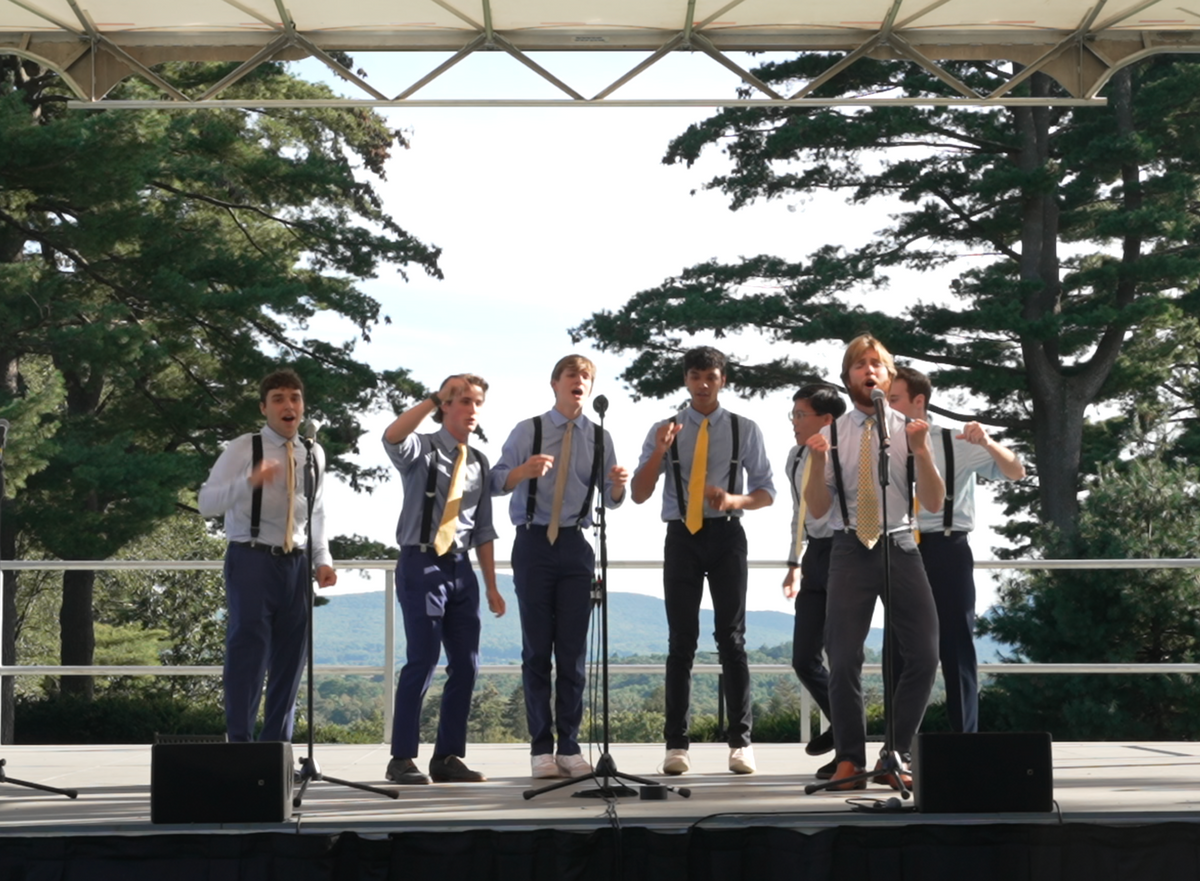 Perhaps the only thing most freshmen know about a cappella is the drama-filled "Pitch Perfect," hardly an accurate representation of the many groups on Amherst's campus. Amherst is not dubbed "The Singing College" for no reason: In addition to the many opportunities available through the music department, there are six a cappella groups on campus. All of them performed on the First Year Quad on Sunday, Sept. 17, in their first showcase of the year.
Excited first-year students swarmed the quad, eager to learn more about Amherst's a cappella groups. The showcase advertised each group's auditions, all being held this week, and it also encouraged students to attend future a cappella performances. If the turnout and enthusiasm at the showcase is any indication, the Class of 2027 will fill the stands at their next shows.
Each group sang three songs, beginning with Route 9, a tenor and baritone group that, in their own words, "wear suspenders, sing, and that's pretty much it." Sure enough, they had a playful, almost joking tone throughout their pieces, and they were clearly very comfortable alongside each other. They opened with a rendition of "I'll Make a Man Out of You" from "Mulan," followed by an original medley of songs featuring the word "tonight," and ending with "The Longest Time" by Billy Joel. The final performance was familiar to returning students: Route 9 is known for their singing Val-entines, in which, for a small price, they will serenade your friends and enemies in public, and Joel's tune is often heard throughout campus in mid-February.
Next came The Bluestockings, a women and fem non-binary group, clad, fittingly, in blue jeans. They first performed an original song, "Blue," that featured high, delicate vocals before transitioning to a quick staccato rhythm. They sang soulfully and longingly in their next piece, "Back to Black" by Amy Winehouse. Route 9 accompanied them for this piece as well as for their closer, "Hit 'Em Up Style (Oops!)" by Blu Cantrell, an upbeat song with a strong melody that definitely showed off The Bluestockings' "soxy" sound.
As The Bluestockings left the stage, a group of students screamed and rushed to fill their place — The Zumbyes, a mixed-gender group, self-described as the "world's most dangerous a cappella group." Its members wore loose suits and ties while one outlier had on a banana costume, a Zumbyes tradition. They started with "erase me" by Lizzy McAlpine featuring Jacob Collier. Honoring the Zumbyes' jazz roots, they sang a relaxed version of "Misty" by Johnny Burke and Erroll Garner. Finally, they performed Earth, Wind, and Fire's "September," complete with extravagant choreography, before running offstage.
The Zumbyes were followed by Amherst's oldest a cappella group, DQ, a mixed-gender group utilizing the full vocal range. They sang Billy Joel's "Moving Out (Anthony's Song)," a calm opener, before moving on to "Following the Sun" by Neeka and SUPER-Hi, featuring a complex background under the strong lead melody. They closed with "2002" by Anne-Marie, filled with nostalgic and longing lyrics.
Terras Irradient, or TI, a mixed-gender Christian group composed of both Amherst and Five College students, performed next. They sang contemporary hymns and praise songs, beginning with an upbeat, unison rendition of "The Lord's Prayer" in Swahili. They also sang "Worthy is the Lamb" and ended with "Shackles (Praise You)" by Mary Mary, an upbeat piece with fast talking and an energetic tempo. They had a captivating stage presence that was bolstered by their vocals.
The final group to perform at the showcase was the Sabrinas — a group comprising women and non-binary people — with a focus on R&B-style music. Their strong community was evident even before their performance began, as the black and bright red-clad singers formed a massive screaming hype huddle in front of Webster Hall before taking the stage. The group opened with Destiny's Child's "Bills Bills Bills," a high-energy number complete with a rich lead and dynamic beatboxing. "Still Into You" by Paramore followed with a choral echo contrasting the rock energy. The final piece of the showcase was Florence And The Machine's "Dog Days Are Over," which was the standout song. It featured Sabrinas' senior, Sophie Caldwell '24E, who stood up to Florence Welch's distinct vocals with a massive range and roaring vibrato.
The showcase was certainly memorable, demonstrating the wide breadth of the groups' talents. However, the performances may have benefitted from a limit of two songs per group instead of three. Although it was lovely to listen to such a large range of pieces from each group, by the time that TI and the Sabrinas took the stage, some of the audience had left. In order to let the final group receive the same attention as the opener, it might be advisable to make the program shorter in the future.
The showcase was a welcome introduction to a cappella for many first-years, some of whom were buzzing about the groups afterwards. "I thought [the showcase], especially the last performance, was really incredible. I didn't really know that Amherst had such a budding a cappella life, so it was pretty cool to watch," Lila Desai '27 said.
Pema Zidig '27 was in agreement. "I knew it was called 'The Singing College,' but there was a lot of variety," she said. "I thought it was really interesting that they all focused on different things."