Sports
The Student Sits Down With Natalie Landau '21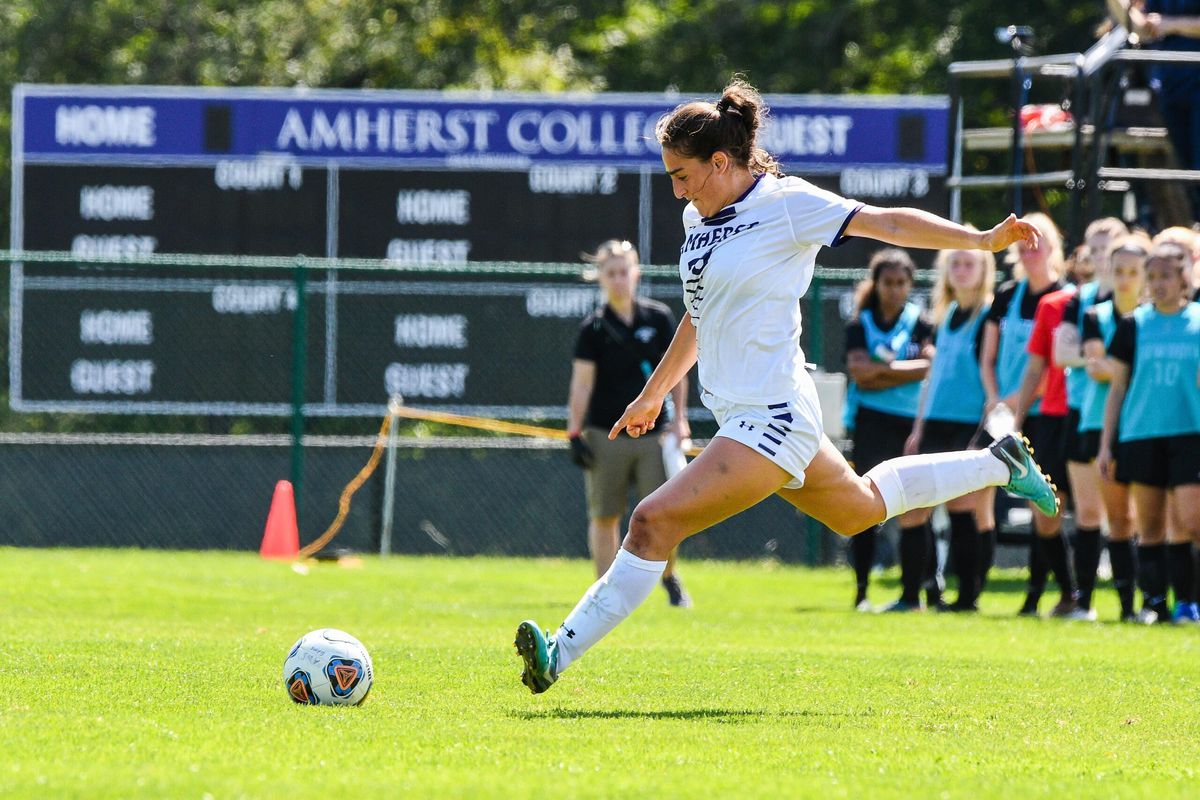 Q: Can you share with us why you play soccer? A: I'm a junior English and political science double major from Providence, Rhode Island. I have a golden retriever named Bear who is instafamous (@bear.the.golden.pup), and a younger sister who is, unfortunately, going to Williams. In terms of soccer, I've loved the sport since I started playing at age five. But playing soccer here has been about much more than my love for the game itself because of the family that is AWS [Amherst Women's Soccer] and the incredible support system that it has given me. We're a group of 30 women who care about, support and empower each other to be the best we can be on and off the field, and being part of that environment has been incredibly special.
Q: How has your season been going so far? A: We've had some tough losses to incredibly strong NESCAC competition, but over fall break we had a great win against Springfield. We're looking to carry that momentum into the rest of our regular season, and most importantly, the playoff season. Our goal every year as a program is to win the NESCAC championship and compete for a national championship, and I think everyone on our team believes that we are talented enough to do both of those things this year. That being said, we're focused on taking it one day and one game at a time.
Q: What about you personally? What are your goals with soccer? A: As an attacking player on the team, my goal for every game is always to score. But my personal goals are much less important than the team goal, which is to play the best that we can and ultimately win as much as possible. Right now, my goal is to be present in every minute of being part of the team. I've come to realize how fleeting the experience really is, and so I've been focused on just having fun and enjoying every single moment.
Q: You mentioned your team's strong support system. How does that help you off the field? A: The support system of [the team] manifests itself in a variety of ways. I think first, there is the personal, relationship-building level, where the team gives you people that you feel comfortable with and are there for you unconditionally. Then there is the more academic level. Being on a team of such incredible and hardworking student-athletes provides you with so many great role models off the field. So many of my teammates have built great relationships with professors and other staff at this school, so that when I went into a Spanish class my freshman year and told the professor I was on the soccer team, they said 'Oh that's great. I've taught so many of your teammates and they were great additions to my classes and I expect the same from you.' Lastly, there's a professional level. In terms of searching for what to do after college, the alumni network within Amherst women's soccer is extremely tightly-knit and through it, I've been exposed to a variety of opportunities and fields and been provided with mentors who have been able to help me through the process of thinking about life after graduation.
Q: Lastly, what's something you would want people to know about AWS that they might not already? A: While I hope that everyone knows that our team has a reputation of being more than just athletes on this campus, I think what I would want everyone to know about AWS is that we are not just great soccer players, but also great people who are talented, hardworking, driven, passionate and of course, super humble. What I am most proud of about our team culture is the way that we treat each other. I think there is a stereotype that girls are always tearing each other apart and putting each other down constantly in every sphere, socially, emotionally, in school, in the workforce, and we don't do that. We raise each other up and push each other to be our best selves, and I think that is what makes us, as a team, so special.