News
Three New Administrators Aim to Leave Their Impact on Amherst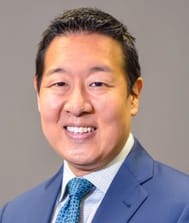 Three new college administrators, Chair of the Board of Trustees Andrew Nussbaum '85, Chief Student Affairs Officer Hikaru Kozuma and Dean of Admissions and Financial Aid Matthew McGann, will begin work in the 2018-2019 academic year. The President's Office announced their appointments at various points over the past year.
Nussbaum, a partner at New York law firm Wachtell, Lipton, Rosen & Katz, was elected chair by the Board of Trustees in late May. After serving as a trustee for eight years, Nussbaum succeeds former chair Cullen Murphy '84. As chair of the Board of Trustees, Nussbaum will lead the board in ensuring that Amherst's mission and values are preserved, overseeing board meetings and determining meeting agendas.
Kozuma comes to Amherst from the University of Pennsylvania, where he served as associate vice provost for the Office of Student Affairs since 2012. His appointment to the position of chief student affairs officer was announced in April. As Suzanne Coffey's successor, Kozuma will be responsible for addressing matters related to student life and campus culture, and overseeing departments including Residential Life, Student Activities and Keefe Health Center.
McGann's appointment as dean of admissions and financial aid follows his tenure at the Massachusetts Institute of Technology, where he served as director of admissions for six years. He succeeds Katie Fretwell '81, who retired this past June, and will work closely with Dean of Admission Catharine Zolkos and Dean of Financial Aid Gail Holt.
"I am confident that [they] will have a significant positive impact on the areas they lead and on the leadership of the college as a whole. It is a pleasure to get to know them and to have them at Amherst," President Biddy Martin said about the new hires in a statement to The Student.
Chair of the Board of Trustees Since graduating from Amherst in 1985, Nussbaum has remained involved in the college's affairs, assuming several fundraising roles for his class prior to his involvement with the Board of Trustees.
"Amherst has always been the same mission-driven institution," he said. "What's changed is its determination to focus on equity in education."
For Nussbaum, his role as chair of the board will be to serve as a driving force in fortifying the college's values. "The role of the chairman is to make sure that the resources of the board are being put to appropriate use in support of the mission of the college," Nussbaum said.
Nussbaum also conveyed an excitement for more opportunities to interact with the college community. "Being chairman will give me more opportunities, frankly, to be on campus, to spend time with faculty, students and staff," he said. "I find it an absolute joy. It's really that simple."
This enthusiasm is an extension of his time as chairman of the board's committee on student life, which gave him the opportunity "to see students from time to time and learn about what's going on on campus."
Nonetheless, the role poses great responsibility, though Nussbaum reaffirmed that these challenges are familiar.
"The challenges that Amherst faces are probably not so different from the challenges that other higher education institutions face or in many cases society at large," he said. "We look to build a strong community, a financially-responsible institution and yet one that is always looking to be innovative in the most thoughtful ways. Those processes and questions sometimes may conflict with each other."
He added that he remains assured in his "firm belief that Amherst is a strong institution."
Chief Student Affairs Officer
In the two months since his arrival at Amherst on July 2, Kozuma has immersed himself in the Amherst culture, getting to know faculty, staff and students who were on campus over the summer and gaining a clearer picture of what life at Amherst looks like and what aspects can be improved.
"It's been a giant listening tour right now," Kozuma said. "But at the same time as I'm listening, if there's an opportunity to be able to address something or to help a student or a staff or faculty member, I pounce on that."
Kozuma plans to begin the school year by taking a proactive approach in meeting students by attending student programs and meetings held by student organizations.
"Instead of students coming to me, I want to go to them," he said. "This first year is going to be a lot of that. I'm going to try to connect with them in their spaces during their times. It's going to take me some time to get to meet everyone, but that's one o f the goals that I have."
To Kozuma, listening is extremely important. Being at a small school, he relishes the potential for stronger community connections and greater incorporation of student voice.
"That's my foundation for how I view my work in higher education: trying to make sure that people connect with different people and that they have engaging experiences; making sure that students have a voice at the table, literally and figuratively," he said.
"Every day presents a different challenge," he added. "Every day a different student has a need. So what I'd like to see is, if we institute something, how well is it going? And, have that opportunity to debrief and reflect on how to make improvements. We need to get out of the cycle of reacting and responding, as opposed to thinking about things proactively."
Another improvement Kozuma hopes to implement is better coordination between the administrative divisions in order to more effectively utilize resources and ease any confusion for students — when a student issue is not managed by one clear office, for example, which often results in students being referred from office to office.
He recognizes Amherst students' wide-ranging concerns, Kozuma said, and he welcomes students to voice their opinions and hopes to give them more access to the decision-making process. "I'm still figuring out what a lot of this means. But, we'll do that together," he says. "We'll go on this journey together."
*Dean of Admission and Financial Aid * As a first-generation college graduate, McGann has devoted his career to college admissions in financial aid. He is excited to work in a college that represents the "best of the country and the world," while using its resources to admit students who are a good fit and ensure that every admitted student can afford to be here.
The college's historic role in achieving milestones for financial aid and accessibility has been a great inspiration for McGann, and it sets a tone for what he hopes to achieve in his new position. He cited the college's leadership in partnering with and adopting the College Scholarship Service profile, the Common Application and the Questbridge program as examples of increasing accessibility in higher education.
"All along the way, for all the important things that happened in the field of admissions and financial aid, Amherst has been there since day one," he said. "That's something I'm excited about — thinking about what the next leadership opportunities for Amherst are, and how Amherst can continue to be the leader in all this."
One of McGann's main goals for the college is to increase outreach to more potential students. "There's tens and thousands of secondary schools in the United States, and if you think about our global mission, there's even more for the rest of the world," he said. "That's something I'm really interested in — how do we reach them? That's what I'm thinking about — making sure the message goes out not only to the usual students but to all the students that need to hear about all the things we offer here."
The goal, McGann said, is to continue "all the good work that's been done" in a "sustainable way that will allow the college to continue [to have], by far, the most diverse student body among the highly selective colleges."
Leading the admissions and financial aid offices, McGann hopes to set Amherst's values of diversity, community and access as a model for other institutions of higher education.
"It won't just influence the 472 students coming in every year," he said. "There are so many other colleges and we also need to think about our effect on them, as well."