Arts & Living
A Tribe Called Quest Releases New Album After Phife Dawg's Death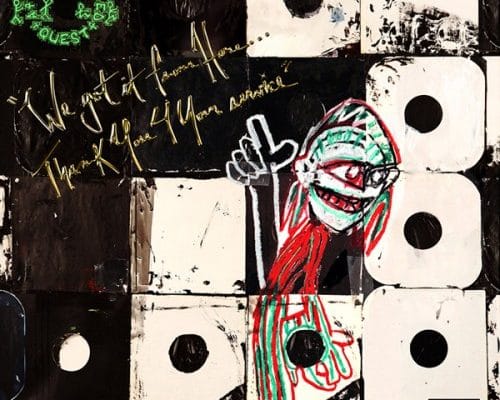 ast Friday, iconic hip-hop group, A Tribe Called Quest, released their final album, "We got it from Here… Thank You 4 Your service." It serves as a capstone to the group's legendary career, which has spanned off-and-on over three decades. The album is A Tribe Called Quest's sixth, ending an 18-year-long gap since the 1998 release of "The Love Movement." The group, consisting of Q-Tip, Phife Dawg, Ali Shaheed Muhammad and occasionally Jarobi White, is known for such classics as "Can I Kick It?," "Award Tour" and "Electric Relaxation," and has served as inspiration for many of hip-hop's greatest MCs, such as Kanye West and Common. Tragically, earlier this year Phife Dawg died due to diabetes. However, "We got it from Here… Thank You 4 Your service," helps cement and carry on his legacy as he played an integral role in creating it. He recorded many verses for it before his death and was even the one the came up with the title.
The record, which is split into two discs, is a fusion of the group's traditional sounds and more modern hip-hop. It incorporates features from some of contemporary hip-hops biggest stars, such as André 3000, Anderson .Paak, Kanye West and Kendrick Lamar. 90s hip-hop star and long-time friend of the group, Busta Rhymes, is also included on various tracks. The sound of the album is mostly consistent with the jazzy beats that A Tribe Called Quest is known for. "We got it from Here…" is also infused with Jamaican influences and pop culture samples such as a bit from Charlie and the Chocolate Factory and an Elton John song.
The first disc takes on a political tone. The opening track "The Space Program" deals with the limited opportunities and prevalence of poverty for blacks in America.With a refrain of, "There ain't a space program for n*****," and a conscious call for America to "Get it together." The song does a great job of setting up the message of the album, and from the start you can tell that A Tribe Called Quest has not lost their talent for rhyming. They follow this track with two more highly political songs, "We the People…" and "Whateva Will Be." "We the People…" takes on a much more grimy sound, and Q-Tip and Phife Dawg drop two great verses. The chorus of this song is a little heavy-handed, naming various groups that, according to a certain president-elect, are unwelcome in the country. However, maybe this unashamed flagrance is what is needed to get the message across. "Solid Wall of Sound" backs away from the political message, but the beautiful sample of Elton John's "Bennie and the Jets," makes the song interesting nonetheless.
Phife Dawg, Q-Tip and Busta also all come together to deliver some of the best sounding verses on the album, adopting heavy Jamaican intonations. "Dis Generation" celebrates the new conscious leaders of hip-hop, naming Joey Bada$$, Earl Sweatshirt, Kendrick Lamar and J. Cole. The synergy on this track is amazing, with all Q-Tip, Phife Dawg, Jarobi White and Busta Rhymes, weaving couplets together in verses. "Kids…" takes on a more sinister tone. André 3000 leads a disillusioning track, telling kids that "All of this is fantasy." The last two tracks "Melatonin" and "Enough!!" take on a funkier, woozier sound. The jazzy sound works incredibly well and backs up Q-Tip's verses.
The second disc, while remaining somewhat political, is a lot less focused then the first and therefore less memorable. The first two songs, "Mobius and Black Spasmodic" are somewhat unremarkable. The album rediscovers itself in the third song "The Killing Season," which features verses from conscious rapper Talib Kweli, Consequence and Jarobi White. Kanye West also appears on the track for the refrain. The track takes on a powerful message of injustice against blacks and veterans. The next track, "Lost Somebody," is a beautiful tribute to the late-Phife Dawg. "Movin Backwards" and "Conrad Tokyo," while not particularly striking, are enriched by great verses by R&B artist Anderson .Paak and rapper Kendrick Lamar, whose flow works surprisingly well with A Tribe Called Quest traditional hip-hop beat. "Movin Backwards" has a very funky and relaxing tone, with a great smooth background guitar riff. The penultimate song, "Ego" philosophizes human nature and obviously the ego. Q-Tip delivers his traditional, smooth flow, over a somewhat sinister beat. "We got it from Here…" concludes with "The Donald," titled after Phife Dawg's nickname "Don Juice." The song is surprisingly catchy and deals with the legacy of Phife Dawg. Overall, the song presents a nice outro to the album with its tribute to one of the greatest hip-hop MCs of all time.
"We got it from Here…" has a total runtime of just over an hour. It has 16 tracks split into discs of eight. The first disc is much more focused and has a lot more to offer than the second with its highly political message. Nevertheless, no track comes out as boring. Some of the highlights are: "The Space Program," "Solid Wall of Sound," "Dis Generation" and "Lost Somebody." Overall, the record serves as a great conclusion to A Tribe Called Quest's cannon of work. Hopefully, it might revitalize consciousness and bring back old sounds into modern hip-hop.
Overall rating: 9/10