Opinion
Val for Pal: How To Maintain Your Long-distance Friendship
This Valentine's Day, Staff Writer Pho Vu '23 offers advice on cultivating worldwide friendships based on her experience as an international student.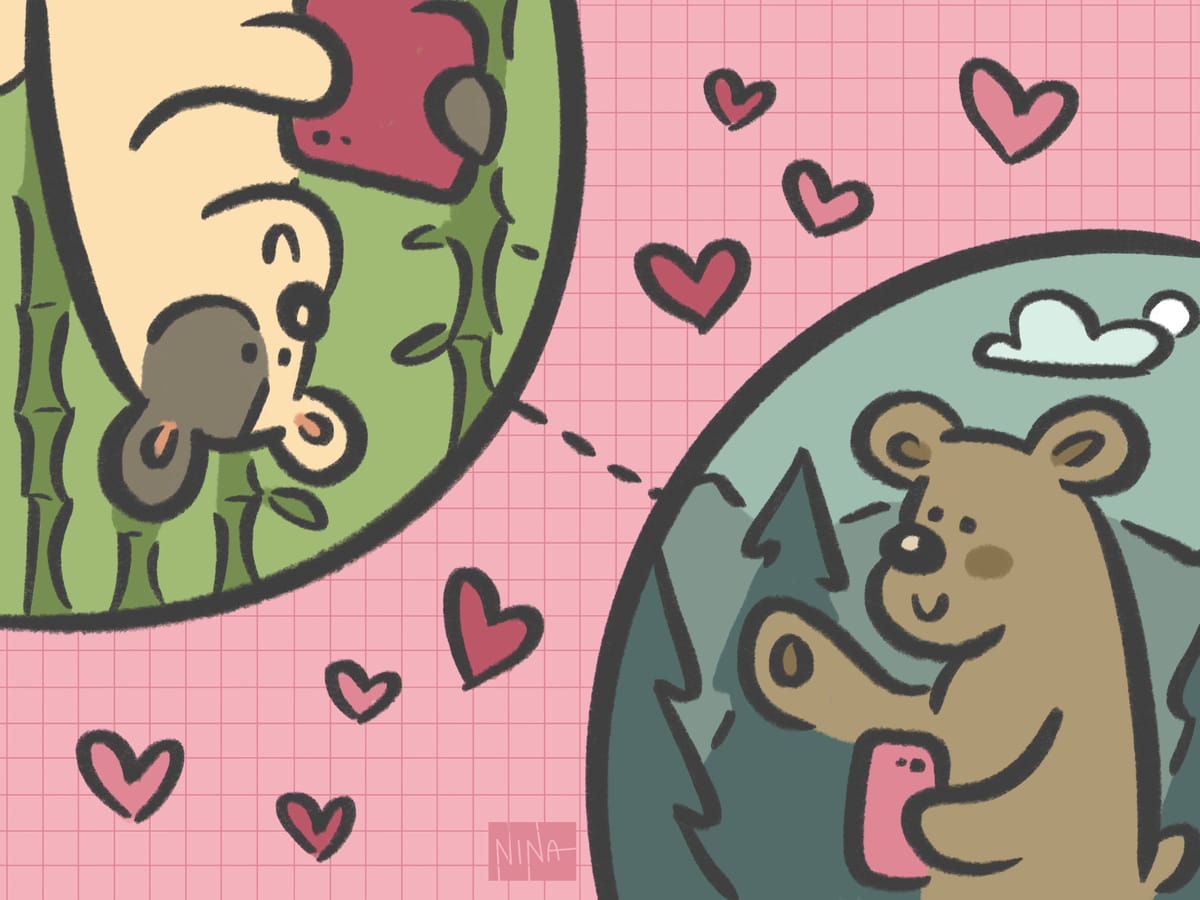 As we grow older, we inevitably welcome sundry connections under different categories into our life. However, the people who we find it easy to stay close to are often those that have followed us since our early childhood. However, Amherst, in opening its doors to students from all corners of the world, has birthed new beginnings for international friendships. But how do we maintain these long-distance connections? During this time of the year, when one of the most wholesome holidays to celebrate friend love rolls around, it feels right for me to sit down and unfurl the efforts that have prevented me and my BFFs in Vietnam from being "out of mind" when we're "out of sight."

1. Remember Important Dates and Do Something Special for Them
It is an unspoken rule that our best friends should shower us with birthday wishes on the exact date, even when Facebook doesn't send the reminder. For my group of five, we take turns spamming the group with all kinds of customized wishes. It went from sentimental text messages in the early years, to planned birthday videos full of improv footage, to pandemic-isolation styled celebrations with filter-laden Zoom calls. Have you ever typed "Happy Birthday" with your friend's name or nickname next to it on Youtube? There's a good chance you will find a funny video that celebrates the birthday of someone whose name matches your friend's. Send the video at your discretion to your friend. I'm sure they will laugh for a really long time, and that's the best sign of a good birthday one could ever have!
2. Engineer Nicknames That Keep the Spark Alive
When you're far from home, you don't get to form new spatial memories with your loved ones. A nickname is an integral part of long-distance relationships that tells your friends that you care about them and can relate to them from any visible dimension, often stemming from memorable events or observations of certain conspicuous traits of a person. Up your name game by changing the nicknames of the members on your messaging platform every six months. I often surprise my friends with new quirky names taken straight from my observation of their reactions during our most active discussions. For instance, a couple of months ago, I waited for the entire group to go to sleep in their local time zone, then surreptitiously nicknamed them after their boyfriends' names. As soon as one messaged the group, others were alarmed because they thought the boys joined the group. That name change received quite a lot of positive feedback, unofficially filling the chat box with only the best vibes. A good nickname entails dedication, and it only matters that they get what you mean!
3. Treat it Like a Registered Student Organization: Don't Flout Regular Meetings!
In comparison, a group of friends is not much different from a family-owned business, a church convent, or a membership-exclusive organization with a common cause: existing as living proof that long-term friendship is possible. With that being said, like any Registered Student Organizations (RSO)s on campus, we are also powered by regular online group meetings, and the recent one was an group-wide Uno tournament ight during Lunar New Year. I had the opportunity to do my favorite activity, that is, to send lucky money to my friends in Vietnam through Sendwave. Seeing them engage in the games and work their way to the prizes really warmed my heart in an indescribable way.
Love knows no distance. Although it's a bummer that I was not yet back in Vietnam, I led the agenda for my friends' New Year celebration. Researching meeting locations, menus, and prices that best cater to my friends' funds gave me the most wholesome experience and helped me make positive contributions to my clique in the most creative way possible. It can be said that arranging the time to be fully present is a gift horse that connects us between two distant lands.
4. Virtual Game Nights Makes Distance a Vantage
One great thing coming out of being the one and only (hopefully) batch of young generation in Covid era is that, sometimes, being far away is a legit blessing in disguise. Virtual entertainment-wise, you can always rely on skribbl and Gartic Phone where you can play countries apart. You should also try out a Zoom version of Scavenger Hunt where everyone gets up and runs around the house trying to snatch all the items on the list in the shortest amount of time.

5. Design Your Group's Social Media Purpose of Use
Instagram and Tiktok are particularly great for the most fashionable poses when traveling and viral trends to do with our best buddies, which you can definitely resonate with. In our case, we view our connectedness on these platforms as backup emergency cards. There are days when one of us just can't help but want to lock ourselves from the outside world and deactivate one of our social media platforms. Finding alternative platforms helps us stay close and look out for each other during those trying times. There are days when we just decide to go professional and educational with the platforms: We edited our LinkedIn profiles and celebrated each other's studying more than 10 lessons or reaching a new league on Duolingo. Surely I don't need to mention sending Instagram reels or sharing Facebook memes to the messenger group so you can all laugh off your life's shared sufferings!

6. Changes Happen, but Nothing Will Change Our Friendship
It's inevitable that as I leave my hometown for education, my mindset is bound to change. Faced with problems that triggered an existential crisis, caused me to cancel plans to fly home, and a million unfinished future plans, my tectonic plates were shaking because things wouldn't turn out like what I wanted. It felt as if it was Judgement Day when our middle-school pact of "Forever Alone" and the plan of living together until old age was put on halt when my friends met the guys that made their hearts flutter. Friendship can make you feel possessive: There were times when I thought I was being left out, and it felt like our friendship was on the verge of falling apart. But I'm really grateful that we got a second chance, then a third chance, and many other chances to learn how we can cherish this kismet. I have come to realize that my place in their hearts remains unchanged. I was introduced to my friends' new friends in college. Maybe these people have helped my friend through a tough time when I wasn't around, and I really owe them a big hug.
7. As We Learn From Each Other, We Grow
Self-growth is the raison d'etre of all relationships, and friendship is the ne plus ultra (a.k.a best example you can have?) of this virtue when we get to improve together with our amigos. My group of friends is made up of five individuals with different personalities and as far as the "opposite attracts" tenet goes, our friendship only reached a new level when we came to appreciate each other's unique beauties and learned to adopt these traits to create our most concrete first steps into the real world. On a more entertaining note, growth does not always have to be something that sounds life-changing. Try living the life of your friends by binge-watching a recommended list of Netflix series by them, or keeping yourself engrossed in a book that they keep rambling about. You may realize the values of life that your friend secretly embraces from their point of view.
Friendship takes time. Sometimes as a human that still needs to learn many things, I become impatient and annoyed because unpredictable outcomes of human relationships can still leave you at square one no matter how much effort you put in. In the highly commendable series "Lucifer," Dr. Linda tells Mazikeen — the demon that follows Lucifer to Earth — as she explores the concept of friendship: "Emotions are hard, but they make you stronger." We need friends to mollify the pressure that comes from the entities that we are chasing after and running away from. But when friends are the main reason why we feel hurt, we learn to take the problem into our own hands with a new kind of strength.
While at Amherst, I have met wonderful people whom I hope to call friends and get to know better for the rest of my life. It's the friendship that I've kept with my friend group over the years that have allowed me to take on a glass-half-full approach that I can open myself up and face whatever comes. If you are reading this article with questions about friendship, I hope it brings you to the place closest to the answers you are looking for.