News
Valentine Dining Expands Food Options and Changes Layout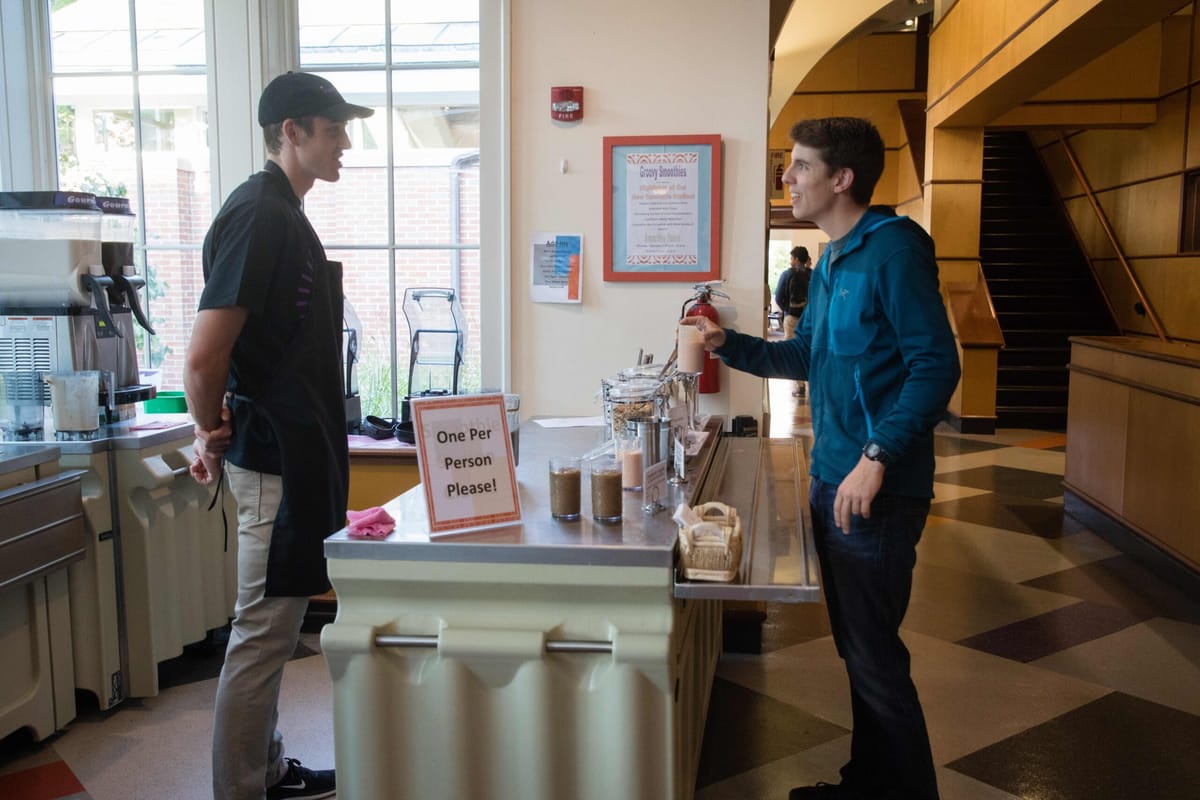 The college hired a new director of dining services this year, and along with this transition came a number of changes in the layout and structure of Valentine Dining Hall.
According to Joseph Flueckiger, who was hired in the spring of 2017, changes to the dining hall include expanding the fresh fruit display, opening a yogurt and fruit bar for breakfast, upgrading the spice station, installing temperature-controlled salad bar wells and removing salt and pepper shakers from dining tables so that the food can taste the way chefs intended.
Silverware has been upgraded, to-go cups for coffee were added and the door between the main entryways to the serving area has been removed.
Other changes are still in the process of being implemented, Flueckiger said. Students can expect to see two new soft-serve machines installed this week and a digital menu in the Valentine lobby in the next month.
To Flueckiger, the new silverware is one of the most exciting changes. "Small items have a very significant impact on people's experience," he said.
Other changes focus on food safety. The new bread dispenser and washable table tent displays both reduce the risk of cross-contamination. To relieve congestion in the serving area and reduce the chance that smoothie ingredients will be contaminated with allergens such as dairy and tree nuts, Valentine replaced the do-it-yourself breakfast smoothie bar at breakfast with a full-service smoothie station located near the stir-fry station and operated by dining services staff.
"We've had some people who are not happy with the smoothies, and we had to make the best decision for everybody, so we're trying to work individually with people to see if there's any accommodations we can make," Flueckiger said.
Overall, feedback for changes has been positive, both from consumers and employees. "They're really going to increase the variety at Val," Rob Barasch '19 said about additions like the new fruit and yogurt bar.
"It's become more efficient," said Kathleen Isenegger '20, who works in Val. She said the changes particularly help people working in the salad bar. "Before it was just ice under the salad wells, and now that they're refrigerated it's a lot less mess to clean up and you don't have to worry about keeping the food cold."
The new table tents and smoothie station are both in line with Valentine's shift toward sustainability — the table tent displays reduce the amount of paper on every table and the smoothie station helps cut back on food loss from students overfilling their blenders. In addition, Amherst's other dining services, Grab n' Go and Frost Cafe, have committed to stop selling bottled water to encourage students to use reusable water bottles.
According to Flueckiger, dining services is currently assessing Valentine's heat and water use in order to evaluate its environmental friendliness.
Flueckiger emphasized students' role in bringing about these changes. Most of the new changes, like the to-go coffee cups, originated from student requests. "The best way to communicate is through the comment cards or through our email," Flueckiger said.
Isabela Torres '19, who helped pioneer Green Amherst Project's trayless movement last year, agreed that students have a huge amount of power over changes at Valentine and encouraged her peers to voice their opinions.
Torres added that, in the future, she would like to see Valentine and Amherst Dining Services as a whole continue shifting towards sustainability.