Sports
Veronica Rocco '19 Returns to Running as Hitchcock Fellow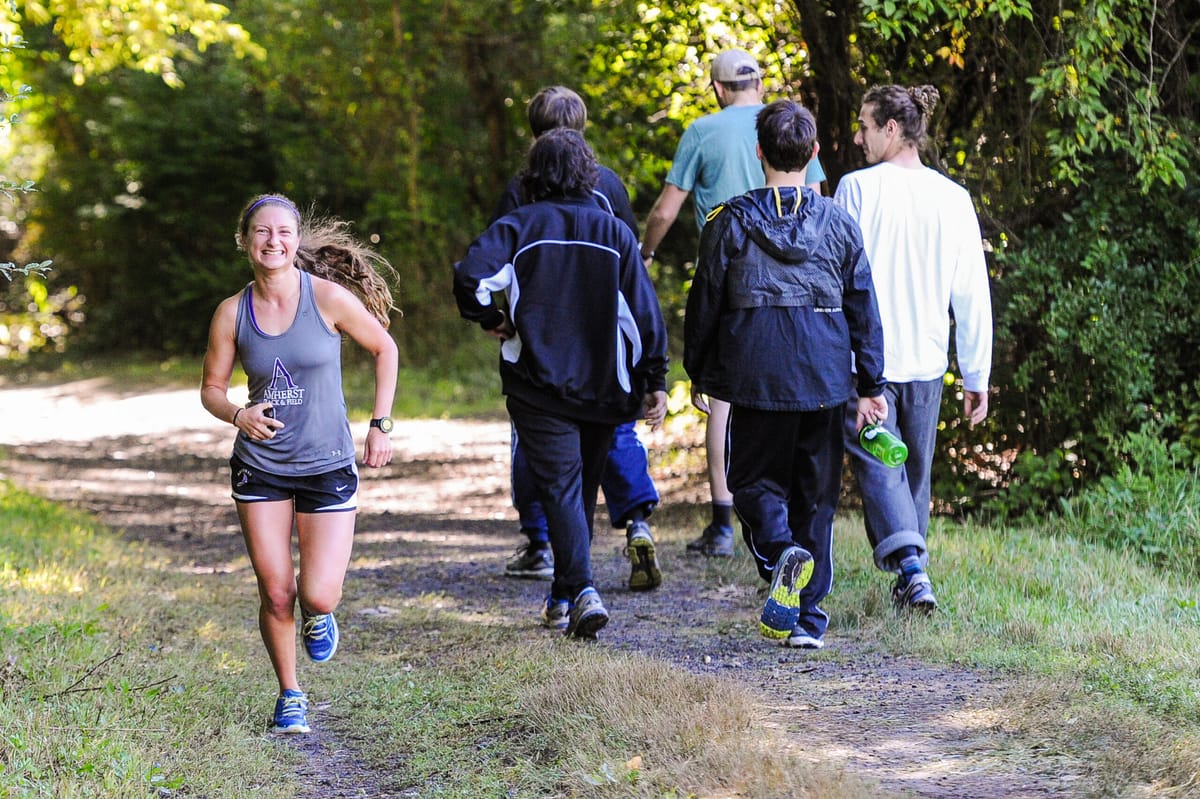 *The Student sat down with Veronica Rocco '19, the 2019-2020 Hitchcock Fellow, for an interview. The Hitchcock Fellowship is offered annually to a graduating Amherst senior. The Hitchcock fellow coaches two varsity teams and helps direct the intramural program. Rocco will be coaching both the men's and women's cross country and track and field teams. She also serves as a liaison to the Student Athletes Advisory Committee. *
Q: Why did you decide to apply for the fellowship? A: When I heard about the position as a first year, I was immediately super excited about it, because I've known since junior/senior year of high school that I wanted to be a coach. So when I heard about it, I knew that it was something I was really interested in pursuing.
Q: Why do you want to be a coach? A: In high school, I really looked up to my coaches, and I really, really enjoyed running in high school and in college. Being around track and cross country every day would be a dream. I'm really passionate about coaching on the college level because I think in college you have a unique opportunity to be coaching full-time and devoting your time to this one team.
Q: How has your experience been so far? A: It's been really great, and I'm really loving it. I really like working with everyone on the cross country team and my favorite part is working with the student-athletes. The hardest part is figuring out what my role as a coach is, [because I was] teammates with the people that I'm now coaching.
Q: How has the adjustment from teammate to coach been? A: Honestly, I'm still figuring it out. I got a lot of good advice from my mentor through the United States Track and Field College Coaches Association female coaching mentorship program, Caroline Martin, and I also talked to Luke Maher who is the head coach at Conn [College] now … It's a really great and amazing opportunity, but it's also really difficult because I'm coaching student-athletes who are younger than me, but [whom] I also know really well as people … It's definitely really hard and a unique spot to be in.
Q: Are you glad you did it? A: Yes! I'm really glad I have this opportunity, because I really want to go into coaching long term, and I'd really love to be a coach at a school like this — a highly selective DIII-school — because I really enjoyed and valued my experiences as a student-athlete here. I was able to explore anything that interested me, and I really believe that all student-athletes should have that experience … I think coaching is really fun and unique because you're interacting with 17-22 year olds on a near daily basis, and it's really fun to be able to see them grow as people throughout their four years.