Sports
Volleyball Dominates Opening NESCAC Weekend
The volleyball team began a perfect start to NESCAC play this past weekend, convincingly defeating both Hamilton and Middlebury to open 2-0 in the conference.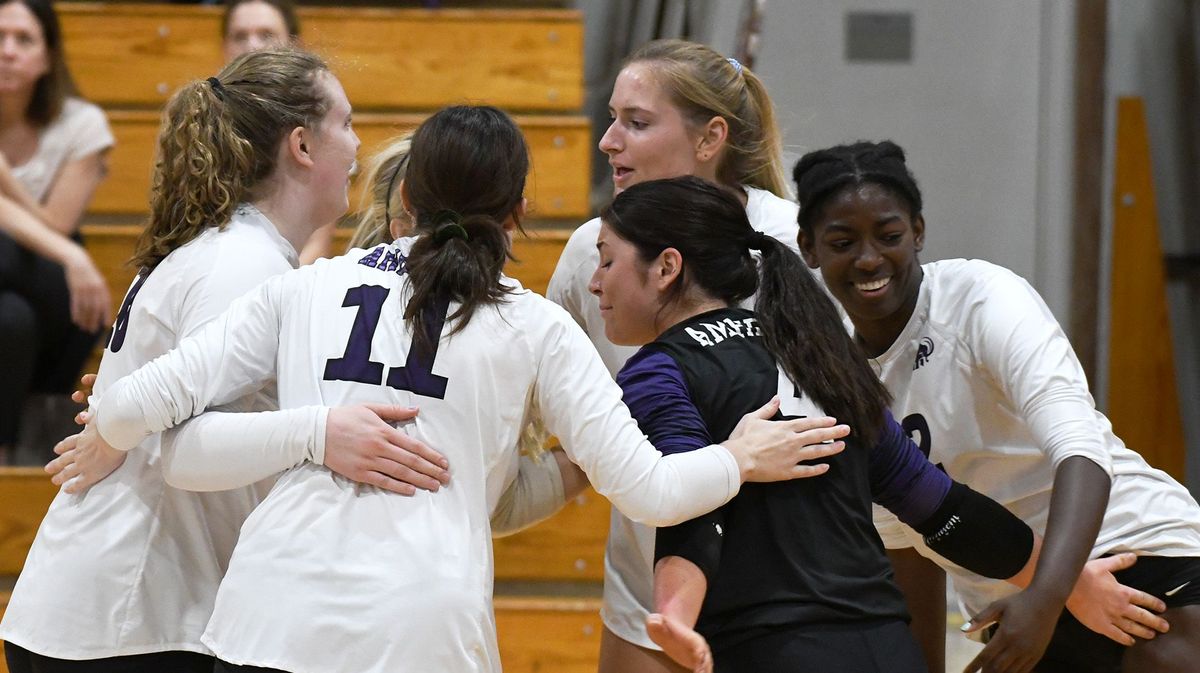 Coming off of two tough losses down in New York to Wheaton College and NYU, the volleyball team responded with a vengeance last week, dominating Hamilton and Middlebury to move to 4-2 overall and a perfect 2-0 in conference play.
On Friday, Sept. 16, the Mammoths played Hamilton to kick off NESCAC play. Last season, the Mammoths lost in four sets to the Continentals, making this rematch a prime opportunity for revenge. Amherst came out of the gate strong with a 25-23 set-one win, led by the great play of Caroline Tilton '23, who ended the set with a triumphant kill off an assist from Carly Cooper '24. The Mammoths continued their momentum as they opened up a 7-6 lead early in set two and extended it to a 12-6 lead with five consecutive points. They capped off their set-two victory with four straight points, finishing with a 25-16 scoreline. Up 2-0 and going into the third set, the Mammoths put their foot down. They dominated the last set 25-16 for a convincing victory. Lizzie Papalia '25 led Amherst with 20 digs, Cooper finished with 20 assists, and Tilton had 12 kills to pace the Mammoths.
Amherst then faced off against Middlebury on Saturday afternoon. The Mammoths had incredible battles with the Panthers last season, as the Mammoths lost a grueling match against Middlebury in the regular season before besting the Panthers in the NESCAC Quarterfinals. Amherst started off great once again, as the Mammoths took the first set from the Panthers, 25-19, off a kill from Sam Underwood '23.
Middlebury bounced right back to even the score with its own 25-19 win. However, the Mammoths took over in the third set with all-around stellar play, concluding with a kill from Tilton off a gorgeous assist from Papalia to give the Mammoths a 2-1 edge heading into the fourth set. In the fourth set, it was all Mammoths, as they took control early and never looked back. They jumped out to an early 9-3 advantage and capped off a 25-16 set win with another kill from Underwood, putting the exclamation mark on the Mammoths' victory. Tilton, Cooper, and Papalia led the way in kills, assists, and digs, respectively, once again. Tilton finished with 10 kills, Cooper racked up 22 assists, and Papalia accumulated an absurd 44 digs.
For her incredible effort over the two games, in which she totaled 64 digs and 12 assists, Papalia was named NESCAC Volleyball Player of the Week.
The Mammoths are back at LeFrak Gymnasium this week for a string of three games. They face off against NESCAC rival Williams on Friday, Sept. 23, at 7 p.m. before playing both Gordon College and Rivier University on Saturday, Sept. 24.