Sports
Volleyball Rallies Behind New Coach Valerie Jones
Featuring a range of player experience levels as well as a new head coach, Amherst volleyball nevertheless touts team camaraderie as it makes its return to play from a nearly two-year hiatus.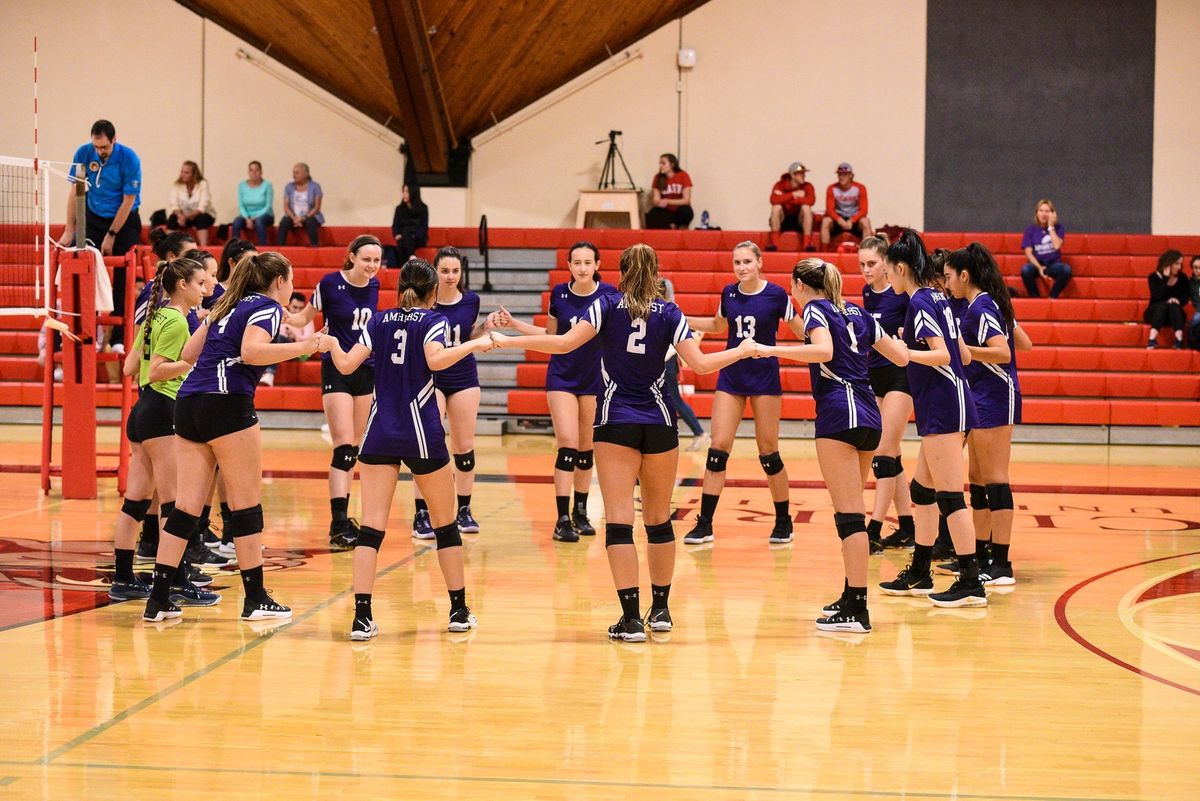 After a nearly 22-month-long pause, Amherst women's volleyball is finally ready to take the court again. Though the roster is noticeably different from their last match in 2019 — a crushing defeat by Middlebury College in the NESCAC quarterfinals after a successful regular season in which they finished with a record of 19-6 — the Firedogs are primed and excited for a big year.  
Longtime volleyball coach Sue Everden, who had coached the team since 1986, announced her retirement in 2020, leaving behind a coaching career in which she amassed over 700 wins in volleyball and over 1000 wins as an Amherst coach overall, as she also spent time as a coach for the women's squash, lacrosse and softball teams. The Firedogs have amassed 34 consecutive winning seasons, and the 2021 season marks the 40th year in the program's history.
Taking Everden's place is Valerie Jones, who most recently served as the head coach at Clark Atlanta University in Georgia. Gabi Dias has also joined the coaching staff as an assistant coach after serving as a graduate assistant at Providence College for two years.  
Since it has been over a full year since the last time the whole group has played together, the Firedogs are excited for games to be back and to experience a real season again. The team has been participating in a vigorous preseason training regimen since Aug. 25, complete with lifts and practices at 6 a.m. and a second practice later in the afternoon.
Lani Uyeno '23 describes the experience as intense but extremely beneficial for building team camaraderie. Uyeno characterizes their team culture as "amicable, eccentric and unified," and the team has become extremely close-knit through team building activities such as team meals.
Jacqueline Kortekaas '23 echoed the sentiment. With regards to their new coach, Koretekaas says that Jones has done an excellent job integrating her own coaching style to the Firedogs' team culture. "She wants us to improve, loves how we work hard and loves to crack jokes with us," Kortekaas said.
The Firedogs return five seniors and six juniors who were on the team in the 2019 season — the remaining seven members of the team have yet to play in a collegiate volleyball match.
Senior Sophie Launsbach '22, who was selected to the NESCAC All-Conference team as a sophomore following the 2019 season, is one of four members of this year's senior leadership team. Though the team lacks experience playing together, Launsbach is proud of the way in which the team has been able to mesh together under such unusual circumstances.
"The sophomores and juniors are really stepping up as leaders, even though they have only played one or no seasons," Launsbach said. "It's awesome to see how the team has rallied together under our new coach — I'm really looking forward to competing this year."
The Firedogs open the season on Sept. 9 with an away game at Smith College.