Sports
Volleyball Sets Sights on NESCAC Title, NCAA Berth
After a solid year and with key contributors returning, the Firedogs are prepared to make even greater strides in head coach Valorie Jones' second full season.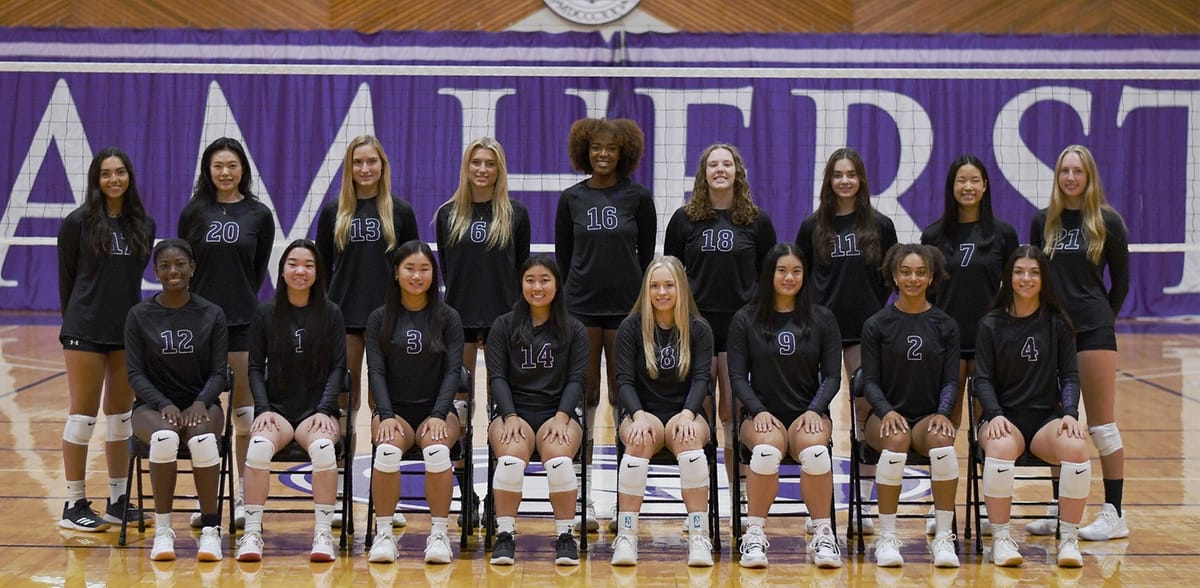 After longtime coach Sue Everden retired at the end of the 2019 season, head coach Valorie Jones took the helm of an up-and-coming program with the hopes of leading the Firedogs back to NESCAC Championship glory. In Jones' first year, the team had a successful season, which ended with a 16-5 overall record, including a 6-4 mark in NESCAC play. However, after a comeback win in their quarterfinal bout with Middlebury, their 2021 season came to an end following a heartbreaking five-set loss to Bowdoin in the NESCAC Semifinals. Nevertheless, the Mammoths played some incredible games and notched some notable victories, including triumphs over Williams, Wesleyan, Emerson College, and Connecticut College. But these wins didn't come from nowhere — the Mammoths were headlined by a plethora of terrific players, including 2021 All-Region and All-American outside hitter Sophie Launsbach '22 and All-Region performer Jamie Dailey '22. Launsbach and Daily both also earned All-NESCAC honors for their outstanding play a year ago.
That being said, this year's squad has a lot of promise, as they return 13 of their 18 rostered players from last season, including 2021 assist leader Carly Cooper '24 and digs leader Lizzie Papalia '25 to anchor the back line, and a talented frontline that includes Sami Underwood '23, Caroline Tilton '23 (second in points and third in kills in 2021), Jaqueline Kortekaas '23 and Anaya Thomas '25 (fourth in kills in 2021). While the Mammoths bring back a lot of familiar faces, they also add six first-year players to the mix. Mia Nakamura '26, Alexandra Trofort '26, Kinsey Cronin '26, Kaili Maurice '26, Renee Liou '26, and Charlotte Rasmussen '26 all look to make contributions to the Mammoths' playoff hopes this fall as they strive to compete for a NESCAC Championship.
Tilton explained that, as a senior, she is "trying to make the most of [her] final season with the team and grow both as a player and a leader."
"Everyone is dedicated to making this season one to remember," Underwood added. "[We've all] learned that team cohesiveness and being united is such an important aspect of the game." 2022 will be a big year for the Firedogs, as they have a lot of players returning to guide this talented first-year class. With that in mind, the Mammoths have a great opportunity to continue their run of form from last season and work towards building a team that can win a NESCAC title.
The Mammoths begin their 2022 season on Wednesday, Sept. 7, at home in LeFrak Gymnasium against Westfield State University. The game is slated to start at 7 p.m.