Sports
Volleyball Stumbles in NESCAC Quarterfinals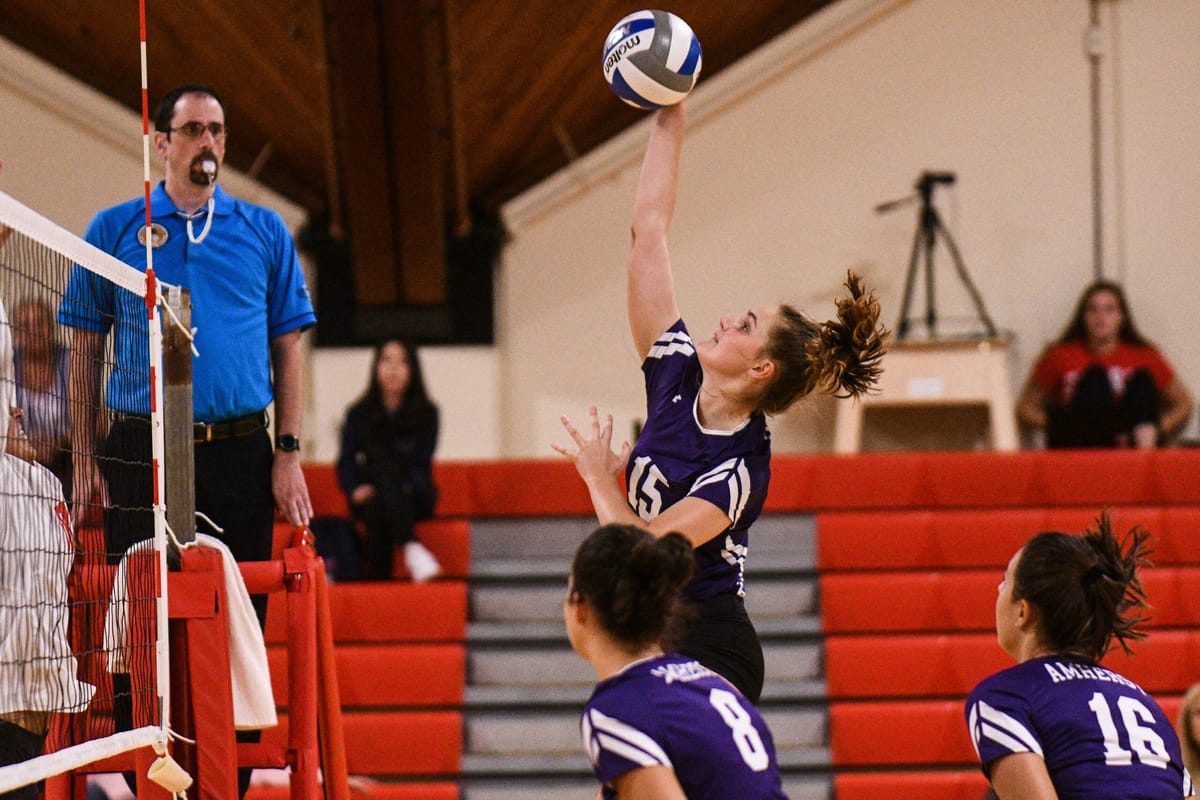 This weekend, the volleyball team traveled to Chase Gymnasium in Medford, Massassachusets ,to face down the Middlebury Panthers in the first round of the NESCAC Tournament. The Firedogs, seeded fourth, were the favorites in the match against the fifth-seeded Panthers, despite a rough patch of form in the weeks leading up to the tournament. Coming off a 3-0 away win over Williams, however, one would think that the Mammoths had begun to peak at the right time.
Middlebury, however, came out of the block with ferocity, taking 12 of the first 16 points of the opening set. Head coach Sue Everdeen called a timeout, and Amherst rallied to take six of the next 10, but Middlebury kept a comeback at bay and won the first set 25-17. The Firedogs struggled offensively, converting just 8 percent of their attacks into points and committing seven errors.
Amherst did not improve offensively in the second set, still failing to penetrate the Panther defense. What they did do, however, effectiely stifled the Middlebury attack, halving their hitting percentage to 10. Consequently, Amherst was able to force the Panthers to err in their attack, leading to easy points. Amherst took the set, 25-20, holding the lead from the beginning.
In the third set, Claire Dennis '20 blocked a Middlebury shot to tie the score at 10-10 and the whole match seemed in the balance. Middlebury then scored 15 out of the next 20 points to take the third handily. One could sense, however, that the match wasn't finished, as Amherst has battled against the odds all season with grit.
In a do-or-die fourth set, the Firedogs came out blazing, but Middlebury traded blows with Amherst until the score was locked at nine apiece. Sophie Launsbach '22 struck the ball below the feet of a Panther to take the lead, and Emily Kolsky '20 suddenly struck hardwood with her shot all of a sudden. Amherst had all the momentum.
After going on a nine-point run, the Firedogs were able to hold the lead and force a 15-point overtime set with the Panthers to remain in the tournament. Three early kills by Middlebury, however, put Amherst into a hole, and the Firedogs spent the remainder of the match trading points with Middlbury.
They did not force them to relinquish that two-point lead until, down 12-13, Launsbach got a kill, and Kolsky's shot got past the Panthers to tie the game. Amherst took the next point, placing them just one point away from a NESCAC Semifinal, but Middlebury tied the match and won the next two points to bounce the Firedogs from the tournament.
Friday's game marked the close of the season for Amherst, leaving the team with a lot of success to build on from another fantastic season, but the loss of six seniors will certainly be difficult for the Firedogs in the year to come.