Sports
Walk-ons: Unique Paths Turn Strangers to Teammates
Though most Amherst athletes are recruited while they are still in high school, others take a less traditional route, trying out for teams once they arrive on campus. Staff writer Maya Reiner '25 highlights the experiences of walk-ons at Amherst.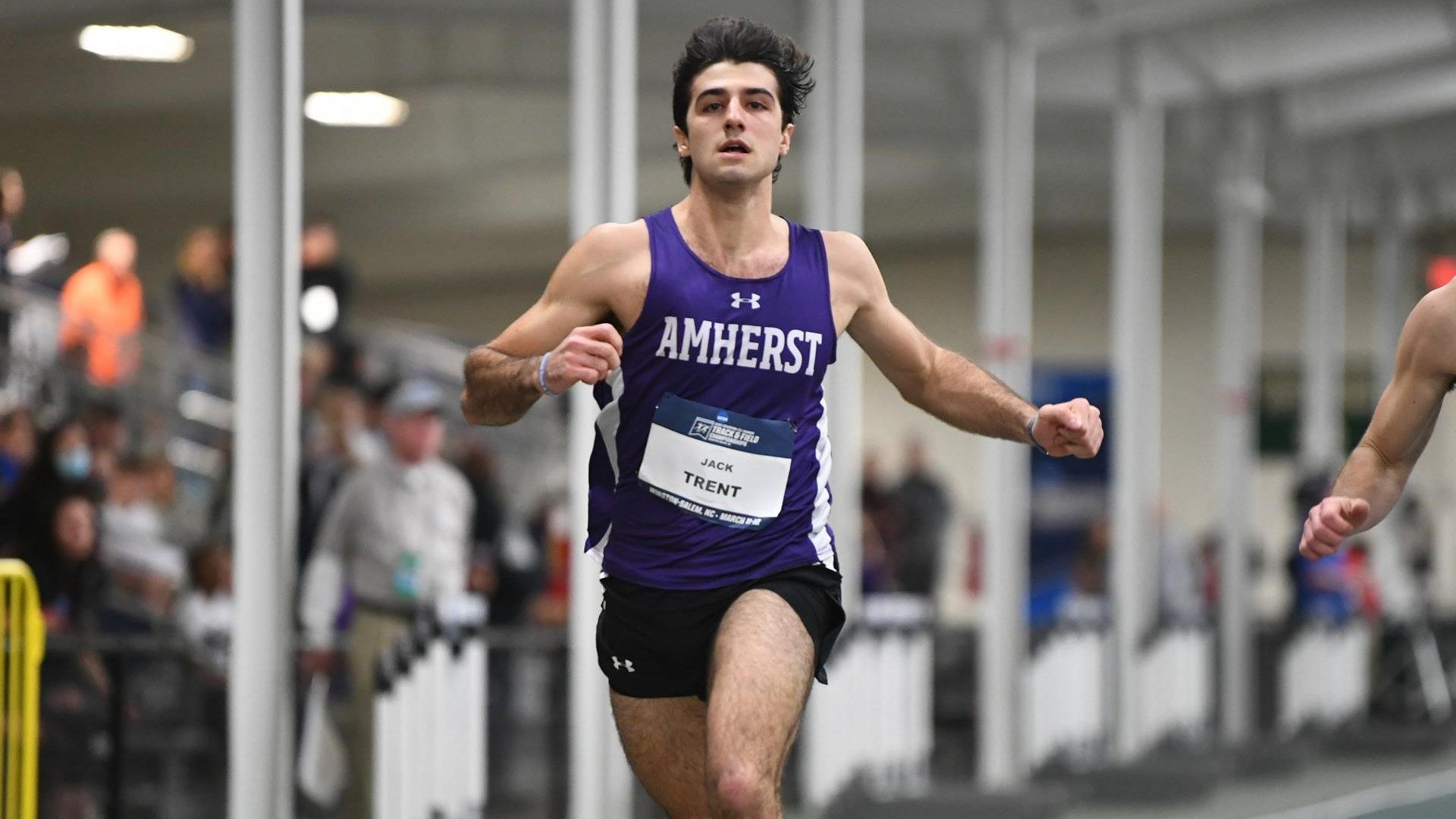 For most of the students who populate the rosters of Amherst's 27 varsity sports teams, they knew that they would be on their respective teams almost a year before even stepping foot on campus. You've likely seen the posts on social media — forms of "I am excited to announce that I am committing to the admissions process at Amherst College to further my athletic and academic career" are thrilling sentiments that many future Amherst student-athletes are proud to share.
But other athletes did not know they would be playing varsity sports until well into their first semester at Amherst. Rather than being formally recruited by their prospective coaches, these student-athletes were admitted to the college without athletics playing a factor, instead choosing to contact their team's coaches after enrolling and try out for a spot on the team at the beginning of the academic year.
Amherst women's lacrosse defender and midfielder Annie Rosenman '25 came to Amherst hoping, but not certain, that she would be part of a varsity team — she had her sights set on either the track and field and cross country team or the lacrosse team. Before arriving at Amherst, she got in touch with the coaches of each team. Both coaches clearly explained the process and what would occur when she arrived on campus in the fall. Essentially, the practices that both teams held in the fall would act as tryouts. After that trial period, a decision would be made.
Though Rosenman played both sports competitively in high school, she decided to go all-in with lacrosse when she started the tryout process. Coach Chris Paradis helped make the process feel seamless. "I'm so grateful to Chris for giving me a chance to try out for the team and for being on her last Amherst women's lacrosse team [and] I hope [other] coaches of other Amherst teams take a page from her book and encourage students to walk onto their teams as she wraps up an incredible coaching career."
Decathlete Jack Trent '23 had a very different outlook when he enrolled at Amherst. In fact, when he stepped on campus, he did not intend to walk onto the team. A good all-around athlete, Trent's decision to walk on to the track and field team was more about the people than the sport, as he did not participate in track and field in high school.
"I didn't really intend to [walk on]," Trent said. "A coach from my high school knew Coach [Steve] Rubin, so he put it in the back of my mind, but I really got convinced [to try out] when my freshman year seminar included Ellis [Phillips-Gallucci '23], Wilson [Spurrell '24E], Chris Gong ['23], and Mia Rahn ['23], all members of the track team. Ellis convinced me to walk on with him, and I thought it would be a great experience either way, so I said, 'Why not.'"
For some, the decision to walk on to a team at Amherst comes at the expense of a guaranteed spot on a roster at another school. But college is not all about athletics, and other factors can determine a person's college decision. Women's soccer goalkeeper Katya Besch '25 is one such case. "Before deciding to come to Amherst, I was choosing between a school that was recruiting me and Amherst, my top choice school," she said. "[When considering both academics and athletics,] I realized that I wanted to try and make Amherst work."
However, the experience of being a walk-on is different for everyone — some walk-ons take a very different path. Hugh LemmonKishi '24 was initially recruited to play football at Amherst. Originally an offensive lineman, a knee injury forced him to medically retire from football and instead take his talents to the track and field team as a thrower, something he had experience doing in high school. He cites this experience in Amherst's athletic community as one of the primary reasons he decided to walk onto the track team. "I think if I hadn't been a recruited athlete, walking on would have been [a] more difficult [decision] since I would not know as much of the athletic community and may have not been prepared for the more demanding schedule."
This schedule is one deterrent to possible walk-ons — the tryout process is a time consuming one, and, in a sense, a walk-on is walking on both eggshells and a team. Between balancing classes, burgeoning friendships, and the stresses of the tryout process, it is hard for many walk-ons to put all of their energy into forming connections with their possible teammates.
"The biggest struggle is that early on in your first year, it's a very formative time to make friends, and it's difficult to grow really close to people on the team, but not actually know if you will still be on the team in a few weeks," Trent said. "You're just generally uncertain about your place on the team for a long time."
Besch echoed Trent's sentiments. "The hardest part was the stress from all of the unknowns. It was hard to find the balance between emotionally preparing myself for the possibility of not making the team, while also giving the team my absolute best and trying to get to know everyone," she said.
Dilemmas like this one can throw a wrench into a walk-on's ability to make friends in the first few weeks of school — all of their free time is spent in the tryout process. This is especially true of fall sports, whose preseason practices run throughout orientation. The packed schedule that results severely limits a walk-on's ability to connect with those not on the team they are trying out for, as free time is hard to come by outside of orientation's numerous required activities.
Despite this, Rosenman cited a strong team culture and inclusive environment as helpful in navigating that stress. "Chris and my teammates made me feel very included from the beginning, and I quickly realized that that's where I wanted to be." she said.
It is this type of atmosphere that makes the process so rewarding. When it works out in their favor, successful walk-ons find the stress to have been more than worth it. Besch described that "the two best parts of being a walk-on are the combination of feeling relief, extreme joy, and excitement when hearing that I made the team, and getting to be part of a team with people I love playing the sport I love."
Rosenman agrees. "Walking onto the women's lacrosse team is easily the best decision I have ever made, and it's shaped every part of my Amherst experience," she said. "Each of my 32 teammates and both our coaches, Chris [Paradis] and Ellen [Arena], have become incredibly important parts of my life, and have looked after me during my transition into college as a first-year."
Trent expressed the same sentiment. "Being a part of the Amherst track and field program [as a decathlete] has been the best part of my college experience by far," he said. "I can't imagine what my life would be like without it, to be honest."
He also voiced that he immediately received immense support and assistance from his future team. "I've also felt incredibly supported by all of my coaches and teammates from the very beginning," Trent said, "so I knew it was a program I wanted to be a part of, and I hope to contribute to it by making it a welcoming space for everyone, and, of course, accomplish some things on the track."
In fact, he has done just that. Trent has been a huge asset to the team, despite his late start to the sport. This season, he placed third in the 2022 New England Championships. His placement led him to the National Championships last month in Winston-Salem, North Carolina. More than two years removed from that first-year seminar, and in just his thirteenth track and field meet ever, he placed 12th overall.