Sports
Why You Should Be Watching Professional Women's Soccer
Managing Sports Editor and Amherst women's soccer forward Liza Katz '24 advocates for an increase in the viewership of professional and international women's soccer.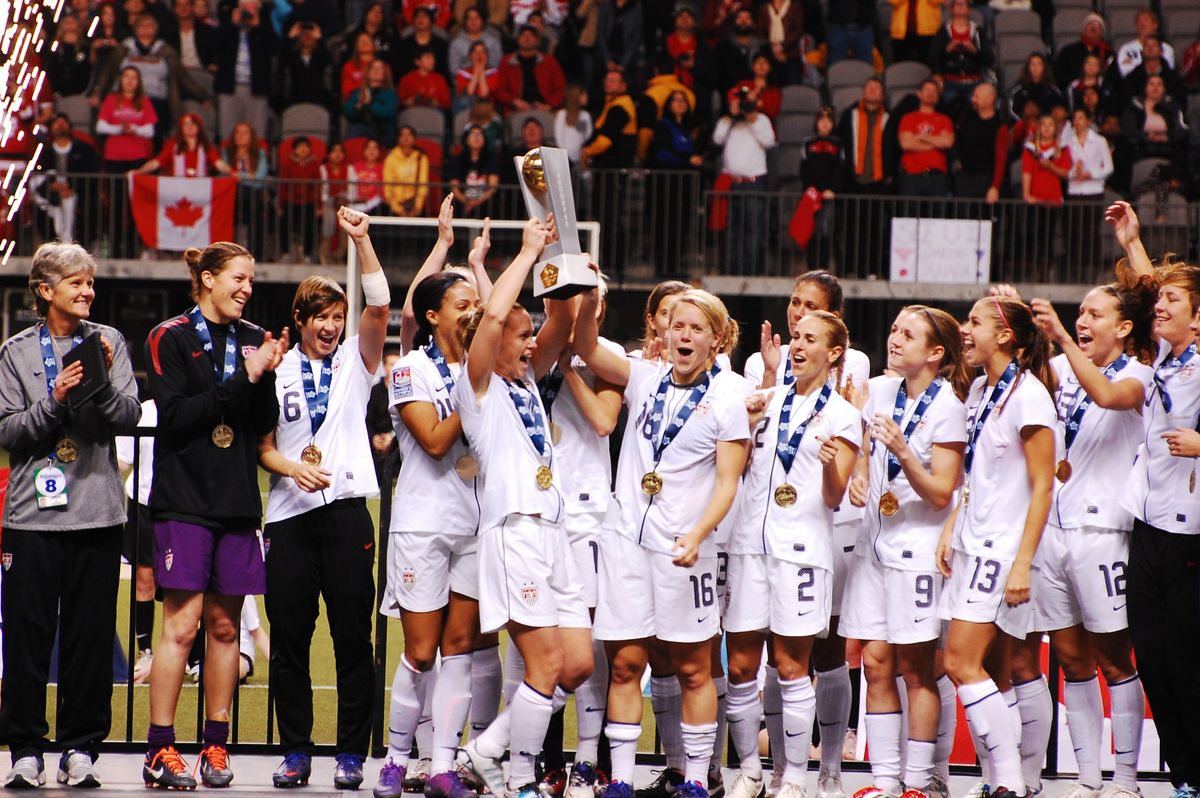 Soccer is the most popular sport in the world. I know, as Americans, that this can sometimes be hard to believe, what with Major League Soccer (MLS) having essentially been European soccer leagues' retirement home for pretty much the entire time I've been alive, and with the United States Men's National Team (USMNT) having been so mediocre for so long. That the USMNT didn't qualify for the 2018 Men's World Cup in Russia or the rescheduled 2020 Tokyo Olympics was just another reason for us uncultured swine to not watch soccer — sorry, football — and with American football, baseball, and basketball dominating the professional sports landscape, many people were none the wiser. But, as a soccer player myself, one who, according to many of my friends and family, lives and breathes the sport to the point of it being borderline crazy, I'm here to argue that that should change. Specifically, that you should be not watching men's soccer, but women's soccer.
I know, I know, it sounds crazy. "But Liza, we barely even pay attention to men's soccer in the U.S. — why would you push us to go watch women's soccer?" To that, I will say: look at the results.
The United States Women's National Team (USWNT) has a history of success. I could go on all day about the team's various accomplishments, but, to be brief, the team has won FOUR World Cup Titles (1991, 1999, 2015, and 2019), including the last two in a row. The team has also won four Olympic gold medals (1996, 2004, 2008, and 2012), and nine CONCACAF Gold Cups, making them the most successful team in international women's soccer. They have qualified for every single World Cup and every single Olympic tournament. They have held the No. 1 FIFA World Ranking since June 2017, and currently hold the record for the longest time spent consecutively as the World No. 1, having spent six and a half years straight at the top of international soccer from March 2008 until November of 2014.
The USMNT has not produced that type of success, to put it lightly. Before they qualified for the 2022 Men's World Cup earlier this year, the USMNT had not qualified for a major tournament since the 2014 Men's World Cup. They are currently ranked 14th in the world, though they have been as high as 11th in the last year. That No. 11 ranking was their highest since right before the 2014 Men's World Cup. In the meantime, their ranking has mostly hovered in the 25-30 range.
But the international scene is not the only place in which the scales of soccer in the U.S. slide toward the women's side. 2022 has been the year of women's soccer. While the MLS is struggling to draw viewership on a regular basis, the National Women's Soccer League (NWSL), the U.S.'s women's professional soccer league, is consistently drawing high numbers when given national television exposure. CBS broadcast the 2022 Challenge Cup match between new NWSL expansion clubs San Diego Wave FC and Angel City FC (ACFC), putting the NWSL in the spotlight — and that move paid off, with 456,000 people tuning in.
The only MLS match with more viewers this season was the March 5 game between Charlotte FC and the Los Angeles Galaxy, which drew 475,000 viewers. That weekend, the San Diego versus ACFC match drew more American viewers than English Premier League games between Everton and West Ham and Watford and Liverpool, as well as the massive Portugal versus North Macedonia World Cup qualifier featuring Cristiano Ronaldo. The top MLS game in terms of number of viewers that weekend only drew 123,000 people.
This ability to draw in viewers, to a higher degree than the men, can only help the growth of the sport. With increasing viewership, leagues like the NWSL will be able to allocate more resources towards paying players, modernizing facilities, and increasing both player and league exposure. With ratings high, more and more NWSL games are being nationally broadcast, and more and more people are tuning in. And that type of growth can only benefit the sport. The world's biggest clubs, like Manchester City, Barcelona, Chelsea, and Arsenal, have spent millions of euros acquiring top-end female talent and modernizing their facilities to accommodate their women's teams. If these trends continue, the U.S. might be the next country to be able to do the same, and the already-high quality of play will only continue to rise as a result.
This has already begun to happen in England. The Women's Super League (WSL) stands as the top tier of women's soccer in the country — in 2022, WSL broadcast consumption has increased 285 percent since the league signed a broadcasting rights deal with Sky-BBC at the end of last year. These trends should only continue into the 2022-23 season, which started this past weekend. In just the first weekend of play, great games were frequent and upsets abounded. Every game was either broadcast on U.S. television networks or was easily streamed by American fans.
And with more and more American players taking their talents to Europe, viewership of these leagues in the U.S. will only grow as fans tune in to watch their favorite players — and maybe find players from other countries they will grow to love and continue to follow as they return to their own national teams.
This particular phenomenon came true in a major way this summer. Without a doubt, the event to watch in soccer this past summer was the Women's European Championships. The eventual winner, England, had a few players from the NWSL, as well as a few who played college soccer in the United States, so a sizable American audience tuned in. And with England playing top-level talent every time they stepped on the pitch — they had to face top-10 teams Spain, Sweden, and Germany on their way to their win — Americans got even more exposure to the high level of women's soccer that we love seeing out of our own national team. 971,000 Americans (and 17.4 million Brits, the most viewers ever for an English soccer match) tuned in to watch England — with players like Lauren Hemp, Ella Toone, Leah Williamson, and Beth Mead — play Germany (and their own bevy of talent) in the final. That figure holds up as the most people to watch a soccer game televised on ESPN all year.
But what really stood out about the 2022 Women's Euros was that every team played beautiful soccer, with powerful displays of passing and very little of the direct kick-and-run style we have come to expect from men's soccer in the U.S. over the last 10 or so years. And this style permeates throughout high levels of women's soccer, both in the U.S. and abroad, making the appeal of women's soccer twofold. Come watch, or turn on your television, and you'll get to see both the players you admire and the type of soccer you love to watch from men's teams like Barcelona, Manchester City, and Real Madrid in every single game, regardless of the team you watch.
And now, with the USWNT scheduled to play a match against England at 65,000-seat Wembley Stadium (tickets for which sold out in less than 24 hours) next month, one against Spain in Pamplona a few days later, and two against Germany on U.S. soil in November, we will get to see our old favorites take on the rising stars of women's soccer in four matches to remember. I'll definitely be tuning in. I hope you will too.