Sports
Women's Hockey Poised for Deep Playoff Run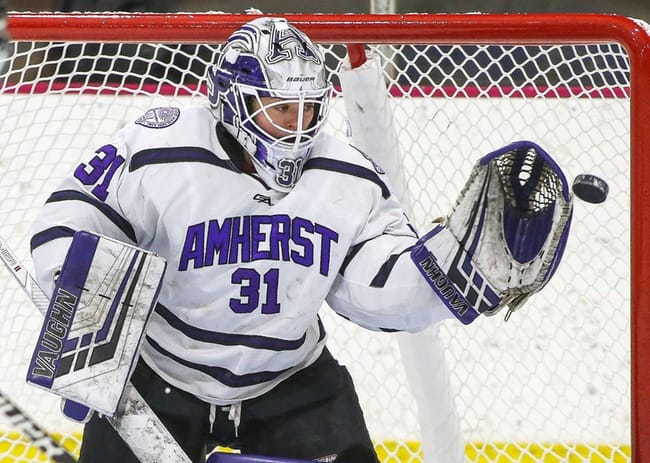 Coming off an important 5-2 victory over Trinity College in Hartford, the women's hockey team finds itself well-positioned for the stretch run and to potentially make some serious noise in the NESCAC and NCAA tournaments come postseason.
With a season marked by consistency and team play, the Mammoths have firmly established themselves as one of the top teams in the nation, ranking inside the top 15 in each of the four national women's hockey polls. Amherst is ranked as high as eighth in the nation in two of the four polls. Early season losses to conference rivals Hamilton and Middlebury have not slowed the Mammoths, as they have lost just twice since that first week of the season and now sit at a record of 9-4-4.
The Mammoths have also registered some critical and impressive victories over highly-ranked opposition, most notably against then sixth-ranked Norwich University. The Mammoths dominated the Cadets throughout, controlling the puck and scoring up and down the team's lines, ending the contest on top, 4-1. Recent NESCAC play has not been as kind to the team as earlier in the season. The last four games have seen the Mammoths play two games apiece against Williams and Trinity, losing one to Williams, tying two, and winning the fourth against Trinity.
Forward Kaitlin Hoang '21 has been the primary creator for the Mammoths, dishing out 11 assists and adding five more goals for a team-high 16 points. Linemate Jillian Mazzocca '23 has been the most notable beneficiary of Hoang's creative passing, registering seven goals and 15 points on the season thus far. Another first year, Carley Daly '23, leads the team in goals with eight, and Emma Flynn '21 is second on the team with 10 assists; Daly and Flynn are third and fourth, respectively, on the team in points.
The defense has been anchored by stellar goalkeeping from Caitlin Walker '22, who has started every game but one, registering an astonishing .954 save percentage and only allowing 1.33 goals per game.
Mia DelRosso '21 is the team's leader on the blue line, leading all defenders with 11 points coming from 10 assists and one lone goal. Not far behind is teammate Stephanie Nomicos '22, with ten points on the season.
With seven games left to go in the regular season, six of them being conference matchups, the Mammoths are headed into a critical point of the season that could make or break their postseason hopes. The Amherst women's hockey team returns to action this Friday against Wesleyan in a home conference matchup.