Sports
Women's Swim Splits Season's Final Dual Meets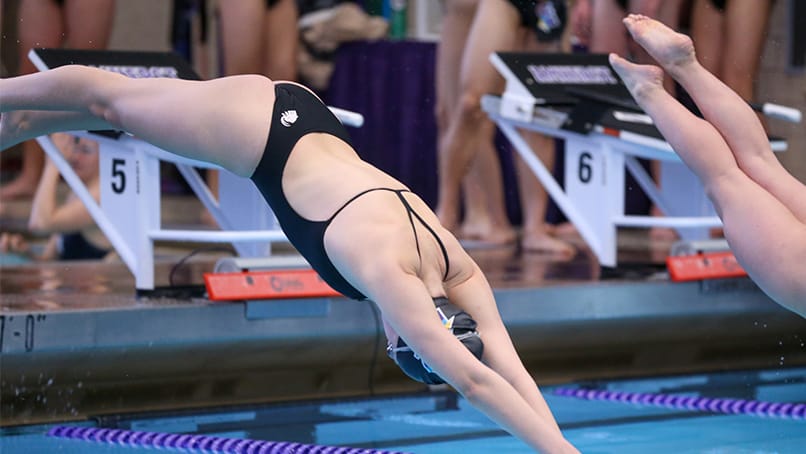 The women's swim team had a busy weekend with meets against both MIT and Springfield on Saturday and Sunday, respectively. The Mammoths walked away with a win and a loss, moving to a 6-2 record overall.
On Saturday, the Mammoths faced No. 8 MIT, losing by a score of 165-135. However, the Mammoths took first place in six of the events. This included Julia Ruggiero '21 in the 1000m freestyle, where she won with a time of 10:46.23, as well as Natalie Rumpelt '20 who finished with a time of 1:52.76 in the 200m freestyle. Rumpelt also took home the 100m freestyle with a time of 52.61, winning by 0.28 seconds. Marie Fagan '22 finished first in the 200 butterfly with a time of 2:07.57 and Jessica Gordon '23 won the 500m freestyle by an impressive 14 seconds with a time of 5:03.56.
On the diving side, Lindsey Ruderman '21 swept both the 1-meter board and 3-meter board with scores of 538.05 and 526.65, respectively.
The following day, the Mammoths celebrated Senior Day in their home meet against Springfield. Amherst got things started with the 200 medley relay, where Dani Gonzalez Pinero '23, Nina Fitzgerald '21, Ingrid Shu '20 and Rumpelt placed first with a time of 1:48.30. Next, Heather Grotzinger '20 won the 400 IM by seven seconds with a time of 4:34.23. In the 50 backstroke Rumpelt won with a time of 27.7. Fitzgerald racked in another win in the 50 breaststroke with a time of 30.30. Fagan won the 100 butterfly with a time of 58.85, and Shu took home the 50 freestyle in 24.82.
Ruderman once again took home the 1-meter board with a score of 311.10, and Hannah Karlin '22 took second with 240.75. Rumpelt and Gordon took first and second in the 100 freestyle.
Due to her successes this weekend against MIT and Springfield, Rumpelt was named NESCAC performer of the week. This is the third time Rumpelt has landed this honor.
Amherst returns next to the pool on Feb. 13 at Middlebury for the NESCAC Championship.