Sports
Women's Basketball Bests Williams and Middlebury in Weekend NESCAC Slate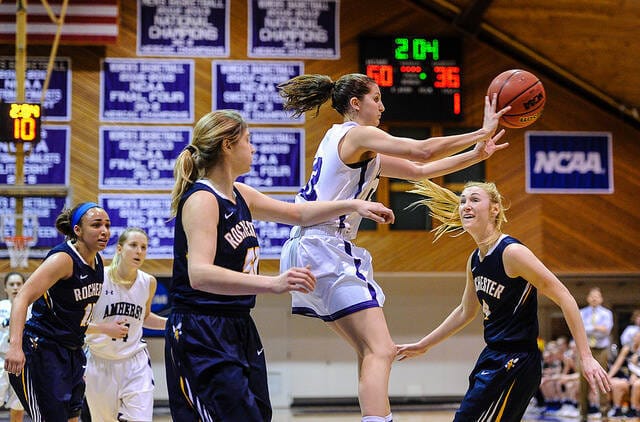 Going into Friday night's game against rival Williams, there was a chance for one Mammoth to make history. Junior Madeline Eck was just 12 points away from eclipsing the 1000 career point mark. Eck has been averaging roughly 17 points per game, so it seemed likely that the milestone would be reached in a key game against the Ephs.
Eck led all scorers with 10 points in the first half, which left her just one basket away from the magnificent milestone. However, she didn't make her fans wait long to celebrate. With 7:34 left to play in the third quarter, Eck made a layup to extend the Mammoths lead to 31-18 and, in the process, recorded her 1000th career point in an Amherst uniform. After Eck's milestone layup, Williams immediately called timeout and Eck was embraced by her teammates at center court as the Amherst fans rose to their feet and gave her a standing ovation.
While this was definitely the highlight of Friday night's game, it was still another tough NESCAC game that Amherst needed to win to keep hold of second place in the conference. It was a hard-fought battle in the first half, with the Mammoths leading by nine at its conclusion. However, it was the third quarter where Amherst completely pulled away from their rival. Amherst outscored Williams 18-5 in the quarter thanks to stifling defense that completely disrupted Williams' offense and resulted in two shot clock violations.
Williams finished the game shooting just 25 percent from the field, and 13 percent from three, demonstrating how disruptive the Amherst defense was, especially during the second half. Amherst won the game by a final score of 57-38, and two other Mammoths joined Eck in double figures: Cameron Hendricks '20 finished with a double-double recording 14 points and 10 rebounds and Maeve McNamara '19 chipped in 13 points. Amherst has finished 4-0 in Little Three games after emerging victorious over both Wesleyan and now Williams.
After an emotional win on Friday night, Amherst was back in Lefrak Gymnasium against Middlebury on Saturday. There was a new storyline to go along with this game: Amherst was celebrating the careers of McNamara and Meghan Sullivan '19 as part of Senior Day.
The Mammoths got off to a shaky start as Middlebury led 17-9 after one quarter of play and by one point at half. Although Amherst hadn't been playing their best, they came out on fire after the break. Amherst scored 26 points in the third quarter and led by 13 going into the fourth. It was a balanced scoring attack that fueled the Mammoths with five different players scoring at least four points in the third quarter.
When the final buzzer sounded, Amherst secured a 72-62 victory over Middlebury to extend their record 21-2 overall and 8-1 in the NESCAC. Fox led the way offensively with 21 points and Eck added 20. Sullivan had 11 points to become the third Mammoth to score in double figures. Courtney Resch '22 played a season-high 28 minutes off the bench, and contributed six points, four rebounds and four assists.
Amherst will be in action again on Tuesday, Feb. 12 in Lefrak Gymnasium against Hamilton in the final regular season game of the year. Tuesday's game will tip off at 7 p.m., and a win would secure the No. 2 seed in the NESCAC tournament for the Mammoths.