Sports
Women's Basketball Falters Against Emmanuel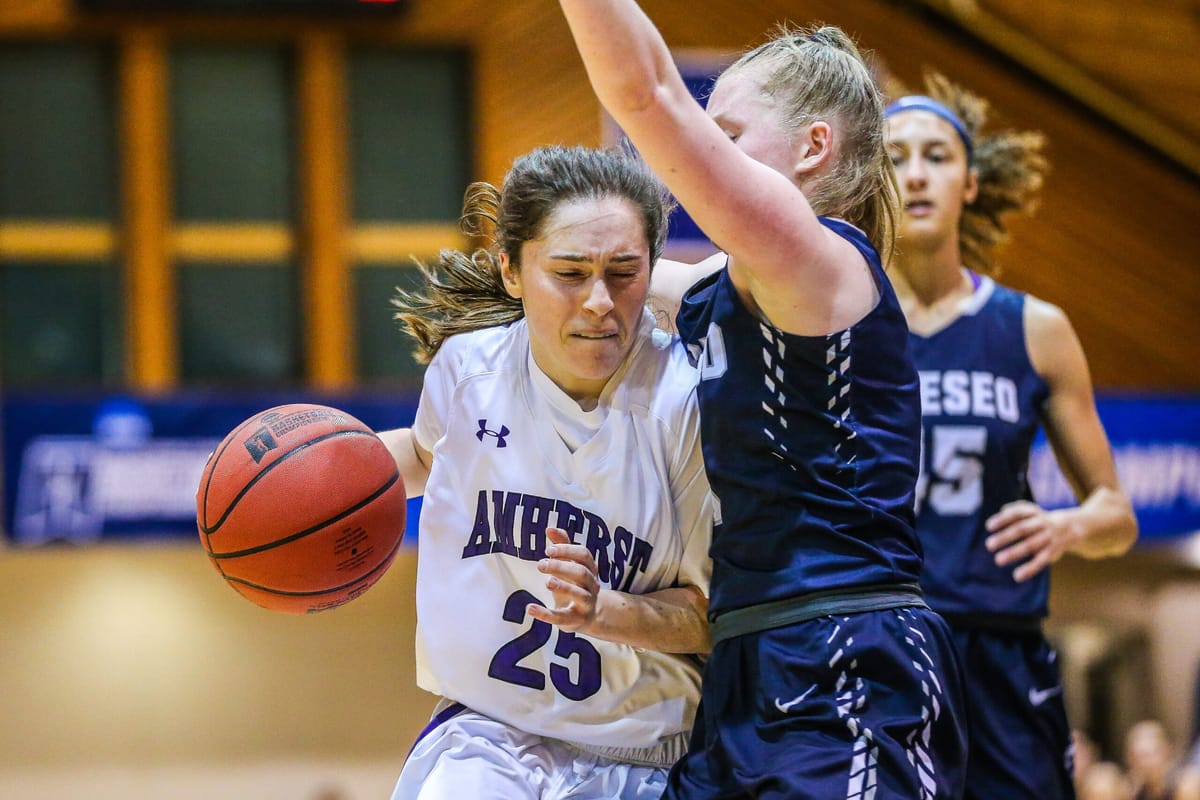 The Amherst women's basketball team picked up a pair of non-conference victories this past week in Lefrak Gymnasium. The Mammoths had an 11 point victory over Ithaca on Nov. 23 and a 23-point victory two days later against Babson. With these two wins, Amherst is now 3-0 on the season and still holds the number one ranking in the D3hoops.com poll. The highlight of the week came against Ithaca when Hannah Fox '20 joined the 1,000-point club late in the fourth quarter after a made free throw. Fox joins Madeline Eck '20 who reached the milestone last season.
With a pair of top 25 teams battling it out in Lefrak on Saturday afternoon, the fans got exactly what was expected. It was a tight game the entire time, mainly due to the stifling defense of each team.
Amherst finished the game shooting 33 percent from the field but was able to hold Ithaca to 35 percent. Despite the offensive struggles, Fox turned in an impressive offensive performance with 21 points. Eck and Cam Hendricks '20 battled foul trouble most of the game, so Amherst needed some other players to step up. A pair of sophomores were up to the challenge; Courtney Resch '22 and Gabrielle Zaffiro '22 both played outstanding basketball. Resch had a double-double totaling 14 points and 15 rebounds along with four blocks. Zaffiro, who has been inserted into the starting lineup after only playing limited minutes a year ago, had 15 points and three steals to help defeat Ithaca. Despite Amherst having a poor shooting night, they were still able to come away with an 11 point victory.
The game against Babson was another close contest, as the Amherst defense was able to disrupt Babson's offense all night. On the offensive end, it was Fox and Eck who led the way for the Mammoths. Fans have grown accustomed to seeing this over the past four years, and this game was no different. Fox led the way with 19 points, and Eck chipped in 18. The only other Mammoth in double figures was Zaffiro, who added 10. By leaning on tenacious defense and the team's two top scorers, Amherst was able to cruise to a 23-point victory over Babson.
However, this solid streak came to an unexpected end against unranked Emmanuel College. In a tight battle, the Mammoths looked shaky from the beginning against the Saints. At the half, Amherst was down 23-19. Emmanuel pulled away in the fourth quarter, going on an 11-0 run and opening up a double digit lead that they would not surrender. Amherst battled back, but eventually fell, 60-55.
Amherst will be back in action on Saturday, Dec. 7 when they go on the road to take on Eastern Connecticut State. This will be the Mammoths' last game of the semester and they will not play again until Dec. 28 in Las Vegas, Nevada when they face DeSales University.