Sports
Women's Basketball Rebounds After First NESCAC Loss, Beats Bates and Tufts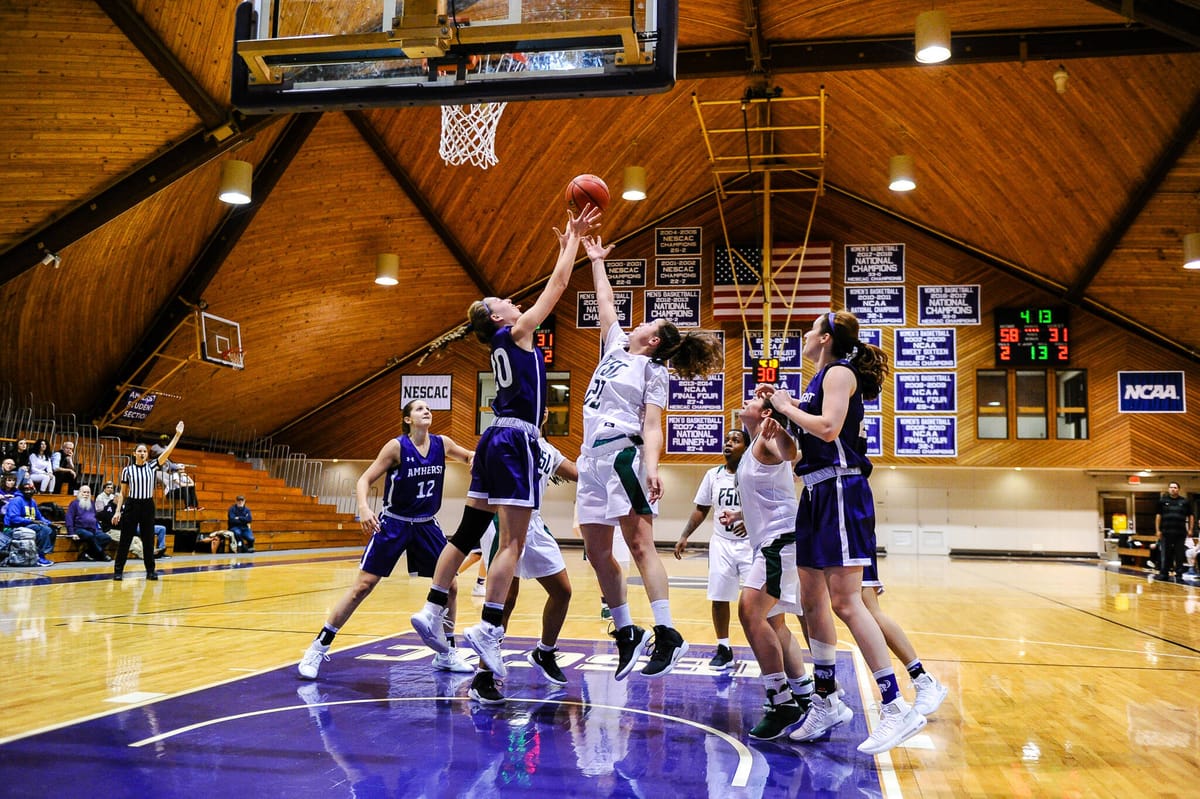 The Amherst women's basketball team suffered its first NESCAC defeat in over two seasons on Jan. 26, falling to the number one-ranked Bowdoin Polar Bears on the road.
There was hardly any time to regroup, however, for the fifth-ranked Mammoths.
They traveled to play number four Tufts the following Friday night, responding impressively with a gritty win.
Senior Meghan Sullivan's double-double, which consisted of 12 points and 10 rebounds, led the Mammoths to the bounceback win, with Madeline Eck '20 also in double figures with 10 points. Hannah Fox '20 and Cam Hendricks '20 each chipped in eight points, and Maeve McNamara '22 added seven points.
The Mammoths prevailed due to their tough defense, which held the high-powered Jumbo offense (75.4 PPG) to only 22 percent shooting from the field.
More impressively, Amherst only allowed two three-pointers the whole game.
Amherst led by only four points at halftime, 19-15, but came out of the locker room and went on a crucial 9-0 run in the third quarter to push the lead to 14.
Tufts never got within more than nine in the second half and Amherst held on to win 50-40.
The next afternoon, the Mammoths triumphed again, registering another hard-fought away victory against the Bates Bobcats.
Amherst came out hot and grabbed a 12-5 lead after the first quarter of play.
Once the Mammoths claimed the lead late in the first quarter, they never relinquished it and won by a final score of 53-43.
Eck led the way with a game high 20 points on an efficient eight for 12 shooting performance from the field. While Eck's offense was certainly key to victory, Amherst's stifling defense held Bates to 26.3 percent shooting from the field, once again allowing Amherst to pull away for an impressive double-digit margin of victory.
Amherst has consistently been one of the best defensive teams in the league and they demonstrated thier skill this weekend with two impressive road wins predicated on tight defense and timely scoring.
Amherst now sits alone in second place in the NESCAC standings behind undefeated Bowdoin.
Amherst will return to Lefrak Gymnasium this weekend with home games against rival Williams and fellow NESCAC foe Middlebury.
The game against Williams tips off at 7 p.m. on Friday night, and Saturday's game is scheduled for 3 p.m. on what will be the team's Senior Day.