Sports
Women's Basketball Rebounds After Loss With Dominant Road Victories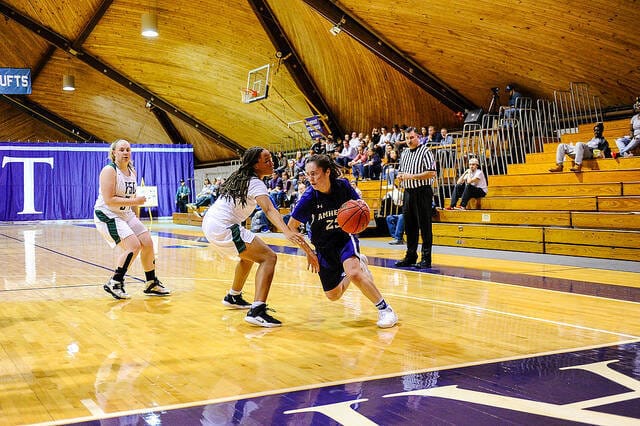 The Amherst women's basketball team rebounded this week after its 68-game winning streak ended over Thanksgiving break, notching a pair of wins against Brooklyn College and New Jersey City University to bring the Mammoths' season record to 5-1.
On Saturday, Amherst took to the road to play Brooklyn College in Brooklyn, New York. The Mammoths outscored the hosts 20-2 in the second quarter on their way to a 60-27 victory. Hannah Fox '20 and Madeline Eck '20 were the lone members of the visiting team to reach double figures, with both notching 13, but the story of Saturday's game was defense. Amherst's stifling defense held Brooklyn College to 17.8 percent (eight of 45) shooting from the field and 9.1 percent (one for 11) from beyond the arc. The hosts almost had more turnovers than points, as Amherst forced 24 turnovers while only allowing 27 points. After not playing great defense in the shocking loss to Eastern Connecticut State University, the Mammoths' effort in New York marked a significant improvement on that side of the ball.
Amherst didn't have much time to celebrate its victory over Brooklyn College, since the team had a quick turnaround and played on the road again Sunday, this time in Jersey City, New Jersey against New Jersey City University.
The Mammoths used a balanced offensive attack to defeat the Gothic Knights. Five Mammoths scored in double figures, and Fox led the way with 18 points. Cam Hendricks '20, Eck and Dani Valdez '22 all turned in strong performances, finishing with 14, 11 and 10 points, respectively.
However, the most impressive performance of the day may have come from first year Jade DuVal, who came off the bench and recorded 13 points and eight rebounds. Thanks to such a balanced team performance, the Mammoths led for virtually the entire game, cruising to a 78-52 victory.
Amherst will be in action one more time before taking a break for finals and the holidays, when the Mammoths take on Maine Maritime Academy on Saturday, Dec. 8 at noon in Lefrak Gymnasium.