Sports
Women's Golf Claims Third at New York University Invitational in Season Finale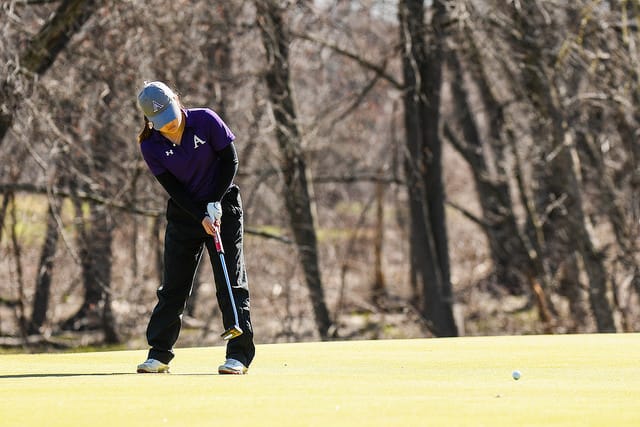 The Amherst women's golf team traveled to Bloomfield, New Jersey this weekend to compete in the New York University (NYU) Fall Invitational at the prestigious Forest Hill Field Club.
The Mammoths completed their season with a third-place finish behind tournament champions and archrival Williams tournament host NYU, which finihsed in second.
After shooting 330 as a team on Saturday, Amherst sat in third place, 25 strokes behind the leader Williams.
The Mammoths shaved 12 strokes off their previous day's total on Sunday, shooting 318, for a total of 648.
This wasn't enough to overcome Williams (619) or NYU (630), but the solid outing did give Amherst a solid 37-stroke lead over fourth place Mount Holyoke.
The tournament saw seven teams and 43 golfers participate, with eight of those 43 competing for the Mammoths.
Leading the way for the Mammoths this weekend was Isabelle Ouyang '21, with a 78-77-155 performance.
Ouyang finished tied for second place overall and only a stroke out of first, a great performance for the sophomore to conclude her stellar fall season.
Close behind was Morgan Yurosek '20, who shot an 80-77-157 to finish tied for fifth place.
Yurosek has been an important part of Amherst's success this fall, finishing in the top 10 at all but one of the tournaments she has competed in.
Jessica Jeong '20 and Katie Mina Lee '22 had identical scorecards for the weekend, shooting 80 on Saturday and 81 on Sunday to finish tied for 12th overall.
Kate Weiss '19, India Gaume '22 and Lily Worden '21 similarly put together strong weekend performances, finishing in 14th, 16th and 17th, respectively.
The golfers were separated by a combined two strokes: Weiss shot an 84-84-164, Gaume logged an 82-83-165 and Worden scored an 86-80-166.
Rounding out the Mammoths lineup was Katie Rosenberg '19, who finished tied for 27th and shot a 90-88-178 for the weekend.
Though Amherst failed to close out the fall season with a win, the program's future is bright with not a single one of Amherst's top scorers older than a junior.
The Mammoths will seek to capitalize on this wealth of young talent in the spring season, when the team will compete for both a NESCAC and national title, after qualifying for the NESCAC Championship by finishing in the top four at the qualifying event.