Sports
Women's Golf Showcases Depth and Talent at Ann S. Batchelder Invitational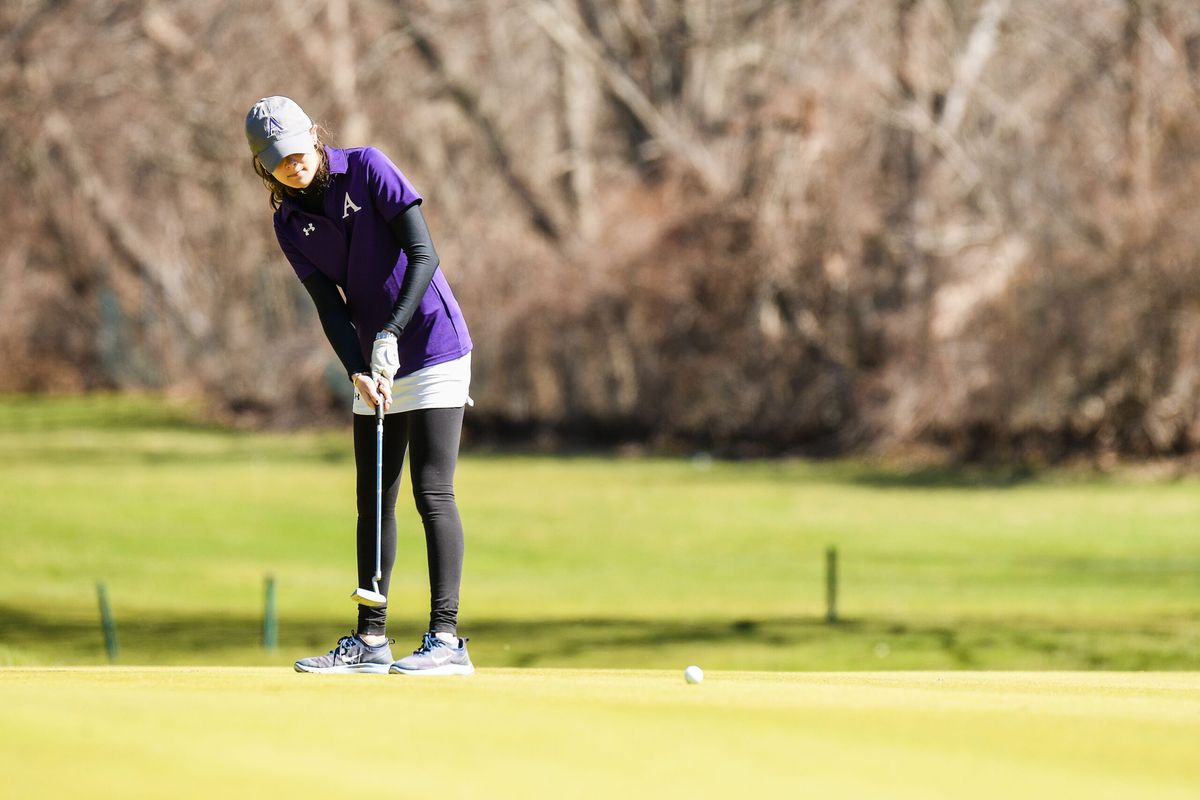 The Amherst women's golf team opened its season on a great note this weekend, as the Mammoths traveled to Wellesley, Massachusetts to compete in and win the six-team Ann S. Batchelder Invitational.
After Saturday's opening round left them in second place, the Mammoths rallied on Sunday to claim a third consecutive win at the tournament. A strong team performance was at the heart of Amherst's run on Sunday, a run that saw the Mammoths erase a five-stroke deficit and cruise to a 14-stroke victory over host Wellesley College at Nehoiden Golf Course.
On Saturday, Amherst got off to a solid start that allowed the team to be in position to compete for the tournament crown on Sunday.
Two juniors and two first years set the pace for the Mammoths as Emily Young '20, Morgan Yurosek '20, Mina Lee '22 and India Gaume '22 all posted top-10 scores after round one.
Gaume had a very impressive performance in her first collegiate round, as she finished tied for first by shooting a three-over-par 75 on Saturday.
Yurosek was one stroke behind Guame with a 76, while Young and Lee each shot 79 which left them in a tie for eighth after day one. Three other Mammoths were within the top-20 after day one, as Lily Worden '21 finished in 11th place after an opening round 80, while Jessica Jeong '20 shot an 81 and Isabelle Ouyang '21 tied for 18th after shooting 82.
The Mammoths turned in a very impressive team performance on Sunday which allowed them to claim both the team and individual titles this weekend.
Yurosek had the best round of the entire tournament, shooting a two-under-par to beat out Gaume for the tournament's individual crown.
Gaume had another outstanding round on Sunday, shooting two-over-par 74 to finish in second place in her first tournament as a Mammoth.
Yurosek and Gaume weren't the only two golfers to card good scores on Sunday, as it required a team effort to claim Amherst's third consecutive tournament championship.
Ouyang shot a 76 on Sunday to finish tied for seventh overall in the tournament, Young shot a 79 putting her in a tie for 10th and Jeong shot a second-consecutive 81 to secure a tie for 13th place overall.
As a team, Amherst tallied a 611 to beat the other five teams participating in this weekend's Ann S. Batchedler invitational.
Wellesley shot 625 to finish in second, Vassar College was third with 655, Middlebury shot a 675 to take fourth, Mount Holyoke finished with a 681 to take fifth and Trinity ended up in last after shooting 877.
The Mammoths will take a short trip to South Hadley, Massachusetts next weekend, where they will compete in the Mount Holyoke Invitational at Orchards Golf Club. Amherst will look to build on its strong showing this weekend and claim a championship for the second consecutive weekend.