Sports
Women's Hockey Splits Weekend Series with Hamilton in Last Weekend of Regular Season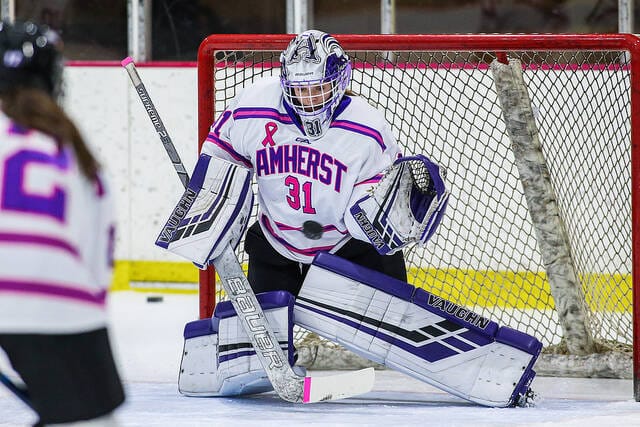 The women's hockey team split their weekend double-header against the Hamilton Continentals in Clinton, New York.
Friday night saw the Mammoths snap a four-game skid with an exciting 2-1 overtime win against the Continentals. Amherst fell behind early after Hamilton's Missy Segall corralled an errant pass off of the faceoff and weaved through two Amherst defenders before putting the puck in the back of the net seven minutes into the contest.
The Mammoths wouldn't take long to answer, however, as Jocelyn Hunyadi '19 scored her seventh goal of the season less than a minute after Segall's opening goal. The rest of regulation was a war of attrition, with eight penalties across both teams yielding a scoreless two periods. But the Mammoths triumphed in overtime. Captain Jamie McNamara '19 would be the hero of the afternoon, capping off an overtime breakaway with a snapshot between the goalie's legs to seal the victory.
The excitement and energy following the Friday night stunner didn't seem to carry over into Saturday, as Amherst fell to Hamilton 3-1. Hamilton once again found itself on the board first with a goal by Kate Piacenza nine minutes into the first period. Hamilton's penchant for penalties also carried over from Friday's matchup, as a tripping penalty gave Amherst's power play unit an opportunity to level the score. Emma Flynn '21 launched a shot from the blue line, which was kicked away by Hamilton's goalie. Katie Savage '19, however, put away the rebound and netted her sixth goal of the season.
The tables turned when an Amherst hooking penalty resulted in Hamilton taking the lead on a power play goal by Lexi Takashima. The bleeding would continue into the second period, as an Amherst slashing penalty set up a second power play goal for the Continentals. Amherst goalie Caitlin Walker '22 stood on her head during those power plays, and her 27 saves throughout the match demonstrated her deft reactions despite the relentless pressure.
The split weekend places Amherst at 10-10-2 on the season and 6-6-2 within the NESCAC, good for a conference ranking of sixth. The Mammoths will play their final regular season games this weekend with two games against Wesleyan and Senior Day on Sunday.